Drought Equals Worst In 100 Years, Maharashtra Water Plan Struggles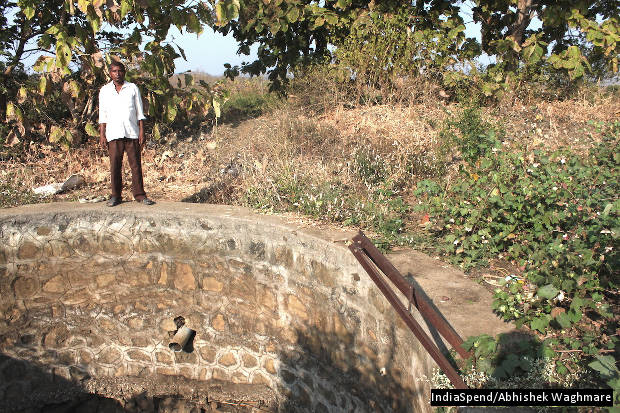 As part of its ambitious plan to make Maharashtra drought-free by 2019, the government spent roughly Rs 10,000 to funnel water (see outlet above) towards Vasudev Lokhande's well in the eastern district of Yavatmal. It did not work. Lokhande had to spend about three times that amount to fix a pipeline and pump to draw water from a pond 500 metres away to irrigate his black-soil, fertile cotton and pigeon pea fields.
Yavatmal/Beed/Washim (Maharashtra): Vasudev Lokhande is the beneficiary of an ambitious government programme to permanently transform the lives of farmers devastated by a record-setting drought, but he is unhappy about its benefits.
In an agrarian eastern corner of India's most industrialised state, Lokhande--a weathered, unsmiling farmer clad in sandals, crumpled brown pants and a dusty white shirt--pointed to little pipe that poked through the stone wall of a well on the edge of his fertile, black-soil farm, five acres of cotton and pigeon pea.
The pipe is the outlet for a channel built to funnel rainwater into the well instead of letting it soak into the ground. It is part of the Jalyukt Shivar Abhiyan (Irrigated Farmlands Programme), on which the Bharatiya Janata Party (BJP) led government has spent, for its first phase, Rs 1,400 crore in 2015 to make Maharashtra dushkal-mukt, or drought-free.
For Lokhande, the government's efforts have not worked. With rainfall over the last two years in three of the worst-affected districts that IndiaSpend visited comparable to the lowest in the 20th century, very little water made it to the well. Like many local farmers, he had to spend about Rs 30,000 to install a pipeline and a pump to bring in water from a natural pond half a km away.
"I could bear the cost of pipeline and motor," said Lokhande. "The majority of the farmers in my village cannot."
IndiaSpend's investigation of the programme reveals that the government is spreading itself thin in its efforts to reach more farmers as the drought's efforts worsen. Lokhande's village, Ghodkhindi, is now one of 34--up from five names earlier this year--listed for the Jalyukt Shivar Abhiyan in Yavatmal taluka in the cotton-rich eastern district of the same name.
"When the programme began, the worst-affected villages were selected," an agriculture officer told IndiaSpend on condition of anonymity. "Later, we were told to include all the villages that were now receiving drinking water from tankers."
While the weekly tanker data of the state's water supply department showed no tanker supplying water to Yavatmal taluka in 2015, the District Collector's office reported 10 tankers plying in the summer of 2015, up from 3, 1 and 11 in 2014, 2013 and 2012 respectively.
The original government order mandated at least five villages per taluka, which takes the village count to 1,800. As distress spreads, that number is now up to anywhere between 2,500 and 3,000, according to a government official who requested anonymity.
As many as 1,109 farmers in Maharashtra's water-stressed Marathwada region of eight districts ended their life in 2015, according to this Indian Express report.
Rainfall over the last two years in three of the worst-affected districts that IndiaSpend visited (in Marathwada and Vidarbha) was comparable to the lowest in the 20th century.
Nine of India's 29 states–Uttar Pradesh, Maharashtra, Bihar, Chhattisgarh, Madhya Pradesh, Karnataka, Telangana, Odisha and West Bengal–declared a drought in 2015, seeking as much as Rs 20,000 crore in Central aid. The Centre has given Maharashtra the highest agricultural aid: Rs 3049 crore.
As many as 302 of the country's 640 districts are living with drought-like conditions. The success--or failure--of Maharashtra's drought-proofing programme is likely to be closely followed by other states.
Rain so inadequate that wells dry up in November
The purpose of Jalyukt Shivar is to irrigate the village in times of utmost scarcity. Now, state officials argued, low rainfall has crippled the programme.
Maharashtra's situation--its agricultural output is India's second largest--is universally difficult, with rainfall short by 40% in 2015, the third year of deficit (it was 30% short in 2014, 20% in 2012 and above average in 2013).
Maharashtra has India's greatest stock of water for irrigation: 35% of the country's large dams and the second-largest amount of annual water resources that can be replenished, after Uttar Pradesh.
A closer look at Ghodkhindi, farmer Lokhande's village, reveals why the Jalyukt Shivar struggles. The village has 40 micro-irrigation projects, of which the taluka agriculture department claims to have completed 15.
A third of the households (89 of 230) in the village depend on full-time farming, while agricultural labourers comprise 42% (471 of 1,135) of the population, cultivating small tracts of land, according to census data.
Experts and farmers told IndiaSpend that Jalyukt Shivar uses a piecemeal approach that does not account for the geological underpinnings of traditional watershed systems. It creates two problems: it spreads itself thin by benefiting only a few farms, and, instead of long-term measure to make an area drought-free, it offers only temporary relief.
It doesn't help that the rainfall is now lower than the lowest that anyone remembers. But this is no longer news to swathes of Maharashtra.
Many areas now live in drought-like conditions
For the last four years, drought-like conditions have prevailed in the central Maharashtra district of Beed in the Marathwada region, once part of the Nizam of Hyderabad's arid dominion. This is what 18-year rainfall data revealed:
The data from two talukas in Vidarbha--Yavatmal (district Yavatmal) and Karanja (district Washim)--also indicate how rainfall is declining.
The scarcity, said experts, is beyond the normal deficiency in the last 20 years. Erratic, unseasonal rainfall—unsettling India's agriculture, economy and politics—are no aberrations, IndiaSpend reported last year.
Extreme rainfall events in central India, the core of the monsoon system, are increasing and moderate rainfall is decreasing--as a part of complex changes in local and world weather--according to a clutch of Indian and global studies.
In Maharashtra, successive years of low rainfall have resulted in falling groundwater levels and early drying of natural streams.
While the Jalyukt Shivar Abhiyan struggles to cope with the magnitude of Maharashtra's rural water crisis, it has, as we shall explain tomorrow, worked in some cases--mainly for farmers with large land holdings. The successes and failures indicate how the programme might need to be reworked.¦
(Waghmare is a policy analyst at IndiaSpend.)
This is the first of a two-part series. Please read the second part here.
We welcome feedback. Please write to respond@indiaspend.org. We reserve the right to edit responses for language and grammar.
__________________________________________________________________
Liked this story? Indiaspend.org is a non-profit, and we depend on readers like you to drive our public-interest journalism efforts. Donate Rs 500; Rs 1,000, Rs 2,000.