Drop In Pulses Prices Reveals Flaws In India's Agriculture Policy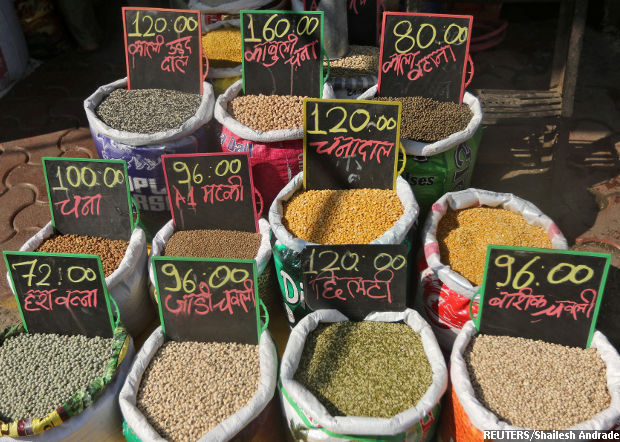 Price tags are seen on the bags of pulses that are kept on display for sale outside a shop at a market in Mumbai, India January 31, 2017.
A good monsoon that led to record sowing and production of pulses--especially tur dal (pigeon pea)--has almost halved their wholesale and retail prices in 2017, a year after dal prices skyrocketed to Rs 200 per kg in some cities at the end of 2015.
In many state-regulated agricultural markets of major tur-producing states such as Maharashtra and Karnataka, prices have fallen to Rs 4,000 per quintal in some markets, 20% below the minimum support price (MSP) of Rs 5,050 per quintal (including a bonus of Rs 425) since December 2016.
A ban on exports, restrictions on stocking by private agencies in a bumper-crop year and absence of futures trading in agricultural commodities have been cited as key reasons for pulses to follow "the usual roller-coaster of high and low prices" in consecutive years, according to this article by Ashok Gulati, Infosys Chair professor for agriculture at Indian Council for Research on International Economic Relations, on March 15, 2017, in The Indian Express.
Markets proved us wrong, and here's why
After two consecutive drought years, a good monsoon prevailed in most parts of India in 2016, barring some districts of Punjab, Haryana, Kerala and Gujarat, among the major states.
The situation turned after a good monsoon, even as IndiaSpend reported in October 2015 that a perfect storm around tur dal--monsoon failures, insufficient MSP, poor yield per hectare of dal and growing public preference to opt for eggs and meat for proteins--would keep its price high for a long time.
Monsoon in 2016 turned out to be above normal in Maharashtra, productivity increased from about 360 kg/ha to 760 kg/ha and farmers planted dal on record area ever, since the previous year, 2015, fetched them record prices at above Rs 100/kg.
Source: Retail Prices Management System, Department of Agriculture
Maharashtra, Karnataka, Telangana and Gujarat are the major tur-producing states. Rural district markets connect with farmers directly and consumers indirectly, since they involve intermediaries. At large consumer markets in cities, such as Mumbai and Ahmedabad, pulses from district markets are sold to retailers and consumers.
Tur arrival at district markets can, thus, track the price farmers get.
The wholesale price in major district markets--Amravati, Gulbarga, Vadodara and Narsinghpur--in the four major tur-producing states surged in 2015 and saw an almost equal or worse decline in 2016.
Source: AgMarkNet; Prices in Rs per quintal
Why have prices bottomed out? Answer: No exports allowed, no futures trading
Supply fell in 2015, reducing dal in the market, compared to 2014. Traders paid farmers more than Rs 100/kg for tur—a record—and middlemen and retailers increased the price to Rs 180/kg in grocery shops.
In 2016, the sowing area of tur in Maharashtra increased 25% to 1.53
million hectare but production is estimated to have increased 160%, from 444,000 tonne in 2015-16 to 1.17 million tonne in 2016-17.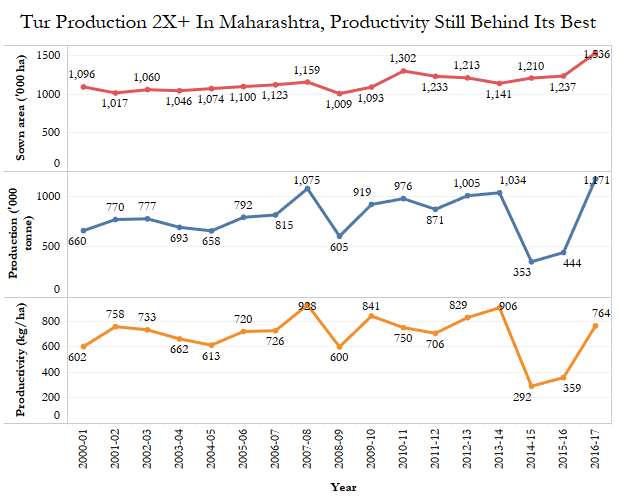 Source: Agriculture Department, Government of Maharashtra
A sowing area of 1.54 million hectare produced 1.17 million tonne of tur in Maharashtra--25% of India's production of 4.2 million tonne--but productivity, or produce per unit area, fell 18% short of the best it had achieved in 2007-08.
So, in 2016-17, the market is awash in dal, and traders are buying it from farmers at prices below the MSP.
To reduce the impact of the supply glut on farmers, the central government increased the buffer stock--produce that government buys directly from the farmer as a safety measure for farmers as well as market availability--for pulses ten-fold, from 0.2 million tonne to two million tonne.
Numbers don't reveal what's happening to farmers
Although the buffer stock has been increased, government agencies are not ready to stockpile pulses because storage space is limited, as is evident in Parbhani district, Maharashtra.
"Farmers with tur have been waiting at the district procurement centre of Food Corporation of India for more than a week as the centre is running out of space," a regional agricultural officer, who did not wish to be named, told IndiaSpend.
"They will get a better price (MSP) at the centre, but the tractor with tur costs them around Rs 800/day, which is effectively reducing the price from MSP to the market price of around Rs 4,000 per quintal," he said.
In Karnataka, the southwest monsoon (June-September) was 20% deficient in the south-interior subdivision while the northeast monsoon (October-December) was 70% deficient statewide. Reservoirs in the state are 37% lower than normal in a state that is facing its worst drought in four decades.
Karnataka's water shortage has imperilled the summer and winter (kharif and rabi) crops. The state government has responded with a special state bonus of Rs 450 per quintal, taking the procurement price of tur to Rs 5,500 per quintal, the highest ever by any state.
Government buyouts of pulses alone will not save the farmer
Not just government support, but having a sound marketing policy is equally important, Gulati argued in his article, a view he expressed in August 2016 as well in The Indian Express.
"Farmers should take planting decisions based on likely future prices and not last year's market prices," his March 2017 column said.
If farmers knew from futures prices that they would be paid below the MSP this season, they could have opted for cotton, which saw a reduction in area sown.
Pulses exports were banned in 2006, when record exports of 0.5 million tonne in 2005 aggravated domestic shortfalls. The ban has not been lifted, with some exceptions. Exports are about 1% of total domestic production, according to government data.
The pulses shortage in 2015-16 saw imports rise to 5.8 million tonne, or a third of the production. In the oversupply year of 2016-17, exports remained banned.
Even when Indian farmers are getting less than Rs 4,000 per quintal in domestic markets, pulses are still being imported at a price above Rs 10,000 per quintal, Mallikarjun Kharge, leader of the Congress parliamentary party said in Lok Sabha (lower house of Parliament), the Business Standard reported on March 21, 2017.
A government committee headed by chief economic adviser Arvind Subramanian recommended in September 2016 that the MSP for tur should be increased to Rs 6,000 per quintal in 2017 and Rs 7,000 per quintal in 2018.
(Waghmare is a Mumbai based researcher and a contributor to IndiaSpend)
We welcome feedback. Please write to respond@indiaspend.org. We reserve the right to edit responses for language and grammar.
__________________________________________________________________
"Liked this story? Indiaspend.org is a non-profit, and we depend on readers like you to drive our public-interest journalism efforts. Donate Rs 500; Rs 1,000, Rs 2,000."