Don't Report It: How Bihar Fights Crime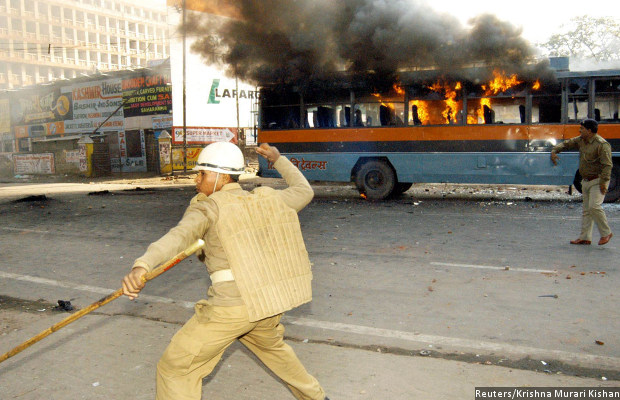 Bihar—India's third-most-populous state, with the country's poorest people—has a crime rate lower than more prosperous states with fewer people, such as Gujarat, Kerala, Rajasthan and Madhya Pradesh, an IndiaSpend analysis of national crime data reveals.
If this is an analysis that is hard to believe—especially after a slaying in a road rage and a journalist's murder sparked debates of Bihar's "jungle-raj", a reference to anecdotal evidence of impunity over growing crime—that is because the data are not what they appear.
As we disassembled the data, it became evident that some crimes, such as rape and assault, could be hidden or not reported, but others that result in a body—such as murder or dowry deaths—were harder to hide. A state of 104 million people, Bihar appears to be fighting crime by manipulating data, much like its neighbour and India's most-populous state, Uttar Pradesh, whose methods of holding down crime—by not reporting it—were revealed in an IndiaSpend investigation last year.
Claims and data: How Bihar outperforms better governed, richer states
Bihar's chief minister Nitish Kumar has previously claimed that his state does much better on crime than states ruled by the Bharatiya Janata Party (BJP), such as Gujarat and Madhya Pradesh. Other defenders of the regime have claimed that crime has fallen under the regime of Kumar and his alliance partner, Lalu Prasad.
The brazen manner of recent crimes finds echo in 68% decline in convictions over five years, as IndiaSpend reported last week.
Growing public fear over crime is not reflected in the state's crime data. In 2014, the latest year for which data are available, Bihar reported 177,595 cognizable crimes—those that can be investigated by the police without judicial oversight—while the Hindi-belt states of Madhya Pradesh (MP) and Rajasthan recorded 272,423 and 210,418 such crimes, respectively.
However, Bihar has a population of 104 million while MP and Rajasthan have 72.6 million and 68.5 million, respectively, according to Census 2011.
This means that Bihar, with a population 44% higher, has 35% fewer crimes than MP. Bihar reports 174 cognizable offences per 100,000 population, while MP reports 358.5--twice as many.
Similarly, Bihar outperforms Madhya Pradesh and a host of higher-income states, such as Rajasthan, Gujarat and Kerala; all report a far higher rate of cognizable offences.
Source: NCRB Crime in India 2014, Table 1.4
Bihar's low crime rate is striking because it is a poor state with India's lowest per capita income and is third from the bottom on the Human Development Index (HDI) of Indian states. The HDI is an index that includes life expectancy, education and income. Kerala tops India's HDI index.
Source: Press Information Bureau, India Human Development Report, 2011Per Capita Income is as of 2013-14. Human Development Index (HDI) ranking is as of 2007-08 among 23 states.
As we check Bihar's other crime data, explanations emerge for these inconsistencies.
The bodies that Bihar cannot hide—murders and dowry deaths
Bihar recorded 3,593 murders in 2014. MP reported 2,310 and Rajasthan reported 1,688. These data appear to better correlate with population and development.
Bihar's murder rate—or murders per 100,000 people—is higher than either MP, Rajasthan, Gujarat or Kerala. One possible explanation is that Bihar is generally low on crime but, for some reason, is more prone to murder.
The other explanation is that crime in Bihar is under-reported—a process called burking--except for murder, where there is a body that cannot be ignored without some form of due process. Bihar's murder rate is substantially worse than other larger states and above the national average.
Source: NCRB, Crime in India 2014 – Table 1.6, Page 1/22. Figures for 2014.
A similar trend is evident with crimes against women. For instance, in 2014, Bihar reported 574 assaults on women "with intent to outrage modesty", to use legal parlance. MP reported 9,618 such cases while Rajasthan had 6,015. Kerala, with one-third the population of Bihar, and a better place for women, reported 4,412 assaults, about eight times as many.
Bihar also reported substantially fewer rapes than Madhya Pradesh, Rajasthan or even Kerala.
Does this mean Bihar is a better place to be a woman, despite lower incomes and living standards? Again, the data do not suggest that.
Source: NCRB, Crime in India 2014 – Table 1.6. Figures for 2014.
Bihar reports more dowry deaths than Madhya Pradesh, Rajasthan, Kerala and Gujarat combined. This statistic doesn't appear to indicate social respect for women. One explanation is that women are indeed a target of violence, but crimes against them are not reported. However, as with general murders, a dowry death produces a body, a situation hard to hide.
(Bhandari is a media, research and finance professional. He holds a B-Tech from IIT-BHU and an MBA from IIM-Ahmedabad.)
We welcome feedback. Please write to respond@indiaspend.org. We reserve the right to edit responses for language and grammar.
__________________________________________________________________
Liked this story? Indiaspend.org is a non-profit, and we depend on readers like you to drive our public-interest journalism efforts. Donate Rs 500; Rs 1,000, Rs 2,000.