Do We Know Whose Food Is Secured ?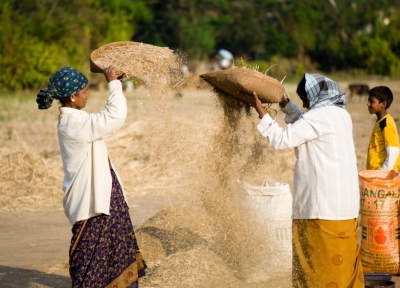 How many PDS recipients are there today ? That depends on who you ask. A recent multi-department Report of the 'Task Force on an IT Strategy for PDS' chaired by Unique Identification Authority of India (UIDAI) Chairman Nandan Nilekani says: "With a network of more than 4.62 lakh fair price shops (FPS) distributing commodities worth more than Rs 30,000 crore annually to about 180 million families, the PDS in India is perhaps the largest distribution network of its kind in the world."
Very well. Now the Department of Food & Public Distribution who actually runs this network (central + state) however says the network comprises 4.99 lakh fair price shops.
So that's a 37,000-shop gap right there. The Department also says the PDS is intended to act as a safety net for more than 330 million poor that are nutritionally at risk. But the Task Force talks of 180 million families, which conservatively is 600 to 720 million (poor ?) Indians. Now, that's a really wide variation, even for arguments sake. This means, at the least, some 300 million nutritionally not at risk Indians are collecting subsidised food grain.
Left Hand & Right Hand
And its not that these two departments are working without the knowledge of the other. The Secretary, Food & Public Distribution B C Gupta has signed off on the IT Strategy Task Force report. As mentioned earlier, its a multi-department report with all stakeholders including the Department of Agriculture sitting in.
Now, India's Food Security Bill could reportedly hike the food subsidy burden by Rs 27,663 crore, from Rs 67,310 crore to Rs. 94,973 crore annually. In tonnage terms, the foodgrain set aside could rise from 50 to 55 million tonnes of foodgrains to around 65 million tonnes. The Food Security Bill has raised other issues surrounding the definition of below poverty too, but that's a different argument. The point this article is making is that the databases are an utter mess already. The Government's own estimate says there are 20 million bogus ration cards (Annual Report 2010-11, Ministry of Consumer Affairs, Food & Public Distribution). The same Annual Report says there are 5.05 lakh fair price shops, a third figure.
Works, But Barely
Not surprisingly, the harsher estimates say 57% of PDS does not reach the people it is supposed to reach. Though to be fair, several states are cleaning up their databases on a war footing and independent research seemingly points to how the subsidised foodgrain system does work, albeit in a limited way.
Unfortunately, the complete fix won't be that simple and nor is it just one homogenous database. Until 1997, PDS foodgrain was was provided to all families. Then, the Government divided the list into Below Poverty Line (higher subsidies) and Above Poverty Line (lower subsidies) which has created further nightmares in database integrity as the example of Karnataka below shows. Before we come to Karnataka, lets look at a few other states to illustrate the nature of the problem.
Maharashtra
A Right To Information (RTI) query filed by Anna Hazare's anti-corruption NGO has reportedly discovered some 4.2 million bogus ration cards issued in the state, leading in turn to large scale theft of food grain. The bogus ration cards are believed to have been issued between 1995 and 2009. Conservatively, this means that some 12 to 16 million non-existent individuals were receiving subsidised foodgrain.
The Bombay High Court has now directed Maharashtra to file a detailed affidavit by January 13, stating the action to be taken against the concerned officials.
Andhra Pradesh
The 2011 Census says Andhra Pradesh's population is 84 million. The number of households as declared in the Census is 21 million. However, number of ration cards issued in Andhra Pradesh are 20 million too which takes the population of the state as entitled to subsidies to almost the total number of people in the state !
Actually the two figures (as reported) almost overlap. So practically the entire population of Andhra Pradesh is a recipient of subsidised foodgrain, at least on paper. Which, like many other cases, is not technically feasible. Reports show that government officers tend to quibble on the numbers, either saying that the families are split up and thus the prospect of more than one ration card exists. Or, with Andhra setting a BPL limit of Rs 60,000 per annum, most residents of the state would fit anyway.
Karnataka
The state had 13 million households and 61 million residents on the census rolls (as of 2011). But the number of households entitled to foodgrain subsidies is pegged at 16 million. So, almost 3 million households - some estimates put it higher – are ghosts, the term commonly used in this context. Karnataka, alongwith other states, has its BPL and APL databases mixed up.
A study done by R Balasubramanium of the Swami Vivekananda Youth Movement (to investigate irregularities in the PDS for Karnataka's Lok Ayukta) said that considering the state's own poverty measurement criteria, the total number of genuine BPL families was 4.4 million as opposed to the Government's claim of 9.6 million.
So 5.2 million families that belonged to the APL category were actually part of the BPL category. On the other hand, some 0.6 million families from the BPL category were excluded from the subsidised list, while 0.4 million were misclassified as APL. All this, said this report, results in an annual loss of Rs 1,737 crore to the state.
Tamil Nadu
We don't have the foodgrain subsidy figures for Tamil Nadu but the fact is, as IndiaSpend investigated earlier, the state (when the DMK was in power) gave out close to 14 million colour television sets free to literally around 14 million households. This is despite the fact that at least a fourth of the households already owned a television set (as per Census data).
One reason was that the State Government officials were distributing TV sets to whoever had a BPL card. Even well-to-do Chennai residents expressed amazement over the fact that they could, in fact, collect a television set with no questions asked, all because they had a ration card. And many apparently even did.
Himachal Pradesh/Goa
Himachal has a population of 6.9 million (2011 Census) but 7.4 million claimants to food subsidies. Goa on the other hand has a population of 1.3 million (2011 Census) and 1.6 million subsidy recipients. The PDS database figures in these cases have not been independently verified but would be close to the truth.
Cleaning Up
The process of database cleaning is underway in many states. Initiatives like the Unique Identification Authority of India's (UIDAI) Aadhaar Project can be used to de-duplicate the databases, since that is one of the key problems with the PDS system. A headlong plunge into distributing foodgrain without ascertaining the quality of and then fixing the databases would affect the finances as well as send the wrong signals.