Discrimination: Soldier's Funeral Reveals India's Outsize, Outcaste Problem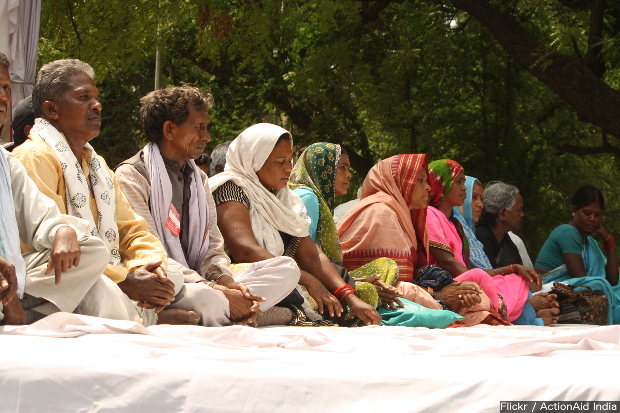 Earlier this week, when upper-caste villagers in the western Uttar Pradesh district of Firozabad tried to prevent the funeral of a Dalit paramilitary soldier killed in a terrorist ambush, it was the latest manifestation of widespread discrimination against 305 million Indians belonging to scheduled castes and scheduled tribes.
Upper-caste villagers refused to allow the funeral of Vir Singh, a Nat--a community of now-settled formerly nomadic acrobats who are Dalits, lowest of Hindu castes--on public land, reluctantly relenting after many hours of cajoling by a local bureaucrat. A father of three, Singh, a 35-year veteran of the Central Reserve Police Force, died in Pampore, Kashmir, on June 26, 2016. His family lived in a one-room home with a tin roof, the DNA reported.
More than 1,200 km to the east, in a Kolkata slum peopled exclusively by other outcastes like him, Dharmendra, a "manual scavenger"--an official term for those who manually clean toilets and sewers--for 33 years, explained how he was so used to discrimination that he is barely aware of it. He was not aware that manual scavenging is banned by law, and he had not heard of job reservations for his clan, mathors, people who clean toilets, septic tanks and sewers, often immersed in excreta.
"I don't even have papers," said Dharmendra, a short, lean man whose real name is Kartik Nayak. He sings Hindi songs from the films of Bollywood actor Dharmendra, hence the name. "It is fate; no one can change my fate," he said. "I am happy the way I am, still alive at 51 with a wife, a son and his family."
After 68 years of Independence, not only does discrimination endure against Indians from scheduled castes and scheduled tribes--201 million and 104 million, respectively, according to Census 2011--crimes against India's most marginalised are rising (as the second part of this series will explore).
Source: Socio-economic Caste Census
Despite progress, scheduled castes and scheduled tribes--who together constitute 25.2% of India's population--continue to trail other Indians. To quantify the gap, IndiaSpend used four criteria: Education, income, land and home ownership and government jobs.
Every so often, even those Dalits who have broken through India's logjam of caste find it difficult to navigate a society dominated by upper castes. Rohith Vemula, a 25-year-old University of Hyderabad Dalit Phd student--whose January 2016 suicide became a rallying point for those who felt discriminated--referred in his suicide note to the "value of a man" reduced to "his immediate identity and nearest possibility. To a vote. To a number. To a thing."
EDUCATION
Both scheduled castes (SCs) and scheduled tribes (STs) lag Indian educational indicators, according to Census 2011: 66% of SCs are literate, as are 59% of STs; literacy among the general population is 74%.
Source: Census 2011
In 2010-2011, no more than 13.5% of SCs and 11.2% of Schedule Tribes were enrolled for higher education, according to government data, against 19% for the general population. In some states, such as Bihar, Jharkhand, and West Bengal, the SC/ST-enrolment rate for higher education was between 4% and 6%.
Source: All India Survey on Higher Education, Ministry of Human Resource DevelopmentThe gross enrolment ratio can be greater than 100% as a result of grade repetition and entry at ages younger or older than the typical age at that grade level.
These data are improvements over past years. For instance, in 1981, only 21% of SCs and 16.3% of STs were literate. Ten years later, in 1991, the literacy rate went up to 37.4% for SCs and 29.6% for STs.
Reservations have helped improve enrolment rates in higher education, but many students feel the pressure of expectations and subtle discrimination. More than half of all SC, ST and OBC (other backward castes) students felt discrimination, although it was not overt, according to a 2014 survey (reported by DNA, a newspaper) conducted by a student organisation at the Indian Institute of Technology, Bombay. Currently, 15% of admissions to government-funded academic institutions are reserved for SCs and 7.5% for STs.
There is little evidence that such affirmative action affects academic effort. "Despite a significant gap in entry scores at admission to a higher educational institution, no significant differences are found in the effort and academic attitudes between students from beneficiary groups and those who get admission through non-reserved/open seats," said this 2016 study for the United Nations University. However, the study noted the "clear and significant differences between caste groups" and "the presence of stigma".
"Government interventions, programmes and policies are helping but they are too little compared to the actual need," said A Narayanan, Director of CHANGEIndia, an advocacy based in Chennai. "And privatisation of education is depriving the Dalit."
The 2014 Annual Status of Education Report (ASER) reveals that the percentage of children aged one to six, enrolled in private schools in rural India, went up from 18.7% in 2006 to 30.8% in 2014. Privatisation of education is depriving Dalits because private education--on average--is up to eight times costlier than in government schools.
The privatisation of education particularly affects SCs and STs because they occupy the lowest rungs of India's economic ladder.
INCOME
In 83% of SC households and 86.5% of ST homes, the monthly salary of the highest-earning member was less than Rs 5,000, according to data from 2011 Socio-Economic Caste Census (SECC).
Source: Socio-economic Caste Census
In some states, such as Chattisgarh, Madhya Pradesh, Kerala and Tamil Nadu, between 86% of SC families report their highest-earning member as earning less than Rs 5,000 per month. For STs, this income level is the norm for nine of 10 families in West Bengal, Odisha, Kerala and Chattisgarh.
SC and ST households constitute half of India's "poor, deprived households", according to this 2011 year pilot survey to identify how many Indians lived below the poverty line. That deprivation is evident in the homes and land that SCs and STs own.
LAND AND HOME
ST land holdings are lowest in some relatively prosperous states, such as Goa, Gujarat and Telangana, where they constitute 13%, 21% and 11%, respectively, of the population. As for SCs, they own little or no land in Haryana and Chhattisgarh, where they constitute 23% and 14% of the population.
Source: Socio-economic Caste Census
No more than 0.36% of ST and 0.64% of SC households pay income tax, according to 2001 SECC data, the latest available (Table: 5). Among the general population, 3.81% pay income tax, as IndiaSpend reported in May 2016.
Source: Socio-economic Caste Census
The government must consider how to equitably distribute wealth, argued Narayanan, while the chairperson of the National Commission for Scheduled Tribes of India (NCST), Rameshwar Oraon, said there was no account of the money spent on numerous programmes for SC/ST welfare.
"The government is spending money, but it doesn't know where the money is going," said Oraon. "The money is meant for the welfare of the tribal and the Dalit, but the money not is reaching them."
GOVERNMENT JOBS
There are no data on how many SCs and STs are employed by the private sector, but an analysis of SC/ST representation in government services reveals that despite reservations--15% of such jobs are reserved for SCs and 7.5% for STs--they lag other Indians.
No more than 0.48% of ST and 0.73% of SC households had a salaried government (both Centre and state) job, according to the SECC 2011. In 1994, the latest year for which such data are available, 16.9% of all central government employees were SC and 5.49% were ST--their proportion in the general population.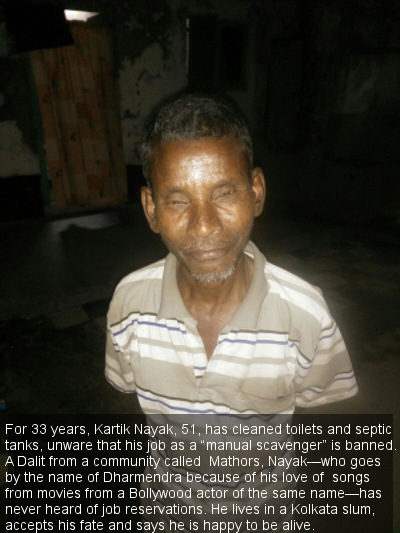 Andhra Pradesh, Karnataka, Odisha have the least proportion of SCs in government jobs, while Telangana, Chhattisgarh, Madhya Pradesh had the least proportion of STs.
Source: Socio-economic Caste Census
SC and ST representation in "Group-D" services—such as peons and sweepers--is 18.4% and 6.7% respectively. In managerial-level "Group-A" and "Group-B" services, SC representation is 12.2% and 14.5% and for ST, 4.1% and 4.6%, respectively. To recall: SCs and STs together constitute a quarter of India's population.
Do job reservations help or hinder?
There is evidence of some positive impact and no negative impact, according to this 2016 productivity study of the Indian Railways--India's largest public-sector employer--using data from 1980 and 2002 by two researchers, Ashwini Deshpande from the Delhi School of Economics and Thomas Weisskopf of the University of Michigan.
As for self-employed SCs and STs, their businesses fared "significantly worse" than those owned by upper castes, with 55% of the earnings gap unexplained, implying "greater discrimination", said another 2015 study from Deshpande.
"Our Constitution has given certain reservations to the marginalised, but that's not enough," said Dalia Chakrabarti, an associate professor at the department of sociology in West Bengal's Jadavpur University. "We need to remodel/restructure the provisions as the socio-economic dynamics of the country change with time."
Update: The graph showing gross enrolment rates for higher education has been updated to reflect latest data. The graph showing the literacy rates of different states was updated to correct the figures for scheduled castes. We regret the error.
(Ghosh is a Bangalore based independent reporter and a member of 101Reporters.com, a pan-India network of grassroots reporters.)
This is the first of a two-part series. Next: Why Crime Is Rising Against India's Lowest Castes And Tribes
We welcome feedback. Please write to respond@indiaspend.org. We reserve the right to edit responses for language and grammar.
__________________________________________________________________
Liked this story? Indiaspend.org is a non-profit, and we depend on readers like you to drive our public-interest journalism efforts. Donate Rs 500; Rs 1,000, Rs 2,000.