Disaster Risks Grow, As India's Cities Flounder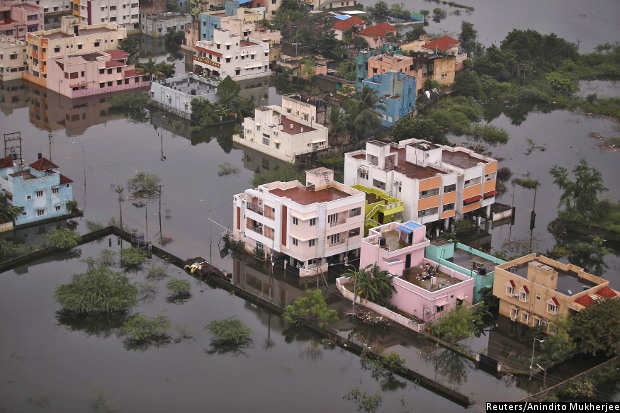 As India draws closer to announcing the first list of 20 smart cities, it would do well to put safety first and pay attention to a moribund 24-year-old law meant to convert ramshackle urban areas--vulnerable to disasters in an era of climate change--into independent, well-financed hubs of economic growth.
Indian cities have vastly expanded--377 million, or 31% of Indians now live in urban areas, up from 217.18 million and 26% 20 years ago, according to census data--increasing their vulnerability. The December 2015 Chennai flood claimed 270 lives and inflicted an economic loss of more than Rs 15,000 crore. On its heels, on January 4, an earthquake of 6.7 magnitude shook Manipur and the Northeast, unravelling India's lack of disaster preparedness.
As many as 38 cities are located in zones with seismic susceptibility in the government's vulnerability atlas of India, as IndiaSpend has reported. Categories vary from "very severe intensity zone" (Zone V), which includes the most-vulnerable cities of Guwahati and Srinagar, to "severe intensity zone "(Zone IV), such as Delhi, and "moderately severe intensity zone" (Zone III), such as Mumbai and Chennai. The entire Northeast Region is marked as a "very high" vulnerability zone, prone to earthquakes, floods, and storms.
Poor land-use planning, indiscriminate approvals of building plans (often in violation of environment and municipal bye-laws), and the absence of disaster-risk assessment in urban design have resulted in what experts term concentrated concretisation, predisposing cities to disaster risks. Abating destruction-risk requires a mainstreaming of disaster planning. To do that, the nodal agency--the Urban Local Body (ULB), whether municipal corporation, or nagar panchayat (town council)--is key.
But India's urban governments are--anecdotally and otherwise--failing at their main job: Governing cities.
How Indian burgeoning cities fail to govern or finance themselves
On an average, 21 Indian cities scored between 2.5 to 4 points out of 10 on governance parameters, leaving urban India ill-prepared for rising challenges, according to Janaagraha's 2014 Annual Survey of City Systems (ASICS) report.
ASICS evaluation parameters are based on government-recommended reform measures that essentially advocate the delegation of decision-making powers to urban governing bodies.
The average score of ASICS cities in elected representation stood at 4.9, on a scale of one to 10. At 2.8, Bengaluru scored lowest, trailed by Hyderabad and Bhubaneshwar. Mega cities Delhi, Mumbai and Chennai did not fare much better, with 4.1, 4.8 and 5 points respectively.
Eight cities, including Chennai, have directly elected Mayors with five-year terms, although none possess meaningful executive powers. While institutionalising such a position is unlikely to be a panacea, it provides cities with strong leadership in disaster management.
In the assessment of municipal staffing and financial management, on an average, ASICS cities scored 2.6 on 10. The fast-growing cities of Bengaluru and Hyderabad, with populations nearing 10 million, scored 1.4 and 1.5 respectively.
Seven of 21 municipal corporations have less than 250 staff for 100,000 people, compared with Delhi, Mumbai and Chennai with 1,260, 895 and 500 respectively. The equivalent figure for New York is 5,338 and London, 2,961.
In the devolution of fiscal powers, important to urban resilience, ASICS found that only Dehradun consistently constituted state finance commissions to manage and direct distribution of finances and address issues of local autonomy.
Urban contribution to the India's gross domestic product (GDP) in 2009-10 was about 63% and is expected to rise to 75% by 2030, said this 2011 report on Indian urban infrastructure and services.
Currently, urban bodies account for about 3% of total public expenditure, as IndiaSpend has reported. In China, this figure ranges between 20% and 35%. Municipal revenues account for roughly 0.75% of India's GDP, compared with 5% for Brazil and 6% for South Africa.
The long (failing) struggle to make city governments independent, efficient
More than two decades ago, the 74th Constitutional Amendment Act (CAA) accorded formal recognition to ULBs, hoping to increase autonomy and efficiency.
More recently, the National Disaster Management Authority also recognised the local administration's critical role in combating the rising risk of urban floods. The Authority, in its 2010 urban flood disaster management guidelines, places the ULB at the heart of all operations.
This mandate should be ideally extended to manage all kinds of disasters striking urban areas. However, since most states are reluctant to devolve powers, municipal bodies are crippled. (Since the Northeast is regarded as a conflict zone, decentralisation here in rural and urban zones is even slower.)
Disaster management gets short shrift
Investment in disaster management is modest. Currently, only the National Disaster Response Fund and the State Disaster Response Funds--solely assigned for providing relief to victims of various disasters--are functional.
A national and state Disaster Mitigation Fund, which will actually curtail losses, is yet to be created. Only Maharashtra, as revealed in the 2013 CAG audit report, has created both a state and district-level Disaster Mitigation Fund.
This IndiaSpend report shows the high seismic vulnerability of the Northeast. Yet, four of the bottom five states with the lowest allocations between 2010-11 to 2012-13, for tackling disasters are from this region, with Manipur in the bottom three. (See table)
By 2030, the urban population of India is expected to almost double to nearly 600 million, according to a 2010 McKinsey report, and the number of million plus-cities is expected to expand from 53 to nearly 80.
Urban disasters are inevitable. While there is, yet, no cost-benefit analysis of disaster-risk reduction, this 2015 report by the Overseas Development Institute and UNDP proves investments in disaster-risk reduction pares losses.
Over five years, the Centre's new Smart Cities Mission wants to create models of sustainable urban growth across India. The guidelines, cursorily mention disaster management (twice), while there is barely mention of independence and efficacy. Plans to institute autonomous bodies (Special Purpose Vehicles) for implementing the mission have already begun to ruffle feathers in some ULBs of Maharashtra, India's second-largest urbanised state after Tamil Nadu.
(Saldanha is a Senior Associate, Advocacy and Reforms, at the Janaagraha Centre for Citizenship and Democracy.)
We welcome feedback. Please write to respond@indiaspend.org. We reserve the right to edit responses for language and grammar.
__________________________________________________________________
Liked this story? Indiaspend.org is a non-profit, and we depend on readers like you to drive our public-interest journalism efforts. Donate Rs 500; Rs 1,000, Rs 2,000.