Disabled Care: Southern States Show The Way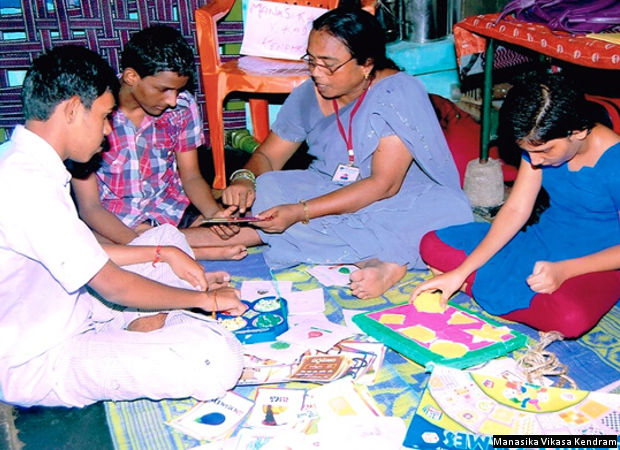 Special education to the disabled offered at home by Manasika Vikasa Kendram, Andhra Pradesh. This single NGO reaches 538 beneficiaries, more than all the beneficiaries in Goa and Chattisgarh put together.
Uttar Pradesh (UP), India's most populous state, has 4.15 million disabled people, more than any other state, according to census data.
Yet, Andhra Pradesh (AP), with 45% fewer disabled people than UP, received three times as much Central funding as UP, an IndiaSpend analysis revealed, indicating how states with strong administrations and the ability to navigate the formidable disability-care bureaucracy benefit the most.
AP (including Telangana) has 84 million people and UP 199 million.
The funding is in the form of grants released to non-governmental organisations (NGOs) under the Deendayal Disabled Rehabilitation Scheme (DDRS), managed by the Union Ministry of Social Justice and Empowerment.
Our analysis is based on data published by the ministry on funds it gave NGOs for the DDRS, and the beneficiaries in each state over three financial years--2012-13, 2013-14 and 2014-15.
While Andhra Pradesh has 8.45% of the total disabled persons of the country, its share in DDRS funding is 28.63%, putting it on top of the list.
Andhra Pradesh also has the most DDRS beneficiaries nationwide, 16.82%, almost twice Uttar Pradesh's 8.93%.
Mentally disabled, Shamsher gets a hand
Shamsher Mohammed Ashraf Qureshi (11) lives with severe mental disability. As labourers, his parents could not afford to forgo their daily wages and care for him.
Anticipating the possibility that he could wander off in their absence, they marked their contact number on his hand. This was four years ago.
Shamsher is now cared for and trained in self-reliance by Ahmedabad-based NGO Chinmay, through special education, behavioural therapy and music therapy. He lives with his parents intermittently, and has experienced marked improvement in social interactions.
How Central assistance to the disabled works
In 1999, to ensure effective implementation of the Persons With Disabilities Act (1995), all existing schemes were merged into a single programme: Voluntary Action for Persons with Disabilities.
The programme—which financially assists voluntary organisations involved with disability services, from intervention to employment—was revised from April 1, 2003, and renamed the Deendayal Disabled Rehabilitation Scheme (DDRS).
Kerala, Jharkhand: Similar numbers, disproportionate funding
Kerala received the second highest funding under DDRS, but it is home to no more than 2.84% of India's disabled population.
With a similar 2.87% share in the national disabled population, Jharkhand's share of 0.13% DDRS funds is distant from Kerala's 10.13% and does not make it to the top 15 states.
Jharkhand is also not among the top 15 states with respect to beneficiaries: 0.28% of total beneficiaries, against Kerala's 4.52%.
The stories of Kerala and Jharkhand, states with almost similar population—33 million and 32 million, respectively—and matching disabled numbers reveal the importance of caring and effective administrations.
"A fundamental reason for the disparity is the lackadaisical attitude of some state governments," said Deepak Kalra, director of Jaipur-based Umang, which works for people with cerebral palsy, autism and multiple disabilities.
Similarly, Odisha and Tamil Nadu have similar share in the national disabled population, with 4.64% and 4.40%, respectively.
Yet, in the past three financial years, Tamil Nadu has received only half the amount of funding received by Odisha.
Tamil Nadu, however, reached out to more than double the number of disabled (12.13%) than Odisha at 5.89%.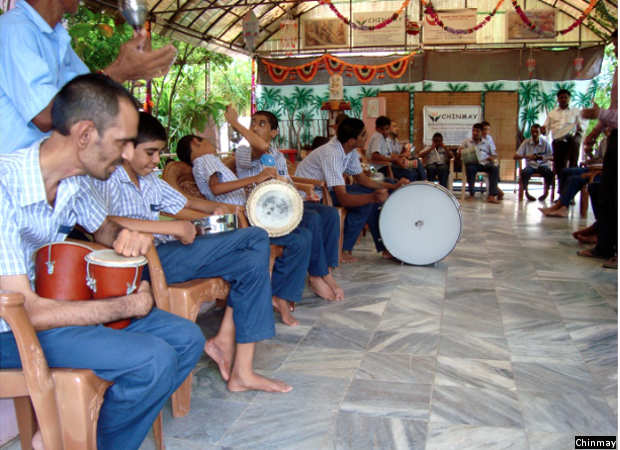 A music-therapy session at Chinmay, Ahmedabad. Sensitive officials who can negotiate the formidable bureaucracy—from district to Centre—responsible for funding disabled programmes are vital to getting money from Delhi.
Shivajee Kumar, founder of Patna-based Samarpan, an NGO that rehabilitates and empowers people with intellectual and developmental disabilities, explained how navigating the bureaucracies involved causes the fittest state administrations to gain.
Any application for grant-in-aid under DDRS has to journey through the bureaucratic hierarchies of district and state. Even the online submission of applications requires the recommendation of a state's grant-in-aid committee.
"This red-tapism, combined with the insensitivity of the officials, results in an unreasonable delay of the proposals, to the extent that by the time these applications reach Delhi, the time-limit on their validity lapses and we are left with no choice but to reapply next year," said Kumar.
So, the disabled in states with weak administrations suffer.
Why Bihar fails but AP succeeds
Bihar, which has India's third-largest population of disabled people, is absent from the list of top 15 states receiving Central money and DDRS beneficiaries.
A surprise appearance in the list of top 10 funded states is Manipur, which has only 54,110 disabled people (0.2% of the national total).
Successful voluntary organizations and sensitive officials are important to understanding why some states do better than others.
AP, Kerala, UP and Odisha together account for 56.98% of the total funds allocated to all states over the past three financial years. However, together, they account for only 31.44% of the total disabled population of the country.
The success of voluntary organisations in Andhra Pradesh is reflected by the fact that in 2014-15, one NGO, Vijayawada's Manasika Vikasa Kendram, helped 538 beneficiaries. This is more than the all the DDRS beneficiaries in Goa and Chhattisgarh put together (465).
Andhra Pradesh received 18.50% more funding than the second-highest ranking state, Kerala.
In 2014, a Parliamentary Standing Committee On Social Justice And Empowerment recommended "strict monitoring" of DDRS "so that only deserving NGOs get grants under the Scheme".
Manjula Kalyan, director of Secunderabad-based Swayamkrushi, which promotes self-reliance for the mentally challenged, suggested that India now needed a watchdog to scrutinise NGO grant applications.
(Bharti is an independent researcher based in Ajmer, Rajasthan.)
We welcome feedback. Please write to respond@indiaspend.org. We reserve the right to edit responses for language and grammar.
__________________________________________________________________
Liked this story? Indiaspend.org is a non-profit, and we depend on readers like you to drive our public-interest journalism efforts. Donate Rs 500; Rs 1,000, Rs 2,000.