Direct To Pocket, India's New Bet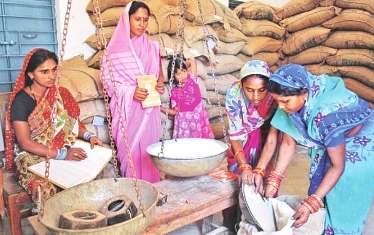 India is joining countries like Brazil in launching a direct cash transfer regime from January 1, 2013. The initiative is being pushed hard by the Government with Prime Minister Manmohan Singh asking all ministries to implement the scheme on a war footing.
The DCT will cover benefits (and thus beneficiaries) of 34 identified schemes in 43 selected districts across the country, to start with. The cash transfers will be done to individuals having unique biometric IDs or UIDs or Aadhaar. Enrolment of residents for Aadhaar is already underway in most parts of the country with over 229 million UIDs or Aadhaars having been issued.
The government spending on entitlements and subsidies was Rs 400,000 crore in 2011-12. That included the diesel 'under-recovery' of Rs 80,000 crore, food subsidy of Rs 73,000 crore, fertiliser subsidy of Rs 62,000 crore and Mahatma Gandhi National Rural Employment Guarantee Act of Rs 38,000 crore.
Mumbai-based stock broking firm Anand Rathi Financial Services did some numbers in a report put out last week and concluded that the government loses around Rs 75,000 crore annually thanks to leakages.
This could be broken up into three parts: ghost beneficiaries or people who are just not there (Rs 30,000 crore), ineligible beneficiaries (Rs 30,000 crore) and bribes and wastage (Rs 15,000 crore).
The report said that the direct cash transfer programme could save around Rs 30,000 crore every year for the government by eliminating waste, cutting down of leakages and better targeting of beneficiaries.
So, while the government will save Rs 30,000 crore due to DCT, the targeted beneficiary will have access to quality products, higher capacity to spend and capacity to leverage the cash in hand.
Let us look at only one part of the leakage: the public distribution system or PDS for fair price distribution of food grains. The food subsidy has been increasing every year, as IndiaSpend had reported earlier, and the government spent over Rs 73,000 crore in 2011-12.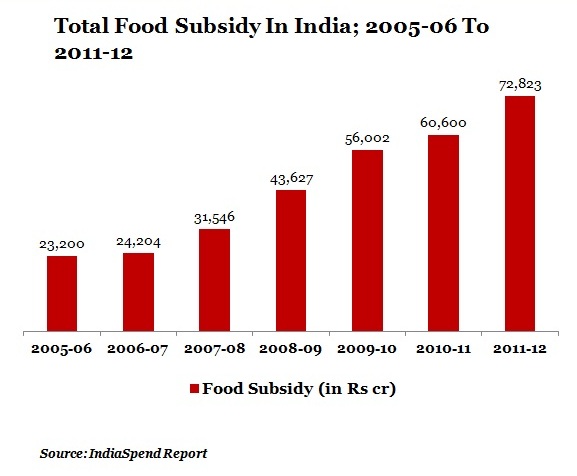 According to a report released by the Planning Commission, the PDS is expected to provide food to 65 million households. The report also suggests that 58% of the subsidised food grains issued do not reach the intended beneficiaries.
The Anand Rathi report says DTC can plug at least 50% of the PDS leakage but will not be able to address all leakages, for instance through siphoning off... the slips that could be addressed through Aadhaar cards could include weeding out fictitious/multiple beneficiaries and loss of consumers due to supply of lower-than-entitled quality food grains.
We will look at more details of the direct cash transfer scheme and the benefits of Aadhaar in a detailed story soon.