Despite All, Nuclear Power Production Up 60% In Last 6 Years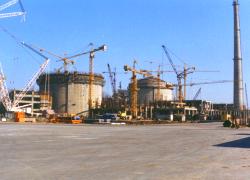 A nuclear power plant envisaged in 1988 between then Indian Prime Minister Rajiv Gandhi and Soviet Union President Mikhail Gorbachev is still to generate even a single unit of electricity. Twenty five years and over Rs 15,000 crore later, the Kudankulam Power Plant's two 1,000 MW (water-water power reactors) plants are yet to start feeding power. (Click here to read IndiaSpend's earlier report)
A host of factors have held back production at this Nuclear Power Corporation (NPC) project; notably the stiff opposition of the local populace of Kudankulam in Tirunelveli district of Tamil Nadu. The new deadline for commissioning now is May 2013 against an earlier deadline of April 2013.... Meanwhile, the Cabinet Committee on Security, has cleared a proposal to build two more units of 1,000 MW each at the same site at Rs 20,000 crore, or Rs 20 crore per MW.
To put nuclear energy in context, India had a total power generating capacity of 214,630 MW at the end of February 2013. Of this, nuclear capacity was 4,780 MW, a share of just over 2%. Non conventional energy, including renewable, stood higher at 65,305 MW or 30% of the total capacity.
The perception would thus be that India's nuclear energy sector is ailing and struggling between the forces of local activism and the looming shadow of Japan's Fukushima nuclear crisis. And yet, as the numbers show, India's nuclear power output has been steadily rising over the last few years.
Figure 1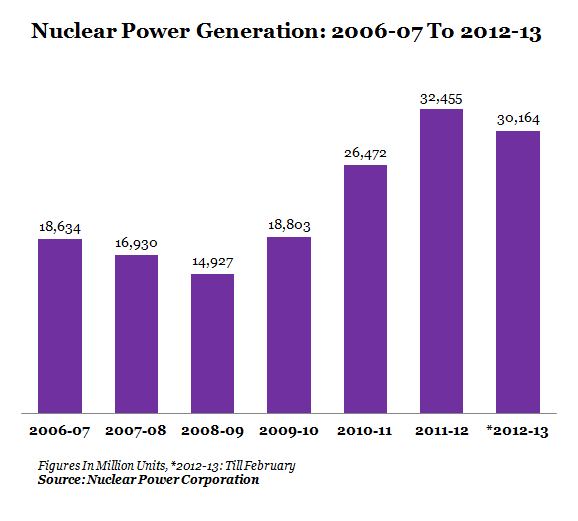 It is clear that India has increased its nuclear power output by over 60% i.e. from 18,634 million units in 2006-07 to 30,164 million units till February 2013. This could be attributed to several factors; plants once again operating at higher efficiency, capacities being added to existing plants and of course improved fuel supply.
India currently has 20 operating nuclear plants across the country in Maharashtra, Rajasthan, Tamil Nadu, Karnataka, Uttar Pradesh and Gujarat. NPC, a Public Sector Undertaking under the Department of Atomic Energy, runs the nuclear reactors.
NPC had reported an income of Rs 8,709 crore in 2011-12, the last year for which data is available, and profits of Rs 1,906 crore. NPC has total assets of Rs 43,627 crore, fixed assets of Rs 30,388 crore and reserves of Rs 13,260 crore. And an interesting and important statistic: NPCIL has not got/asked for any budgetary support from the Government for the last 8 years!
NPC had a total workforce of 11,662 people including 1,082 women employees. And over 80% (9,408 employees) were engineers, scientists, technicians and supervisors.
So, is India's Prime Minister Manmohan Singh winning his bet on nuclear energy? Cut back to 2008: Prime Minister Manmohan Singh had staked the survival of the UPA-I on a deal with the United States on civil nuclear agreement that was to be ratified later by the International Atomic Energy Agency (IAEA) and the Nuclear Suppliers Group (NSG) when though India has still not signed the nuclear non-proliferation treaty (NPT).
Despite vehement opposition from its allies, led by Communist Party (Marxist) general secretary Prakash Karat, Singh managed to win a vote in Parliament in favour of the deal, and the deal was signed soon after with the U.S Government. Ever a cautious person, PM Singh continues to insist that safety will never be compromised when India plans future nuclear projects.
Japan is planning to reduce reliance on nuclear power following the Fukushima nuclear disaster in 2011. Germany has already closed eight nuclear reactors and has pledged to close the rest by 2022. India, however, is slowly increasing its nuclear power output...