Demonetisation, A Year On: Goa's Economy Remains Cash-Based As Tourist Season Begins
Things are quiet at this seaside restaurant in Anjuna, a popular stretch of beach in North Goa, at the start of the tourist season in October. A few tourists sit inside, enjoying the view, but it is too soon to say if tourists will come in the numbers Goa is accustomed to. Last year, the owner had to lay off staff because tourists had fled or stayed away due to demonetisation.
Anjuna, Calangute, Siolim (Goa): Raju Lakhani, owner of Moonstar Bar & Restaurant on Anjuna beach in North Goa, remembers how business was so bad due to demonetisation last season that he had to lay off staff. As the current tourist season begins, he has reopened his restaurant and is waiting to see whether tourists will arrive in the usual numbers. But one thing has not changed--his restaurant still runs only on cash.
On November 9, 2016, demonetisation had removed 86% of currency (by value) from the economy with the aim of weeding out black money and coercing a transition to a cashless economy. Six weeks later, IndiaSpend had reported its immediate impact on the tourism sector in Goa. The tourism industry, Goa's largest employer, has always worked on cash, and demonetisation had caused widespread upheaval by scaring away tourists or leaving them with no cash to spend.
A year on, IndiaSpend revisited Goa to see if and how things have changed since. What we found showed demonetisation to have been a largely futile exercise that inconvenienced ordinary citizens and scared away Goa's valued tourists. Most tourism-related businesses are still operating largely on cash--those that ordered card swipe machines have not received them yet--and are uncertain if spending will return to pre-demonetisation levels.
Top employer still in a slump
India ranks 40th in terms of travel and tourism competitiveness globally, but between 2016 and 2026, it is expected to become the fastest-growing destination for leisure travel spending, ahead of Thailand, China and Vietnam. Its challenges remain inadequate provision of certain services that tourists expect, such as information and communication technology, security and healthcare.
Since 2009, tourism has consistently employed more than 10% of India's workforce of 500 million workers, thereby giving employment to 50 million people, more than the population of Colombia, as IndiaSpend reported in December 2016. Being an employment-intensive sector that offers a diverse range of jobs from the most specialised to the unskilled, tourism creates 78 jobs for every Rs 1 million invested, according to data from the Union Ministry of Tourism. In comparison, agriculture creates 45 jobs for the same investment, and manufacturing, 18.
Tourism is a key employment and income generator in Goa. Currently engaging 10.2% of the state's workforce, tourism became Goa's top employer after a 2012 mining ban decapitated the state's other major industry, as IndiaSpend reported on March 20, 2017. Goa earns between Rs 8,000 and Rs 15,000 crore annually in foreign exchange from foreign tourist arrivals.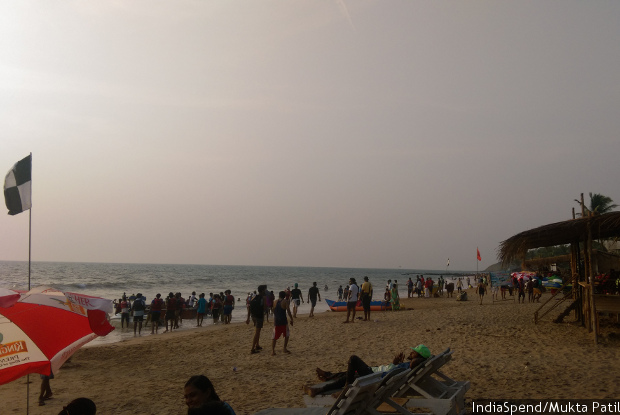 Goa's sun and beaches attract tourists from around the world. Tourism employs 10.2% of the state's workforce.
Demonetisation had come just as last year's tourist season was taking off. Tourists were unable to withdraw money as ATMs were overcrowded or out of cash. Shops and restaurants that did not have card-swipe machines were unable to serve customers and ended up having to let go of staff to cut costs. Many inconvenienced foreign travelers had either proceeded to South-East Asia or cut down spending, bringing the tourism economy to a halt.
Guru Bar, next to Lakhani's Moonstar, was one of the few establishments in Anjuna that had a card-swipe machine during demonetisation, which they allowed many neighbouring businesses to use.
This year is Guru Bar's 50th anniversary of running through the year every year since 1967, but business has not yet picked up this season, and the crowd-puller festivals of Diwali and Dussehra have been "flat", proprietor Satyavan Naik said. "Foreign tourists have not returned in the same numbers this year, I don't know if it is because of demonetisation or not," he said. If sales do not pick up, he may have to cut down on staff, as many restaurants did last year.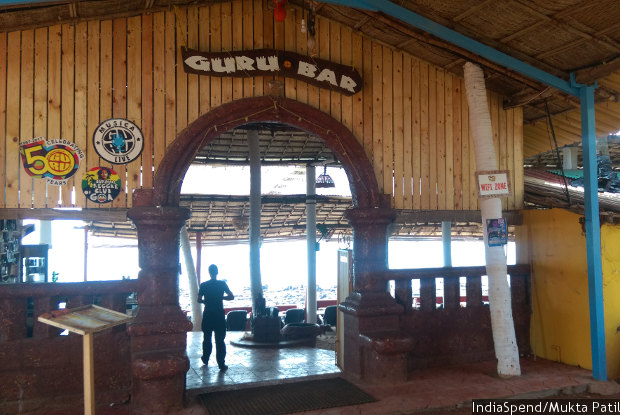 Guru Bar was one of the few establishments in Anjuna that had a card-swipe machine during demonetisation, which many neighbouring businesses also used. The restaurant marks its 50th anniversary this year, but business has not yet picked up this season.
Contrary to people's experience on the ground, the government claimed in a December 2016 press statement that it had taken measures to ensure tourists were not adversely affected by demonetisation, and that foreign tourist arrivals and foreign exchange earnings from tourists across the country increased in November 2016 over November 2015. The government has not made figures available for the months immediately after, so it is not possible to verify if the situation changed after the effects of demonetisation became clearer.
A return to cash
Running shops and shacks on the beaches in Goa is a seasonal business, running from the onset of winter in October until the onset of monsoon in early June. Shack owners mostly set up shop during peak season and find it easier to operate by cash, as IndiaSpend reported on December 23, 2016.
Some restaurants such as H2O in Calangute and Sunset Bar in Siolim had ordered swipe machines soon after demonetisation. Neither had received the machines by the end of October 2017. The manager of H2O said business had returned to normal post-demonetisation but they were operating entirely with cash.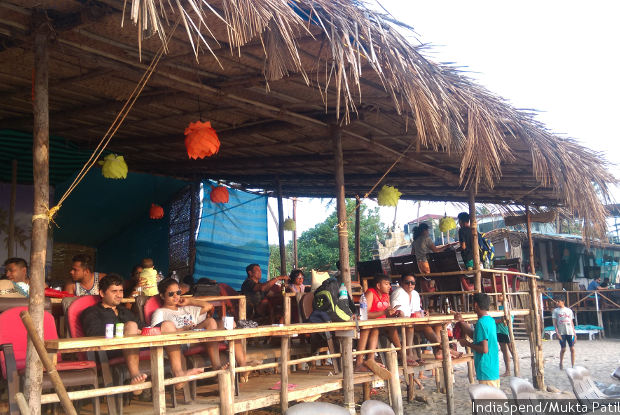 A typical day at a seaside shack. During demonetisation last season, cash-strapped tourists had reduced their spending or fled to South-East Asia. This year, businesses are waiting to see if tourist inflows will be normal.
Sunset Bar, which has been renamed Uddo Life, had not yet opened for the season due to a change of management. "Post demonetisation there was a huge surge in demand for swipe machines, and we have re-applied but still not received one, as apparently there is a shortage," the new manager, who did not wish to be named, told IndiaSpend.
A shack owner on Anjuna, who also wanted to remain unnamed, said he did not want the hassle of a swipe machine. "We only run this place for six months during season time. What will we do with this machine after that? Why should we pay the bank for the whole year?"
Shops that pop up along the beaches, like A-Z Handicrafts in Anjuna that IndiaSpend visited last year, find it especially difficult to obtain swipe machines because the owners, often itinerant, are unable to provide documentation such as proof of residence.
As of November 1 this year, Abdul Qayoom and Ahmed Bhat, owners of A-Z Handicrafts, had not returned to Goa from Kashmir. Rehaan, who uses one name and runs a handicraft shop in the vicinity, is unsure whether they will be back. "Business is poor, I can only hope it picks up soon. But people seem unwilling to spend money even though they have it now," Rehaan told IndiaSpend.
(Patil is an analyst with IndiaSpend.)
We welcome feedback. Please write to respond@indiaspend.org. We reserve the right to edit responses for language and grammar.