Delhi's Transport Sector 3 Times More Polluting Than Mumbai's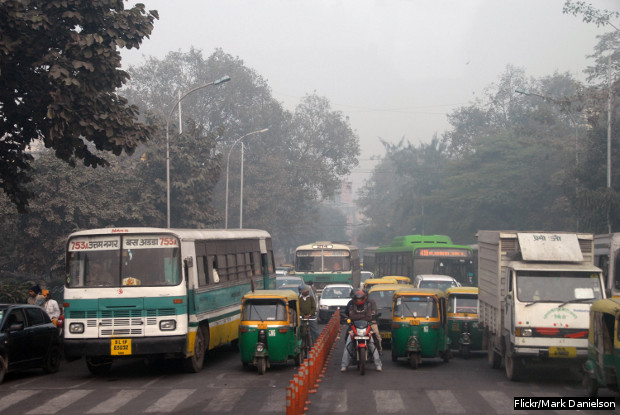 Delhi's transport sector produces six times as much greenhouse gas emissions (GHG) as that of Kolkata's, five times as much as Ahmedabad's and three times as much as Greater Mumbai and Chennai, according to a study.
Delhi's transport sector contributes 32% of the city's GHG emissions—gases responsible for global warming—said the report, GHG Footprint of Major Cities in India, conducted by the Centre for Ecological Sciences of the Indian Institute of Science (IISc), Bangalore.
However, data presented to the Lok Sabha (lower house of Parliament) said that Delhi's transport sector contributes only 28% to the total greenhouse gas emissions, excluding emissions from compressed natural gas (CNG) vehicles.
Despite a 187 km, seven-line metro network carrying 2.4 million commuters every day, private vehicles rose 92% over the last 15 years, even as buses and their ridership declined, according to Delhi's Economic Survey 2014-15, as we will detail in part two of this series.
Delhi's transport sector emits 12.39 million tonne of carbon-dioxide (CO2) equivalent, followed by Greater Bangalore (8.61) and Hyderabad (7.81). The transport sector in Hyderabad emits the greatest proportion (56.86%) of GHG emissions compared to other Indian cities.
The transport sector includes motor cycles, scooters and mopeds, cars and jeeps, taxis, buses, light motor vehicles (passengers), light motor vehicles (goods), trucks and lorries, tractors and trailers. Transport emissions of Chennai, Kolkata and Mumbai also include emissions from shipping.
Note: This report is not open access and is behind a pay wall.
Delhi's overall GHG emissions were reported to be 38.63 million tonne of CO2 equivalent, topping the list of seven cities, followed by Greater Mumbai (22.78), Chennai (22.09), Greater Bangalore (19.8), Kolkata (14.81), Hyderabad (13.73) and Ahmedabad (9.12).
A recent media report, however, said that Ahmedabad is India's most polluted city, based on the government's Air Quality Index.
As many as 13 of the world's top 20 polluted cities are in India, with Delhi topping the list and Ahmedabad being the fifth most polluted, according to the World Health Organisation's Ambient (outdoor) Air Pollution Database 2014.
Delhi's air pollution was one-and-half times worse than Beijing, IndiaSpend reported recently, using data from its own network of sensors in the national capital.
Soaring pollution levels in Delhi forced its government to formulate a controversial odd-even vehicle-numbering formula that hopes to get roughly half of nearly 9 million vehicles off the roads.
Trucks are Delhi's major transport-pollution contributors
Heavy-duty vehicles are the major contributors to pollution—as regards particulate matter (PM10) and oxides of Nitrogen (NOx).
Trucks are the major polluters, contributing 46% of PM10 and 38% of NOx; light commercial vehicles contribute 28% of PM10 levels and 13% of NOx.
To curb air pollution, the Supreme Court of India has temporarily banned the sale of large diesel cars, such as sports utility vehicles, and others with an engine capacity of 2,000cc or more.
The Court has also prohibited trucks not bound for Delhi from entering the city and banned all trucks over ten years old.
The transportation sector accounts for 40% of India's total oil consumption, reported to be 3.8 million barrels per day in 2014.
Road transport dominates India's transport sector, accounting for 86% of passenger and almost two-thirds of freight movements, the Energy Outlook report said. Fuel demand by the sector has increased to 68 Mtoe in 2013, of which 60% is used for passenger transport.
This is the first of a two-part series. Tomorrow: Delhi's Declining Bus Use Points To Mass Transit Failures.
(Mallapur is a policy analyst with IndiaSpend.)
We welcome feedback. Please write to respond@indiaspend.org. We reserve the right to edit responses for language and grammar.
_________________________________________________________________
Liked this story? Indiaspend.org is a non-profit, and we depend on readers like you to drive our public-interest journalism efforts. Donate Rs 500; Rs 1,000, Rs 2,000.