Delhi's Air Quality Data A Tweet Away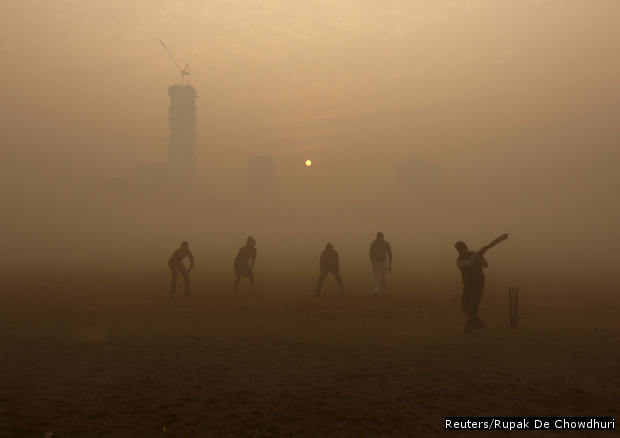 Even as the impact of New Delhi's Odd-Even Formula on the capital's air quality is debated, IndiaSpend's #Breathe project launches a realtime Twitter feed of the Air Quality Data.
Starting January 4, the @BreatheNCR handle will tweet from the following four locations in Delhi:
Civil Lines, New Delhi
Connaught Place, New Delhi
Noida, Sector 62
Gurgaon, Sector 47
The periodic tweet from @BreatheNCR will be as follows:
Connaught Place, New Delhi: Hourly AQI avg is 714, PM25 is 430, PM10 is 681, Severe(when exposed at this level for 24hr).

— BreatheDelhi (@BreatheNCR) January 3, 2016
The key parameters in th?e tweet? are:
<location of the device>: Hourly AQI avg is <hourly_aqi_avg>; PM2.5 is <hourly_pm25_avg>; PM10 is <hourly_pm10_avg>. <Air Quality condition> (when exposed at this level for 24hr).
The <Air Quality condition> will be one of the following values - "Good", "Satisfactory", "Moderate", "Poor", "Very Poor" and "Severe". An explanation of these levels is here.
Among the pollutants monitored to arrive at an AQI value, PM2.5, which are fine particulate matter found in the air with a diameter of 2.5 micrometres or less, and are known to pose the greatest risk to human beings. Their measurement is considered to be the best indicator of the level of health risks from air pollution, according to the World Health Organization (WHO).
PM10, or coarse particulate matter with diameter between 2.5 and 10 micrometers, are primarily made up of dirt and dust from farming, factories and roads, and caused due to the crushing of rocks and soil.
The Air Quality Index (AQI) levels tweeted by #Breathe are based on AQI Sub-Index values, and hence, may be greater than 500 (when PM10 values are greater than 510 or PM2.5 values are greater than 380). More information on why AQI levels above 500 are displayed can be read here.
Twitter + Internet of Things = Empowering Citizens with Data Using Easy to Use Media
Internet of Things is a term used to describe data being sensed from and actuated in the real-world. A number of projects have been using Twitter as a medium to distribute data from Internet of Things projects. Andy Stanford-Clark, a distinguished engineer at IBM, has been building a Tweeting House and has a solution for knowing the arrival times of a Ferry via Twitter.
Twitter has the potential to provide citizens with a realtime data feed in a concise manner. Sharing the #Breathe Realtime Air Quality data on Twitter also has the potential to unlock this data and make it interoperable with other IoT based services such as 'If This Then That' (IFTTT), etc.
For instance, if you want to exercise in the morning only if AQI levels show "Good", "Satisfactory" or "Moderate" on the Twitter feed, it isn't too difficult to ensure your alarm clock goes off only if the AQI level is below that threshold. We at #Breathe would like to enable the use of such data for solutions you can use.
In due course of time, the #Breathe project will be tweeting realtime data for other cities on the following Twitter handles - @BreatheMumbai, @BreatheChennai & @BreatheBluru.
You can access #Breathe project data here.
We welcome feedback. Please write to respond@indiaspend.org. We reserve the right to edit responses for language and grammar.
__________________________________________________________________
Liked this story? Indiaspend.org is a non-profit, and we depend on readers like you to drive our public-interest journalism efforts. Donate Rs 500; Rs 1,000, Rs 2,000.