Delhi Voters Get Rs 253 Crore For Self Rule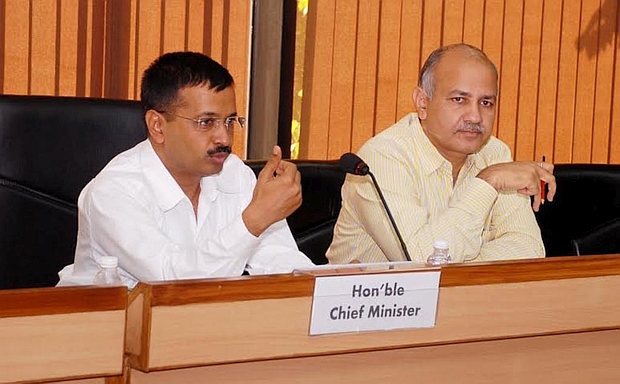 Delhi Chief Minister Arvind Kejriwal (left) and Deputy Chief Minister Manish Sisodia at a budget consultation meeting with industry and trade bodies on June 3, 2015. Image: Govt. of Delhi
Decide your neighbourhood priorities, instead of leaving it to the government.
With that thought in mind, Delhi's Deputy Chief Minister Manish Sisodia announced Rs 253 crore for a Swaraj (self-rule) fund. That is in tune with the way the first full budget of the Aam Aadmi Party (AAP) government was prepared.
There was "an overwhelming response" to Chief Minister Arvind Kejriwal's appeal for public suggestions in creating the budget, Sisodia said in his June 25 budget speech. More than 1,500 were received after "extensive consultations" at public meetings, discussions with resident associations, NGOs and companies.
Education and health are clearly priorities for the controversy-prone government of India's richest state, aware that both subjects are priorities for voters.
In a state with 86% literacy—the national average is 74%—and a strong family focus on schooling and jobs, Sisodia doubled the plan outlay on education to Rs 4,570 crore from Rs 2,219 crore in the previous year.
Some of the education proposals include:
Modern facilities and infrastructure in 1,011 government schools
Hire 20,000 regular teachers by the end of the year
Closed-circuit cameras in all classrooms of government schools
Fifty state schools to become "model schools"
The government also plans three Indian Technology Institutes (ITIs) and five new polytechnics, designed to provide vocational training and so better job prospects of young voters.
Health spending will rise 45% from last year to Rs 3,138 crore. Plans include 500 mohalla (neighbourhood) clinics, three new hospitals—an addition of 1,800 beds—and the upgrading of 11 existing hospitals with 4,000 beds.
Sisodia also announced subsidies for new buyers of battery-operated four-wheelers and two-wheelers, and a fixed subsidy of Rs 15,000 to battery-operated rickshaw owners for promoting eco-friendly transport in Delhi.
Sisodia, as IndiaSpend reported earlier, said Delhi would have received Rs 25,000 crore had it been included in the 14th Finance Commission recommendations.
"The Fourteenth Central Finance Commission has recommended increased devolution of central taxes to states from 32% to 42%. Delhi being excluded from the terms of reference of the Finance Commission is deprived of the benefit from this recommendation, although Delhi has a separate consolidated fund like other states and all financial transactions of the Government are met from its own resources. Had this recommendation been applied to Delhi, then Delhi would have received approximately Rs 25,000 crore during the award period (2015-20)," Sisodia said.
Delhi complains against money from New Delhi
The estimated receipts are Rs 41,500 crore while proposed expenditure is Rs 41,129 crore with a surplus of Rs 371 crore.
"The share in central taxes and duties of NCT of Delhi, which is given by the Government of India, is at Rs 325 crore for this financial year and has remained stagnant since the last 14 years. In spite of the increased devolution of central taxes to states by Government of India from 32% to 42%, there has been no increase in devolution of central taxes to Delhi," Sisodia said.
Delhi has some of India's best development indicators: a per capita income (at current prices) of Rs 2.41 lakh, almost three times the national per capita income of Rs 87,748, according to the Economic Survey presented last week; more than 97% of Delhi's population lives in urban areas, according to census 2011; and the sex ratio (number of females per 1,000 males) of the state has improved to 868 in 2011 from 821 in 2001.
The infant mortality rate, an estimate of infant deaths for every 1,000 live births, is 22 as against the national average of 40. The maternal mortality ratio, the number of women aged 15-49 dying per 100,000 live births, is 146 in Delhi as against the national average of 167.
---
"Liked this story? Indiaspend.com is a non-profit, and we depend on readers like you to drive our public-interest journalism efforts. Donate Rs 500; Rs 1,000, Rs 2,000."