Delhi Hurricane: 3 Reasons Why BJP Lost & AAP Won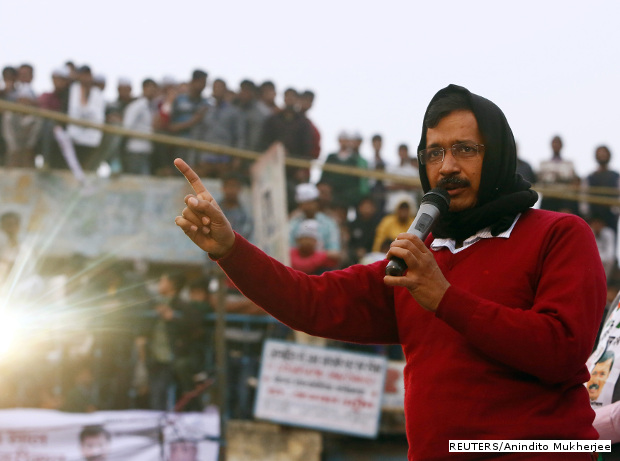 So, finally, the juggernaut of Prime Minister Narendra Modi and Bharatiya Janata Party (BJP) president Amit Shah has been stopped by Arvind Kejriwal-led Aam Aadmi Party (AAP) in Delhi.
AAP won 67 seats out of the 70-seat assembly and BJP could win only three seats. Congress, the party that had ruled Delhi for almost five decades, has been almost wiped out from the assembly.
What went wrong for BJP and what worked for AAP? Here are some key reasons:
1) Delay in holding elections
Had BJP decided to hold the Delhi assembly elections immediately after the Lok Sabha polls and other assembly elections (including Haryana and Maharashtra where they came to power), the story could have been different. Why polls were delayed and how it worked for AAP is now history.
2) Targeting AAP
After the announcement of the elections, BJP confidently decided to take on AAP and Kejriwal. By calling him naxalwadi (a left extremist) and bhagoda (runaway), BJP actually played into the hands of AAP. Kejriwal could turn around the game in AAP's favour by projecting the party as the underdog fighting for the common man.
3) Chief Minister candidate
The launching of Kiran Bedi as BJP's chief ministerial candidate does not seem to have gone down well with the voters. Bedi, who was earlier associated with Anna Hazare's movement, joined the BJP just before the campaigns began. And that may have worked against it.
The point to remember here is that BJP has not actually lost any vote share (down only 1%).
AAP's Winning Ways
1) Arvind Kejriwal
Paanch Saal Kejriwal worked magic for AAP. Kejriwal worked the underdog theory to perfection and ensured that AAP candidates swept all opposition across constituencies.
2) Freebies Galore
Free drinking water, cheap electricity and more schools/colleges seem to have clicked with the Delhi voters. AAP initiated its Delhi Dialogue programme much ahead of the elections and listed out issues to be handled much in advance of other parties.
3) Volunteer power
AAP could be the latest entrant in Indian politics to win the electoral race based on enthusiastic volunteers. Dancing, skits and mohalla meetings did work the magic for AAP.
So, Paach saal Kejriwal it is for Delhi. And the AAP government is not short of challenges to start work on immediately.
Note: Copy updated to reflect the final results. A sentence stating Ms. Bedi's past associations has been modified.
_____________________________________________________________
"Liked this story? Indiaspend.org is a non-profit, and we depend on readers like you to drive our public-interest journalism efforts. Donate Rs 500; Rs 1,000, Rs 2,000."