Delhi Accounts For 2 In 5 Crimes Reported Against Foreigners In India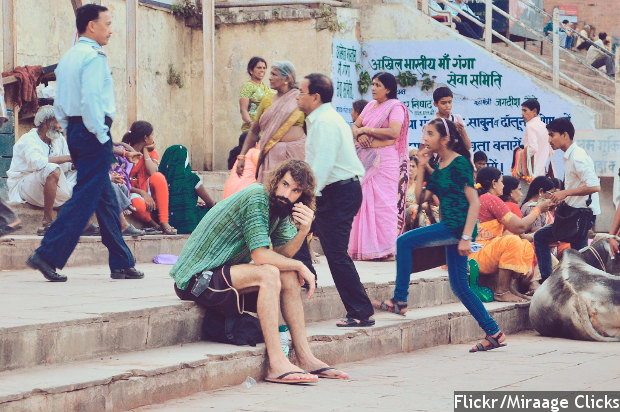 A foreign tourist looks on at a ghat in Varanasi. In 2015, 365 crimes against foreigners in India were registered, of which 223 were theft cases, according to National Crime Records Bureau data.
The gangrape of a 30-year-old American woman in a Delhi five-star hotel in April 2016--revealed when she returned to India and spoke up on December 6, 2016--has returned the spotlight onto Delhi's notorious reputation as a city being unsafe for women.
The American said she was raped by her tour guide, two hotel staffers and two other men.
In 2015, 365 crimes against foreigners in India were registered, of which 147 (40%) were in Delhi, followed by Maharashtra (53) and Uttar Pradesh (33), according to National Crime Records Bureau (NCRB) data.
Of these 365 crimes, 271 were against tourists and the rest against foreigners resident in India. The number of crimes, however, was 25% lesser than the 486 registered in 2014.
Source: National Crime Records Bureau
61% of crimes against foreigners were thefts
Of the 365 crimes registered, 223 were theft cases, followed by assault with intent to outrage a woman's modesty (23 cases) and forgery (15). There were twelve cases of foreigners being raped in 2015 nationwide, of which three (25%) were in Delhi.
Rape cases in Delhi increased by 284% in five years
The number of rape cases, in general, registered in Delhi rose 284% from 572 cases in 2011 to 2,199 in 2015.
Delhi reported the highest rate of rapes in 2015--23.7 per 100,000 population--followed by Chhattisgarh (12.2) and Madhya Pradesh (11.9), IndiaSpend reported in September 2016.
It is not clear if rapes have increased or more women are reporting rape; it could be either reason or both. The rise in rapes reported can be correlated to the change in rape law--which was made more stringent, possibly leading to higher reporting--after the 2012 gangrape of a physiotherapy student, now widely known as Nirbhaya, which led to protests and outrage.
Rapes in Delhi tripled and the reform process promised after the 2012 Nirbhaya case had failed, IndiaSpend reported in August 2016.
Source: National Crime Records Bureau
In its India travel advisory for citizens, the UK government classified Delhi as potentially unsafe for women. Some of the advisories include:
British women have been the victims of sexual assault in Goa, Delhi, Bangalore and Rajasthan and women travellers often receive unwanted attention in the form of verbal and physical harassment by individuals or groups of men.
Women travellers should exercise caution when travelling in India even if travelling in a group.
Do not leave your luggage unattended on trains at all. There has been an increase in handbag snatching in Delhi.
(Saha is an MA Gender and Development student at Institute of Development Studies, University of Sussex.)
We welcome feedback. Please write to respond@indiaspend.org. We reserve the right to edit responses for language and grammar.
__________________________________________________________________
"Liked this story? Indiaspend.org is a non-profit, and we depend on readers like you to drive our public-interest journalism efforts. Donate Rs 500; Rs 1,000, Rs 2,000."