Delaying Babies, Using Toilets Could Roll Back Anaemia Crisis Of Indian Women
Jaipur: Improved sanitation facilities and delayed pregnancy in India could reduce the rates of anaemia in pregnant women faster. The prevalence of anaemia in pregnant women in India (50%) is higher than all South Asian nations except Pakistan.
A one-year increase in age at pregnancy between 2002-04 and 2012-13, and a 10% reduction in open defecation could each result in a 3.5- to 3.8-percentage point reduction in anaemia in pregnant women, found a March 2018 study published in the journal Public Health Nutrition.
Anaemia--low blood haemoglobin levels--which impacts half of Indian women of reproductive age, increases the risk of maternal mortality, infection, preterm delivery, poor foetal and infant health, and puts children at lifelong risk of issues involving cognitive development and physical growth.
"Multisectoral public health policies and programmes that simultaneously target women's education, early marriage, open defecation and promotion of diets rich in iron and folic acid and low in phytate are likely to have the greatest impact on anaemia reduction among pregnant women," according to the study, co-authored by Suman Chakrabarti, Nitya George, and Samuel Scott of the International Food Policy and Research Institute (IFPRI), Moutushi Majumder of the Public Health Foundation of India, and Neha Raykar of Oxford Policy Management.
Between 2002 and 2012, the duration of the study, anaemia prevalence among pregnant women fell from 82.1% to 66.4%, women got pregnant later, were more educated, and received more antenatal care visits, the study found.
But a higher proportion of Indian women who were pregnant were anaemic in 2016 (50%) when compared to China (32%), Bangladesh (46%), and Nepal (40%), according to data from the World Bank. Only Pakistan had a higher rate (51%) of anaemia among pregnant women. The world average is 40.1%.
The study, which utilised data from the 2002-04 and 2012-13 District Level Health Surveys (DLHS), and the government's National Sample Survey (NSS) consumer expenditure surveys from 2004-05 and 2011-12, did not analyse the poorest states of Uttar Pradesh, Rajasthan, Madhya Pradesh, Orissa, Jharkhand, Chhattisgarh and Bihar, where rates of anaemia are among the worst, because of a lack of data. "But the results are likely to hold for these states too," Chakrabarti, co-author of the study and a senior research analyst at IFPRI, a Washington D.C.-based research organisation, said.
In 2015-16, 53.1% of Indian women between the ages of 15 and 49 years who were not pregnant were anaemic, as were 50.3% of pregnant women, according to the fourth National Family Health Survey (NFHS-4). Anaemia, which reduces the capacity of blood to carry oxygen, not only affects the mother and child but also the impacts the woman's capacity to work, and could have neuropsychological outcomes for the women, the study said.
Anaemia resulted in a loss of $22.64 billion (Rs 1.50 lakh crore) to India's gross domestic product in 2016, more than three times the health budget for 2017-18, IndiaSpend reported in November 2017.
Between 2005-06 and 2015-16, the rate of anaemia in women decreased 2.3 percentage points from 55.3% to 53%, according to the NFHS-4. India is not on track to meet the World Health Assembly target of a 50% anaemia reduction among women of reproductive age between 2012 and 2025, the study said.
Reduction in open defecation and delayed pregnancy could help improve the rate of reduction.
In 2015-16, 48.4% households used what the government calls an 'improved sanitation facility'--a toilet system which has either a flush to piped sewer system, flush to septic tank, flush to pit latrine, ventilated improved pit (VIP)/biogas latrine, pit latrine with slab, or a twin pit/composting toilet, which is not shared with any other household--compared to 29.1% in 2005-06, according to the NFHS-4.
About 7.9% women aged 15-19 years were already mothers or pregnant at the time of the survey in 2015-16, compared to 16% in 2005-06, the data show. The median age at birth was 21 years in 2015-16.
Increase in consumption of iron, folic acid, less urbanisation reduce anaemia
Along with delayed pregnancy and reduction in open defecation, a 10 mg increase in daily iron supply in the household was also associated with a 8.9% reduction in anaemia, the study found.
A 0.1 mg a day increase in folic acid supply was associated with a 1% reduction in anaemia.
In 2011-12, pregnant Indian women surveyed consumed an estimated 0.28 mg a day of folic acid and 10.8 mg of iron on average. The World Health Organization recommends a daily consumption of 0.4 mg of folic acid and 30-60 mg of iron for pregnant women. The Indian government's dietary guidelines recommend 35 mg of iron and 0.5 mg of folic acid for pregnant women.
In 2015-16, only 30.3% of women in India consumed iron folic tablets for 100 days during pregnancy, according to NFHS-4.
Consumption of phytic acid, found in grains and legumes, is also indirectly responsible for anaemia as it binds iron in the gut and prevents its absorption, the study said. A 0.1 mg a day increase in phytate supply predicted a 1% increase in anaemia.
The dietary make-up of Indian households has changed little, the study found. Overall, households receive iron from poor sources. For instance, turmeric contributed less to the total iron intake in 2012 compared to 2004 while wheat made up a greater part. But wheat also contains phytic acid which prevents the absorption of iron.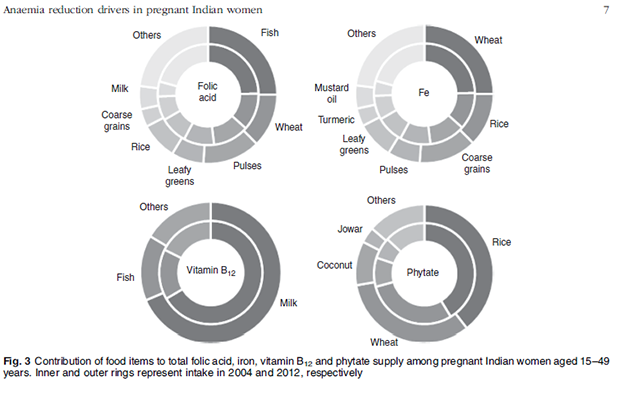 There has to be a large scale awareness programme so people know more about the nutrients in the food they eat, and how they can change diets to include more and better sources of iron, said Nitin Bajpai, an independent researcher.
One additional year of education--which could be linked to improved hygiene, diet, income, and give women greater power over the decision of having a child--was associated with a 2.8% reduction in the prevalence of anaemia, the study said.
A 10% increase in the urban population was associated with a 2.1% increase in anaemia, which could be because many women who migrate to urban areas live in slums with poor access to sanitation, and lack access to piped water, the study hypothesised. "Women in urban slums make dietary sacrifices for children and working male members during times of food insecurity such as periods of food price inflation," the study added.
How the government's anaemia prevention programme could be more successful
The Indian government introduced an unsuccessful programme to reduce anaemia in women and children in the 1970s, called the National Anaemia Prophylaxis Programme, which distributed iron and folic acid tablets among pregnant women and children aged 1 to 5 years. In 1991, it was renamed the National Nutritional Anaemia Control Programme and made part of the National Child Survival and Safe Motherhood Programme, which addresses a mother and child's overall needs. The programme increased doses of iron-folic acid supplements. In 2013, the National Iron Plus programme was launched, and the government starting providing supplements to all women of reproductive age irrespective of their haemoglobin levels and pregnancy status. The government said it is committed to halve the prevalence of anaemia by 2025, which entails an annual decline of 5%, as IndiaSpend reported in November 2017.
"One strategy that will help reduce anaemia is the government's effort to make entire villages open defecation free through Swachh Bharat, as the study shows open defecation rates have to be less than 40% in a village to reduce the rates of anaemia, and just changing the behaviour of some households won't be effective," Suman said.
But open defecation does not only mean "going out in the field", it also includes open sewage lines, said Bajpai. "Even a city like Delhi doesn't have more than 50% coverage of the sewage system, what do you talk about smaller cities and towns?"
In terms of nutrition, Bajpai said the key is behaviour change. "You can't force people to change. You have to make them aware, and then convince them to change their behaviour." He gave the example of iron tablets, the side-effect of which is nausea. Many women who are given these tablets show the empty cases as proof that they've taken the tablets but they could have thrown it because of the side effects and a lack of understanding of the importance of taking iron, he explained.
"Counselling is very important here," he said.
Cereals, the study's authors found, were the biggest source of iron but they also contain phytate, which limits the amount of iron absorbed by the body. "The use of modern biotechnological methods to both improve micronutrient content and reduce phytate content in cereals is essential in the fight against anaemia," the authors wrote. But the right food should be fortified, explain Chakrabarty. For instance, in Tamil Nadu, a rice-eating state, there is little purpose fortifying wheat.
Bajpai also suggests using local solutions for modifying diets. For instance, in areas where drumstick (Moringa) is used in food, people could be informed how its leaves are very rich in iron and should be eaten with lemon.
"Blanket approaches don't work," he said, adding that the community should be involved in planning as well as in monitoring an intervention. "This makes the community accountable and helps ensure that solutions are acceptable to the community," he said.
He also suggests phased cash transfers after every antenatal visit under the Janani Suraksha Yojana--the government's safe motherhood cash transfer program--rather than a single-time cash transfer at an institutional birth. "The logic behind the phased transfers was that women could use this extra money during their pregnancy to supplement the food they eat," he said.
Need more data to formulate policy
"It is very important to measure the nutrition status of a population," Suman said. Currently, the national family health survey, conducted every 10 years until 2015-16 across the nation, did not measure the food intake in the form of actual quantities consumed. The IFPRI study combined the National Sample Survey which is the only survey which had information on dietary intake with the District Level Health Survey to understand the determinants of anaemia in India.
Future health surveys should include questions on dietary intake of the respondents to aid research and help guide policy, said Suman.
Bajpai also suggests including states missing in this study in future research. "It's easier to convince state governments with state-specific information."
(Khaitan is a writer/editor with IndiaSpend.)
We welcome feedback. Please write to respond@indiaspend.org. We reserve the right to edit responses for language and grammar.