Debt-laden Maharashtra To Spend Its Way Out of Farm Crisis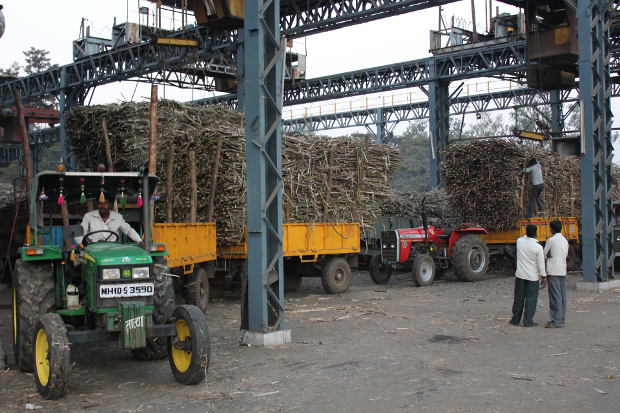 India's richest state by gross domestic product has a dangerous way of funding itself: by borrowing money, and borrowing money to repay borrowed money.
Maharashtra's outstanding debt, according to the state budget released this week, is Rs 300,477 crore ($48 billion), an increase of 10.5% over last year.
This is how the debt has risen over five years: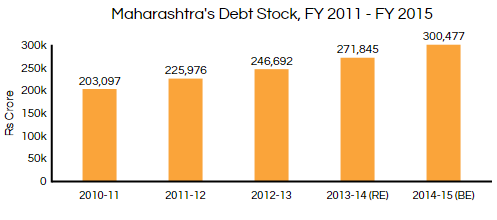 Source: Economic Survey 2014-15
That debt has never stopped Maharashtra from spending money, especially in controversy-ridden areas.
What Maharashtra's Debt Can Buy



121 monorail projects


20 aircraft carriers


12 metro-rail projects


2,300 PSLV-XL satellite-launch rockets


Midday meals for 313 million students


Sources: View list here.
This year, irrigation--the subject of multiple scandals--is back in focus in Maharashtra, the epicentre of suicides by distressed farmers. More than 60,750 farmers have killed themselves since 1995, IndiaSpend had earlier reported.
The new Bharatiya Janata Party (BJP)-led government has allocated Rs 7,272 crore to the water resources department for the year 2015-16. The plan is to complete 38 projects by the end of the next financial year and bring 69,000 hectares of land under irrigation. There are about 452 on-going projects in the state and 270 are stuck owing to reasons like legal hassles, 119 are stuck due to land acquisition issues and 142 have been stalled due to higher costs.
The budget stressed dryland farming, accelerated development of infrastructure, removal of disparity, development of urban areas and creation of job opportunities for young people.
Finance Minister Sudhir Mungantiwar presented the first budget of the new government, pegging the state's revenue deficit for 2015-16 at Rs 3,757 crore.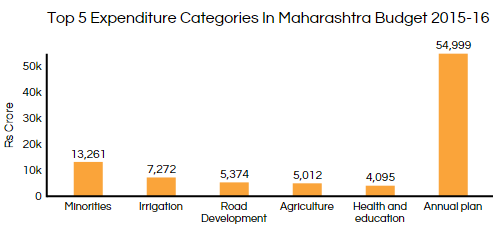 Source: Maharashtra Budget 2015-16
Minorities, special assistance schemes (under which financial assistance is provided) and tribal development have received the highest allocation at Rs 13,261 crore. The majority of this will go to programmes aimed at benefiting scheduled castes (Rs 6,490 crore) and tribals (Rs 5,170 crore), who make up 11.8% and 9.4%, respectively, of the population and are at the bottom of the development heap.
Irrigation is followed by road development, with an allocation of Rs 5,374 crore with almost a 60% outlay (Rs 3,213 crore) for road works of 500 kilometres.
The government has also introduced a new method of funding projects. Those that can be finished within one financial year will get 100% funding; projects that can be completed within two years will be get 50% funding.
"For projects that require more than two years, we are thinking about a system of deferred payment or annuity and also exploring loans from multilateral agencies at concessional rates," the finance minister said.
The BJP government is clear that it wants to address the concerns of farmers.
The growth rate of agriculture, which employs 49% of the state's 56 million people, was close to 4% last year, and frequent changes in climate and the inability of the farmers to prosper has forced the government into action.
The government has set aside Rs 5,012 crore, almost double last year's allocation of Rs 2,350 crore, for agriculture. Rs 1,000 crore has been set aside to provide water for drinking and agriculture, water that is otherwise in short supply due to erratic rainfall.
The government has also offered a Rs 171-crore debt waiver, which will release almost 0.2 million farmers from the clutches of moneylenders in farmer suicide-prone Vidarbha and Marathwada regions.
Rs 4,000 crore will be used to address the fallout of weather vagaries.
The allocation for health and education has increased more than 400% to Rs 4,095 crore. While the health sector gets Rs 2,296 crore (Rs 370 crore last year), education gets Rs 1,802 crore (Rs 405 crore last year).
The money for health and education will go to centrally sponsored schemes, such as the Sarva Shiksha Abhiyan, or universal education (Rs 1,690.56 crore), and the National Health Mission (Rs 196.48 crore), both of which faced central budgetary cuts.
Rs 1,248 crore will be spent on infrastructure, mainly for metro-rail projects in Mumbai, Pune and Nagpur.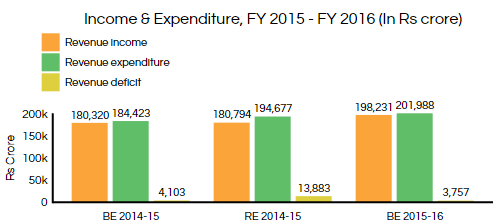 Source: Maharashtra Budget 2015-16
The table above shows that revenue deficit has increased from the budget estimates of 2014-15 to the revised estimates for 2014-15.
The budget estimates for 2015-16 show a revenue deficit lower by 73% on increased revenue income.
As far as income is concerned, the government has fulfilled its election promise of abolishing the local body tax (LBT) collected for entry of goods to a local area for consumption, use or sale. Mungantiwar said the abolition will take effect from 1 August.
The government will provide Rs 6,000 crore to cash-strapped municipal corporations (with the exception of Mumbai). To fund this, the government intends to raise value-added tax (VAT), now levied at 5% to 12.5% on goods.
The budget has tried to get other non-tax revenue by increasing the levy on floor space index within Brihanmumbai Municipal Corporation (BMC). That could raise revenue from around Rs 1,800 crore to Rs 4,000 crore per annum.
Image credit: Wikimedia/Shakher59
__________________________________________________________________________
"Liked this story? Indiaspend.com is a non-profit, and we depend on readers like you to drive our public-interest journalism efforts. Donate Rs 500; Rs 1,000, Rs 2,000."