Deaths Decline But Injuries Increase Due to Rail Accidents
Three coaches of the Mumbai-Dehradun Express caught fire in the wee hours on January 8, claiming the lives of 9 passengers. Railway Minister Mallikarjun Kharge announced a compensation of Rs 5 lakh to the kin of those killed in the fire, as reported in Economic Times. Arunendra Kumar, Chairman of the Railway Board, has said that a compensation of Rs 1 lakh will be given to those seriously injured and Rs 50,000 will be given to passengers who suffered minor injuries.
Wednesday's train accident is the latest in a series of accidents that have occurred in the country over the last year. A report in online portal OneIndia highlighted 7 serious accidents have happened in 2013, the worst being the major fire on the Nanded-Bangalore Express on December 28, which claimed the lives of more than 24 passengers.
IndiaSpend's analysis, however, shows that there has been a 26% decline in the number of train accidents from 2010-11 to 2012-13. Data from the Lok Sabha questions (which doesn't include information on Konkan Railways) shows that there were a total of 93 train accidents during 2010-11. This figure declined to 77 in 2011-12 and 68 in 2012-13. The accidents include collisions, derailments, manned level crossing accidents, incidents of fire and miscellaneous accidents.
Figure 1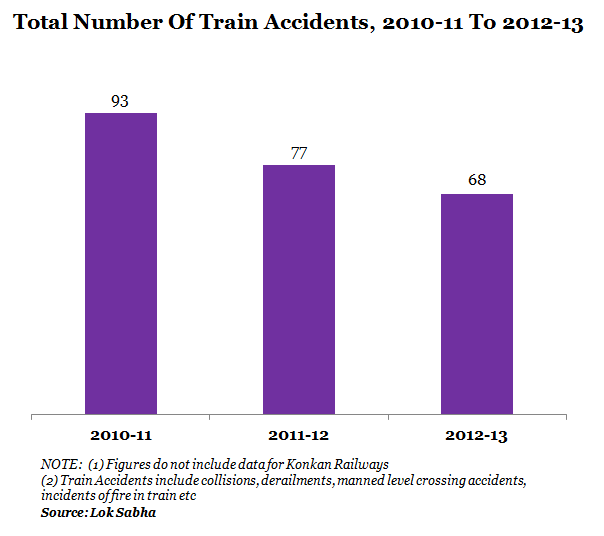 Northern Railways reported 16 accidents in 2010-11, which was the highest in that year. The accidents dropped to 7 in 2012-13.
Data from the Ministry of Statistics (MOSPI) shows that the number of passenger deaths due to train accidents has shown an uneven trend from 2007-08 to 2011-12. The number of passengers injured, however, has shot up.
Figure 2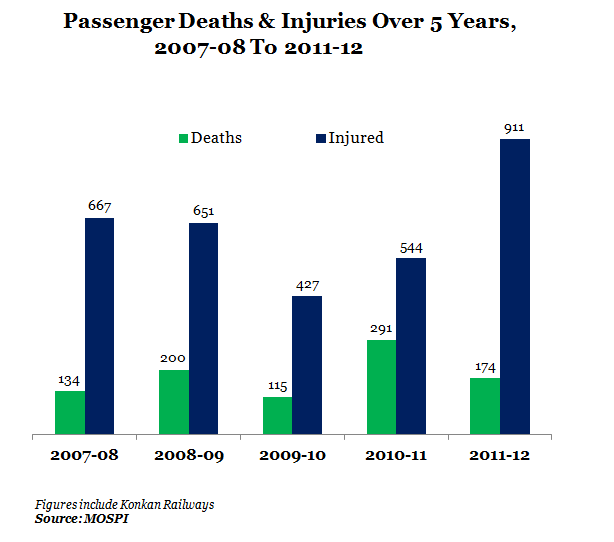 Compensation to victims of train accidents is paid only after a claim is filed with the Railway Claims Tribunal and a decree is awarded by the Tribunal. The number of cases settled has gone up by about 13% from 187 in 2010-11 to 212 in 2012-13.
Figure 3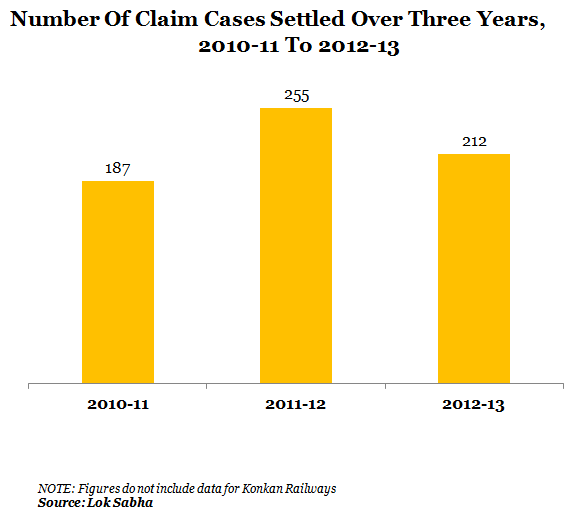 The amount of compensation has gone down by about 44% from about Rs 5.7 crore in 2010-11 to Rs 3.2 crore in 2012-13.
Figure 4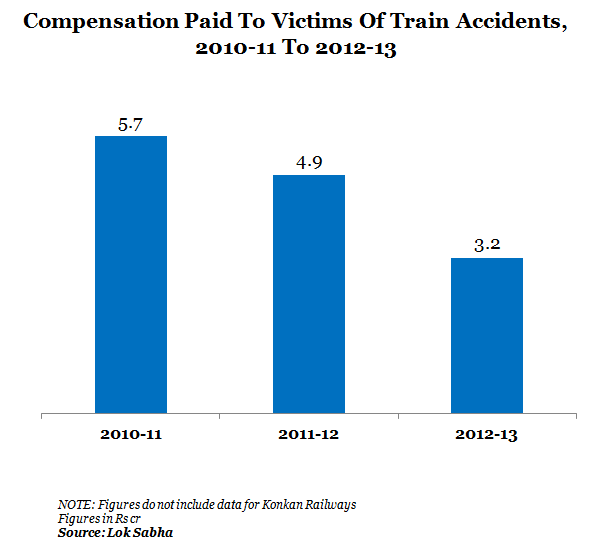 As on March 2013, a total of 489 claim cases are pending with different benches of the Railway Claims Tribunal.