Dear Voter, Why Did You Vote So?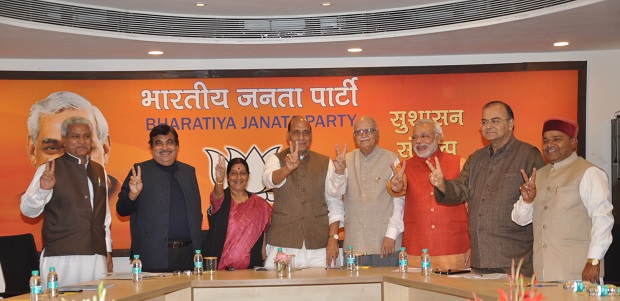 The recently concluded assembly elections in Delhi, Rajasthan, Madhya Pradesh and Chhattisgarh saw the Bharatiya Janata Party (BJP) get a strong mandate in three states except in Delhi where it won a 32-seat majority but was followed closely by the debutante Aam Aadmi Party (AAP) which captured a eye popping 28 of the 70 seats in the assembly.
So as the dust settles, it's tempting to ask if voters were at all influenced by the economic and social indicators in the state – as we know them – and to what extent if so?
For instance, all four states saw a growth rate that was higher than the national average. Did that matter to voters? States like Madhya Pradesh have very weak social indicators. Did that weigh on the state's voters? Perhaps not to both.
Let's ask instead how these states have performed in recent years. In some ways, this also gives you an insight into what did or did not influence voting behaviour.And also the unfinished agenda as we see it.
A good place to begin would be to use indicators like fiscal deficit, growth rate, crime against women, infant mortality rate (IMR), maternal mortality rate (MMR) and malnutrition and to contrast that with some credits, if the former were mostly debits. We are not looking at inflation and price, at least for the purpose of this report, since that is a consistent factor across the country.
Delhi has a strong economy and social indicators but one key challenge would be to make the state safe for women: the crime rate was 52 per 100,000 women at the end of 2012 as against the national average of 31 per 100,000 women. This is specific, as borne out by the high profile cases reported but also with the anecdotal evidence that Delhi is not seen as a safe city-state for women.
Rajasthan distributes free medicines to the poor and has the highest solar power generation in India. The state reported the highest number of crimes against Scheduled Castes (around 15% of the total in the country).And it has high maternal mortality, at 318 as against the national average of 212. And fiscally, there was a 54% growth in debt during 2009-12.
Madhya Pradesh, ruled by the BJP for the last 10 years, has seen high malnutrition, rising crimes against women, high power deficit and poor agricultural growth. But it's also seen the highest green spending in the country – not that we expect resounding electoral backing on this particular issue.
MP has much work to do on health: 60% of children below the age of 5 years are underweight, and the state has an IMR of 59 (as against the national average of 44) and MMR of 269 (national average of 212).
Chhattisgarh has had high agricultural growth but has the highest number of people living below poverty line and is the lowest on human development. Chhattisgarh has also done well since it broke away from Madhya Pradesh on a relative basis, as this report will tell you.
Let's get down to some numbers now:
Some quick pointers:
*All four states have growth rates higher than the national level. While Delhi has the highest growth rate of 10.5%, Chhattisgarh had the lowest with 8.5%.
*Only Delhi had fiscal surplus while Madhya Pradesh had fiscal deficit of 2.5% of GSDP (higher than the all-India level).
*Rajasthan (32%)followed by Madhya Pradesh had the highest debt as a percentage of its gross domestic productwhile Chhattisgarh had the lowest with 14.5%. The all-India level at 11% is much better than these four states. Newly elected Rajasthan Chief Minister Vasundhara Raje told India Today magazine that she wanted to make a "lasting improvement in quality of life of people through sustainable growth and not one-time freebie of a few hundred rupees before elections." Translated, no dole.
*Interestingly, Chhattisgarh and Madhya Pradesh (17% each) had the highest expenditure on development as compared to Delhi and Rajasthan while Delhi's development expenditure (6.5%) is lower than the all-India level (10%).
*Chhattisgarh (11.5%) and Madhya Pradesh (9%) also score high in social service expenditure and Delhi is the lowest with 4.3%, even lower than 6% All-India.
Obviously, we are not concluding that high development and social service spendswere the only reasons for the BJP's victories in Madhya Pradesh and Chhattisgarh. However, the challenge for Chhattisgarh Chief Minister Raman Singh would be to hasten growthwhile the challenge for Madhya Pradesh Chief Minister Shivraj Singh Chouhan will be to lower the fiscal deficit and debt.
Rajasthan, which was run by the Congress, has to overcome high debt and ensure development. Though Delhi looks good fiscally, the fiscal shape of the state has surely not helped the Congress in the elections.
Social Indicators
Let's now take a look at a few basic social indicators of these states:
*Delhi's infant mortality rate of 28 per 1,000 child births as per Census 2011 is much better than the national average of 44. While Madhya Pradesh recorded 59 deaths per 1,000 childbirths, Rajasthan reported an IMR of 52.
*Rajasthan had the highest maternal mortality rate of 318 deaths per 100,000 live births while Madhya Pradesh and Chhattisgarh do better than Rajasthan. But none of these states are close to the national average of 212.
*Delhi has the worst child sex ratio with 866 girl child per 1,000 boys followed by Rajasthan (883). Chhattisgarh with 964 girls is much higher than the national average of 914.
*Madhya Pradesh has 60% children below 5 years who are underweight, nearly 18% more than national average of 42%. Delhi, with a smaller population as compared to other states, has 26% underweight children.
* Delhi has the highest crime rate as compared as against All-India crime rate against women. Around 52 crimes against women were registered per 100,000 women while the national figure is 31. Incidentally, women safety was a prime agenda for the BJP and AAP in the elections. Chhattisgarh's crime rate is 30, lower than the national average.
Though the analysis is restricted to specific indicators, we find that in Delhi, a strong economy and good social indicatorscould not save the Sheila Dixit-led Congress Government. Which had a resurgent BJP and an emergent AAP to reckon with.
Madhya Pradesh, where the BJP has been in power for more than a decade, has failed to deliver fiscally as well as socially. And yet the party came back to power easily.
While Chhattisgarh, under the leadership of Raman Singh, has done relatively well compared to otherstates, rebuilding a weak economy and improving its social indicators will be a big challenge for the BJP in Rajasthan.
We started off by asking what could have influenced voters to vote the way they did. Well, the answers obviously lie beyond some of the data. Inflation could be one factor, the Narendra Modi wave could be another. Anti-corruption in the form of the Aam Aadmi Party's Arvind Kejriwal (in the case of Delhi) could be the third. Anti-incumbency in general could be the fourth. Or it could be a fifth and a sixth factor we have not brought in here.
We could of course throw more ingredients into the stew but the idea was to leave a few data points in the pot. And then make the debate a little more interesting.