'Culture of Silence Enables Men To Continue Predatory Behaviour With Women'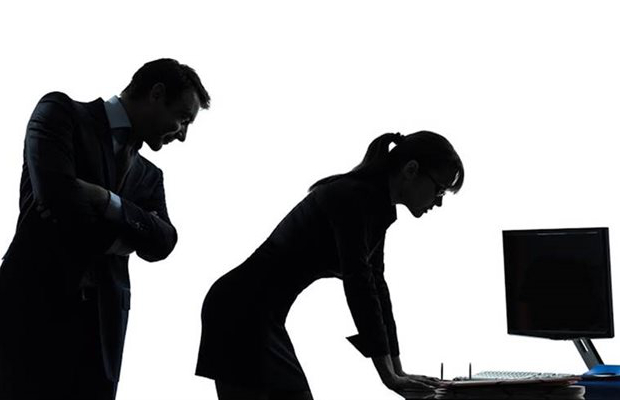 Despite a law against sexual harassment at the workplace, abuse by powerful, entitled men is endemic and exists throughout the world, said a researcher who accused her former boss R K Pachauri of sexual harassment. (Representational image)
Revelations of sexual misconduct, including allegations of rape, against film producer Harvey Weinstein have not come as a surprise to at least one woman: The woman researcher who had filed a sexual harassment complaint against her former boss and head of The Energy and Resources Institute (TERI), Rajendra Pachauri in February 2015.
"Sexual harassment by powerful, entitled men is endemic and exists throughout the world," the researcher who by law and media practice may not be named, told IndiaSpend. Worse, she said, predatory behaviour by men in powerful positions is enabled by a work environment that turns a blind eye to it.
The price of speaking up against sexual harassment can be high. That price, she said, could include a hostile work environment and even the loss of a job, particularly if the perpetrator is the boss; mental stress and loss of health; and an expensive and long legal battle.
And, yet, it's important to speak up, to put an end to such behavior and to a culture of silence, she said.
India's law against sexual harassment was enacted in 2013--nearly 17 years after the Supreme Court issued what are called the Vishakha guidelines--following the gang-rape of a woman who had been trying to prevent the marriage, under a government campaign, of a one-year-old baby. The court recognised that women need special protection from sexual abuse and harassment at the workplace.
The Sexual Harassment of Women at Workplace (Prevention, Prohibition and Redressal) Act, 2013 clearly defines sexual harassment, sets out clear steps to be taken by organisations during an inquiry and even includes a provision for false and malicious complaints.
However, sexual harassment at work remains rampant--partly because organisations sometimes seem unaware of what is required by them under law, partly because women don't seem to know their rights and partly because of a workplace culture that seems to be loaded in favour of powerful male bosses.
Excerpts from an IndiaSpend interview with the TERI researcher:
Two-and-a-half years after you filed your complaint in February 2015, what's the progress in your case against former TERI boss Rajendra Pachauri?
The main criminal trial is currently pending at the stage of framing charges. The police have already filed the charge-sheet. The FSL [Forensic Science Laboratory] reports, according to what is reported in media, belie his [Pachauri's] claims of hacking. What a waste of public resources and precious time of agencies such as the FSL, which are already so burdened.
The accused [Pachauri] is using every trick in the book to delay the matter going to trial--from filing petty applications to filing them just a day before the scheduled date of hearing. The context of those applications is also extremely frustrating--to ask for material which the prosecution has not even used to file the charge-sheet!
I had also filed a civil case in the Delhi High Court in September 2015 against TERI and its governing council members for violating sections of the Sexual Harassment Act, shielding the accused and creating a hostile environment for me. That too is pending.
And then there is the accused's [Pachauri's] appeal filed in the Industrial Tribunal against the findings of TERI's internal complaints committee (ICC) on the basis of my complaint. For as long as that appeal is pending, the ICC findings and recommendations cannot be implemented or even reported by media.
If these cases weren't enough, I have also had to file complaints against the accused's counsel with the Bar Council of India. I hope for speedy redressal of my complaints. It has been almost 20 months since I made a formal complaint. I cannot and will not ignore the derogatory and unlawful conduct of the accused's counsel. It caused me tremendous stress, mental pain, fatigue and was extremely harassing. It was a loss of my time and energies.
When I look back, I cannot believe that it took so long for even the powerful governing council to sack him [Pachauri]. Companies talk of yoga, spirituality and employee well-being but remain so insensitive to what is going on under their very noses. They don't even want to understand what is happening. From my experience of dealing with the Governing Council, I feel that we must stop assuming that a Harvard degree ensures education in the true sense of morality and righteousness.
What has your life been like after you filed the complaint?
Well, it has been one unimaginable journey. After I filed my complaint, I was diagnosed with depression and anxiety and have been undergoing counseling and am on anti-anxiety medications currently.
Until early this year, each day was a struggle. Anxiety attacks were a regular feature. Due to my medical conditions, exhaustion and the pressure from ongoing legal cases, I was unable to pursue any full-time job.
Yet, I had to earn money. TERI paid me very little as there was no pay grade. People with less work experience and qualifications than me were earning much more and those with a PhD were earning less than me. I think it all boiled down to how well you knew or how close you were to the boss.
When I was interviewing for jobs elsewhere, some institutional counterparts seemed to understand the existence of no pay scale at TERI but many did not. I took up some consultancy work and it was very difficult for me to ask for a decent pay as most companies look at the previous drawn salary. I sought to work from home or remotely.
Even now, the thought of entering an office terrifies me. I would avoid walking into my boss's cabin. I fear opening up emails. It takes a LOT for me to log in to my Inbox.
I am unable to share more details of my life currently but will do so when I am comfortable with it.
Do you ever regret filing that complaint?
Not at all. The only people who should feel any regret are the accused [Pachauri] and those who support him. When I look back, I can see how I was left with no choice but to file my complaint as every plea of mine went unheard.
But I have learned one lesson from this whole experience, and it is that professional success is meaningless if you aren't a good human being first. My father always used to say that life is not about how a human being can be a successful professional but how s/he can be a successful human being. These thoughts resonate with me each time I need to make a decision when dealing with people.
This entire saga showed me who my real friends are and who are just hypocrites. Several employees at TERI who claim to take a stand for social justice, failed their own ethics/morals, or more accurately, pseudo ethics standards. There was a twisted version of what constitutes morality. It seemed that it translates into personal convenience.
I did not know how much strength I probably have within me and it has been an overwhelming personal discovery for me. I am learning how to channelise this more productively and meaningfully.
I do realise our justice system will take its own time, but I had to speak up as I had had enough at TERI. I also wanted to ensure that no other woman would have to go through what I did. The first words that my father told me when I revealed to him what was happening at work, was: "Beta, being silent in a crime is being part of the crime".
It's this culture of silence that we as a society must break because it is silence that enables men to continue with predatory behavior with vulnerable women. It is this culture of silence that makes it so difficult for women to speak up. When women complain, it most often comes at huge personal cost to them.
Does it shock you that sexual harassment at work is so widespread, not just in India but across the world?
Yes and no. Sexual harassment by powerful, entitled men is endemic and exists throughout the world. But what shocks me is when noted achievers jump to support the accused. I'm shocked at the level of support these men get; everyone knows what is happening, but they either remain silent or continue to actively support them.
Ideally, those in positions of influence, and actually anybody with a conscience, should maintain a neutral stand even if they are good friends with the accused. We must be able to tell right from wrong. Society must remember that it takes everything for a woman to speak out against sexual harassment. The argument, "But I know him and he never did this to me," is completely flawed. The fact that he may have been ultra-saintly with you does not mean he may not have pounced on other women.
There is very little awareness of the issue, and victim shaming makes it worse. As a society we have to shift the focus to the actions of the accused rather than on the woman who was at the receiving end.
There can be varying grades of sexual harassment and I pray and hope that no one experiences what I did at TERI. I really hope that there exists no office environment such as the one I faced at TERI.
Sexual harassment appears to be an issue of exploiting and misusing a powerful chair/office. One must question the workings of such an office where the harasser abuses his official position and dealings to satisfy his personal fetishes.
What is your advice to women who are experiencing sexual harassment? Is it easy to speak up, and what is the cost of speaking up?
The first thing I would say, "Please do not suffer in silence."
For ages you may have been told that your emotions and wishes do not matter. They do. Stand up for your dignity and fight, for you are being wronged.
Of course, every experience is different, yet some outcomes can be applicable to all. There will be a price for speaking up. Expect isolation and hostility at work if you have complained against the top boss. Expect delays and frustration in the legal framework.
But don't let that bog you down. Start saving money and, before you speak up or file that complaint, get yourself a lawyer. Get to know your rights and understand the law. Make yourself aware of all your options so you can take informed decisions. Start planning on alternative job options because you might not be able to continue working in the same organisation, especially when you complain against the top boss.
Share, to the extent comfortable, with your family. I'd like to believe that all strong-willed and loving parents will support their daughters. If you end up in court, you will be the only one standing in the witness box but having said that do remember that you are not alone. Your courage will always be with you. This will definitely be a self-building experience as well and it has given me strength in other aspects of my life too.
(Bhandare is a Delhi-based journalist who writes frequently on gender issues confronting India.)
We welcome feedback. Please write to respond@indiaspend.org. We reserve the right to edit responses for language and grammar.
__________________________________________________________________
"Liked this story? Indiaspend.org is a non-profit, and we depend on readers like you to drive our public-interest journalism efforts. Donate Rs 500; Rs 1,000, Rs 2,000."