Cruelty In Marriage, Molestation Most Common Crimes Against Women In Bengaluru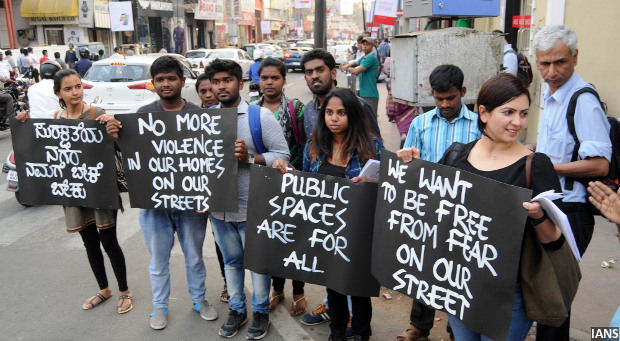 In Bengaluru, on January 10, 2017, citizens protest molestation incidents that occurred on New Year's Eve.
Bengaluru: More than 70% of crimes against women reported in Bengaluru in 2015 consisted of two types of cases: Cruelty by the husband or the in-laws, and molestation. The city recorded 3,157 complaints of crime against women through 2015--more than eight every day on average.
In this second part of our series on crime in Bengaluru, based on police records accessed by IndiaSpend and 101Reporters through Right to Information (RTI) filings, we analyse and map data on crime against women to see where crime is concentrated and during what time of day, mapping information that can help with better allocation of policing and other resources.
A crime map
Rape, attempt to rape, kidnapping, dowry-related killing or harassment, assault to outrage or insult a woman's "modesty," sexual harassment, voyeurism, domestic violence, abetment to suicide, trafficking of women, etc. are classified as crimes against women under the Indian Penal Code (IPC).
Most complaints filed in Bengaluru in 2015--1,341, or 42% of all--were filed under the controversial Section 498A of the Indian Penal Code (IPC), which pertains to cruelty by the husband and/or the in-laws--controversial because it is often alleged that women misuse its provisions to implicate or blackmail their husband and in-laws.
The second most common complaint was of molestation, with 976 cases, or 30.9% of all.
According to the police data (which exclude figures from 16 of the 111 police stations for which sufficient data were not available), more than eight crimes against women were reported in the city every day on an average in 2015. We have divided Bengaluru into 626 areas to map these crimes based on location.
Jayanagar, a wealthy, Old Bengaluru locality, registered the highest number of crimes against women: 120. Ulsoor, another Old Bengaluru locality in the central part of the city, came in next with 108 complaints. Peenya Industrial Area, located on Bengaluru's outskirts, registered 66 cases.
While the city's coveted residential areas reported a high incidence of crime against women, busy areas such as KR Market and Yeshwanthpur did not report a single case.
More rapes during day
The overall incidence of crime against women was slightly more at night. For every 100 cases that reportedly took place between 6 am and 6 pm, 127 were reported to have occurred between 6 pm and 6 am. In other words, 56% of complaints alleged the crime had taken place during the night.
Using time-wise and locality-wise details, 101Reporters, a Bengaluru-based network of grassroots reporters, has prepared a map indicating how safe or unsafe a particular locality of the city was for women in 2015.
However more incidents of rape were reported to have taken place during the day than at night--of the 270 rape complaints, 144 were reported to have taken place between 6 am and 6 pm, a 14% higher incidence during the day.
Numbers reveal that Peenya and Subramanyapura, an upcoming residential area in the south of the city, registered the most number of rapes in 2015, at 14 and 12, respectively. In areas such as BTM Layout and Manyata Tech Park--not in but around the city, hosting its IT workforce--not a single case was filed.
In comparison, affluent localities such as Indiranagar and Koramangala had five rape complaints each. Jayanagar saw four. Home and commercial rentals in these areas are among the highest in the city. Besides big bungalows, Indiranagar and Koramangala are known for hosting a slew of posh brand outlets and pubs.
Inspector Iyyanna Reddy B. stationed at Peenya police station said only a few rape complaints turned out to be genuine and most happened to be false cases filed after a love affair had gone wrong.
Low conviction rate
The conviction rate in cases of crime against women, especially rape and molestation, has fallen, Karnataka Director General and Inspector General of Police Rupak Kumar Dutta told IndiaSpend, explaining that this is owing largely to delay in court proceedings.
In 2012, the 709 rape complaints filed in Karnataka resulted in 46 people being convicted, Dutta said, and during the same year, less than 2% of all molestation cases (3,215) resulted in conviction. In a third of the cases (1,099), either the accused were acquitted or the case was dismissed.
However, complainants often accuse the police of bias and callousness. Nazia Begum (name changed), a 22-year-old rape survivor, told IndiaSpend she had been raped by her neighbour and a medical test had confirmed the crime. The man had been arrested, yet released on bail after a month in jail.
"Every time I step out of home, he is there to threaten me," she said, adding that the Peenya police had been less than helpful. "There must be a lot of women like me. The only solution is to take strict action against the accused."
V.S. Ugrappa, a Member of the Legislative Council and chairperson of the Legislature Subcommittee on Prevention of Violence and Sexual Abuse of Women and Children, told IndiaSpend that his committee had carried out extensive groundwork and found that the conviction rate in cases of crime against women was a mere 3% in Karnataka. Of all Karnataka districts, he said, Bengaluru Urban is the most unsafe for women.
Nearly 24% of all crimes against women reported in Karnataka in 2015 occurred in Bengaluru, data from the State Crime Records Bureau of Karnataka show.
"Women are losing trust in the judicial system owing to the delay," he said, adding that crimes against women were on the rise in the city because criminals had no fear of the law.
Ugrappa alleged that the police do not invest themselves fully in investigating cases, which emboldens offenders. He called for greater accountability on the part of investigating officers.
(Mani is a Bangalore based freelance writer and a member of 101Reporters.com, a pan-India network of grassroots reporters. Amol Dhekane, lead software engineer at 101Reporters.com, has designed the map.)
This is the second of a three-part series analysing and mapping crime in Bengaluru in the year 2015. You can read the first part here.
Next: Impersonation, Identity Theft Most Common Cyber Crimes Reported In Bengaluru
We welcome feedback. Please write to respond@indiaspend.org. We reserve the right to edit responses for language and grammar.
__________________________________________________________________
"Liked this story? Indiaspend.org is a non-profit, and we depend on readers like you to drive our public-interest journalism efforts. Donate Rs 500; Rs 1,000, Rs 2,000."