Crop Damage By Wild Animals Declined 33%: Govt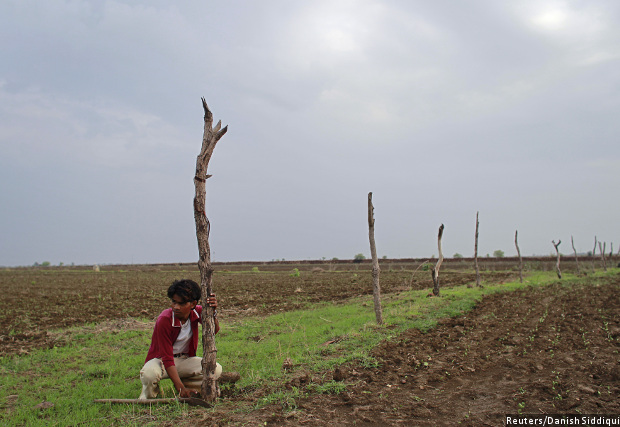 A youth erects a wooden log at his soybean field to tie barbed wires in order to keep wild animals away. The damage to crops from animal attacks declined 33% over two years to 2012, according to the central government.
As two senior Indian ministers tussle over the declaration of some wild animals as "vermin", the damage to crops from animal attacks declined 33% over two years to 2012, according to this August 2014 answer given to the Rajya Sabha (upper house of Parliament).
Crops damaged across India declined from 29,989 hectares in 2010 to 19,962 hectares in 2012, according to the government. Crops damaged in 2012 were 81 sq km, equivalent to an area roughly a fourth the size of Surat.
Bihar, one of five states that applied for permission after the environment ministry invited culling proposals in December 2015, reported four times more crop damage from wildlife incursions into farms over two years to 2012. There were no data available for the other four states that applied to cull animals.
Source: Rajya Sabha
Environment Minister Prakash Javadekar and Minister of Women and Child Development Maneka Gandhi, an animal lover, have taken opposing positions on the environment minister's permission to cull some wild animals, including nilgai (an antelope), wild boar and monkeys.
The environment ministry is showing a "lust for killing animals", Gandhi said on 9 June, 2016, quoted in this report. The environment ministry has allowed Himachal Pradesh to kill monkeys and Bihar, nilgai and wild boar, where they were in conflict with humans.
"The centre should have tried to explore other options instead of advising the states to shoot animals," the report said.
Bihar and Himachal Pradesh were among five states that responded to this environment ministry advisory asking states to list animals that destroy crops. Uttarakhand wants to cull wild boar, and Maharashtra and Gujarat both want to curb nilgais.
While proposals from Bihar, Uttarakhand and Himachal have been considered by the ministry, proposals from Maharashtra and Gujarat are under "active consideration", according to this report in The Quint.
In Chhattisgarh, crops damaged by wild animals rose 13%, from 11,828 hectares to 13,321 hectares in 2012.
In Karnataka, damage declined 75%, from 7,572 hectares to 1,900 hectares in 2010-2012.
Source: Rajya Sabha
Bihar did not receive any compensation despite the increasing damage wild animals caused to crops. The compensation received by various states increased 17%, from Rs 1.1 crore in 2010 to Rs 1.29 crore in 2012.
"Wild pigs and nilgais have been disturbing farmers for several years," said Anish Andheria, president of the Wildlife Conservation Trust, an NGO. "So, states have started to finally give in to demands to cull animals on farmland and not in wildlife sanctuaries, national parks or forests."
Andheria said killing "too many animals" can affect the food chain, since carnivores prey on nilgai and wild boar. If prey decline, carnivores could turn their attention to farm animals and humans, he said, suggesting that culling be done "under proper supervision and monitoring".
(Mittal is an intern with IndiaSpend.)
We welcome feedback. Please write to respond@indiaspend.org. We reserve the right to edit responses for language and grammar.
__________________________________________________________________
Liked this story? Indiaspend.org is a non-profit, and we depend on readers like you to drive our public-interest journalism efforts. Donate Rs 500; Rs 1,000, Rs 2,000.