Criminal Convictions In Bihar Down 68%, Crime Up 42% Since 2010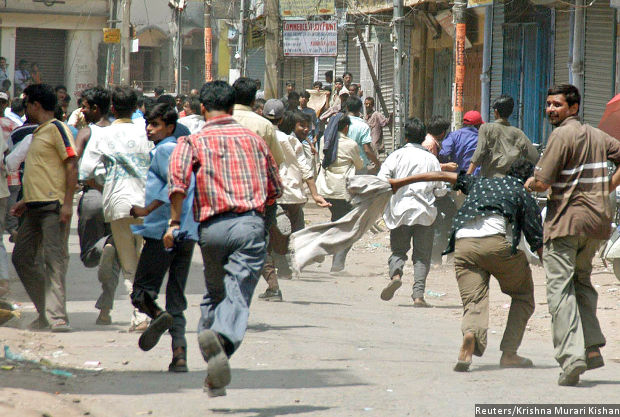 The murder of an 18-year-old student Aditya Sachdeva—allegedly shot dead by the son of a Janata Dal (United) politician for overtaking his car—and journalist Rajdev Ranjan are public manifestations of a deterioration of law and order in Bihar over the last six years.
Conviction of criminals in Bihar declined 68%, from 14,311 in 2010 to 4,513 in 2015, and cognizable crimes--those that the police can investigate without a magistrate's order--rose 42% over the same period, according to an IndiaSpend analysis of Bihar police data.
The period overlaps the 10-year rule of the JD(U), whose leader Nitish Kumar first became chief minister in 2005—eight of those years in an alliance with the Bharatiya Janata Party (BJP)—winning the last election in November 2015 in alliance with the Rashtriya Janata Dal (RJD).
Source: Bihar Police
Kidnappings up by 98%, most for forced marriages
As many as 7,127 kidnapping cases were registered in 2015, an increase of 98%, from 3,602 cases in 2010.
The majority of kidnappings were for forced marriages: 3,001 kidnappings registered (42%) were for forced marriages in 2015; in 2012, 63% of kidnappings were for such marriages, the highest-ever over the past six years.
Kidnappings for marriages have been a concern in Bihar. It is termed pakadwa shaadi (marriage by kidnap) where young males are kidnapped and forced to marry girls at gunpoint.
Experts said that groom kidnappings are declining but the number of reported cases has gone up compared to the previous decade, primarily because of increased awareness and greater reporting.
"Pakadwa shaadi was rampant in Bihar, particularly in the Bhumihar caste, a decade ago. With power changing hands, things have changed for the good. Since the state machinery has started functioning, more and more people are registering cases against the groom kidnappers," Shaibal Gupta, a sociologist based in Patna told Al-Jazeera.
Source: Bihar Police
Source: Bihar Police
Murders down by 11% in three years
Murders in Bihar declined 11%, from 3,566 in 2012 to 3,178 in 2015, remaining largely in the 3,000-3,400 range annually from 2005-2015, indicating a constant rate.
At 795, rapes reported were lowest in 2010 during the period 2005 to 2015. In other years, the number of rapes has mostly remained in the range of 1,000-1,100.
Source: Bihar Police
Thefts rose by 90% in 10 years, riots up 73%
While thefts surged 90%, from 11,809 in 2005 to 22,461 in 2015, riots rose 73%, from 7,704 in 2005 to 13,311 in 2015.
Source: Bihar Police
(Saha is a freelance journalist based in New Delhi.)
We welcome feedback. Please write to respond@indiaspend.org. We reserve the right to edit responses for language and grammar.
__________________________________________________________________
Liked this story? Indiaspend.org is a non-profit, and we depend on readers like you to drive our public-interest journalism efforts. Donate Rs 500; Rs 1,000, Rs 2,000.