Crimes Against SCs/STs Decline 4% in 2015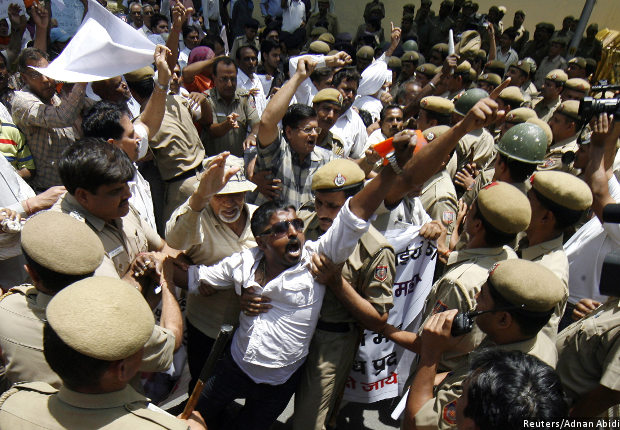 Registered crime against scheduled castes (SCs) and scheduled tribes (STs) across India declined 4% to 55,917 in 2015 from 58,515 in 2014, according to new data from the National Crime Records Bureau (NCRB).
Crimes against SCs were down 4%, to 45,003 in 2015 from 47,064 in 2014, and crimes against STs were down 5%, from 11,451 in 2014 to 10,914 in 2015, the data show.
The rate of crime--or cases registered per 100,000 population--against SCs declined from 23.4 in 2014 (based on a SC population of 201 million) to 22.3 in 2015, and against STs from 11 in 2014 (based on a ST population of 104 million) to 10.5 in 2015.
The NCRB report does not explain reasons for the decline.
Almost 48% of crimes against SCs were reported from three states in 2015: Uttar Pradesh, Rajasthan and Bihar, a decline of three percentage points from 51% last year.
Source: National Crime Records Bureau
Only Madhya Pradesh recorded an increase in crimes against SCs--from 4,151 cases in 2014 to 4,188 cases in 2015, up 1%.
Rape and sexual assaults against women continued to be the top crimes against SCs in 2015 as in 2014, as IndiaSpend had reported in October 2015.
Three states--Rajasthan, Madhya Pradesh and Odisha--together recorded almost 65% of crimes against STs in 2014. In 2015, Chhattisgarh replaced Odisha, with crimes against STs contributing to almost 14% of all-India cases.
Source: National Crime Records Bureau
There are more than 700 communities notified as STs under Article 342 of the Constitution of India, spread over various states and union territories, according to the 2015-16 annual report of the ministry of tribal affairs. Odisha has the largest number of communities listed as STs: 62.
We welcome feedback. Please write to respond@indiaspend.org. We reserve the right to edit responses for language and grammar.
__________________________________________________________________
"Liked this story? Indiaspend.org is a non-profit, and we depend on readers like you to drive our public-interest journalism efforts. Donate Rs 500; Rs 1,000, Rs 2,000."