Costs Plunge, Consumers Go Solar, Bypass Grid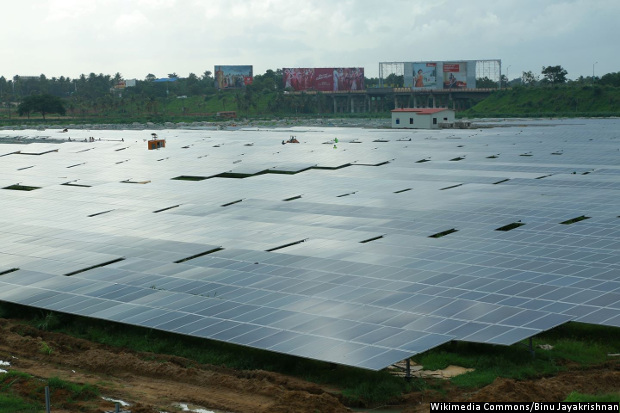 The price of solar energy has fallen by half over two years, with prices dropping from Rs 10-12 per unit to Rs 4.63 per unit in 2015, the price at which Sun Edison, a US company, offered to supply electricity in Andhra Pradesh recently, closely followed by another project.
At these levels, solar power is competitive with newly-built thermal, hydro and nuclear power plants, although it still faces issues of being available mainly when the sun shines. Nevertheless, these rates are encouraging a growing number of consumers to bypass India's creaky electricity grid and directly go solar.
These prices will also boost Prime Minister Narendra Modi's ambitious solar-energy plans. Of a target of 175 giga watt (GW) or 175,000 MW of renewable energy capacity by 2022, solar power will account for 100 GW, as Factchecker.in reported. India currently has 5,000 MW of solar power installations; so the government's target is a 20-fold jump over the next seven years.
Distortions in India's power sector act as an indirect carbon tax and are pushing some consumers to adopt solar electricity much faster than they would otherwise have, but, as we explain later, this inadvertent push to solar carries great risks of further crippling already crippled power-distribution companies. Two reasons drive these distortions:
First, industrial and commercial users pay above-market prices for electricity in India, and this is pushing them towards solar power. Second, irregular supply forces many industrial users to install backup in form of diesel generators, which are even more expensive. India now has a captive-generation capacity of 36,500 mega watts (MW), or the equivalent of 15% of the country's conventional power-generation capacity.
India's state power utilities lose 23% of the electricity they generate to transmission losses (including theft), as IndiaSpend has reported, and 22% as subsidised or free electricity to farmers. To make up for these losses, other consumers--particularly industrial and other commercial users--are charged up to 50% to 90% more than other consumers.
The three central-government power utilities--National Thermal Power Corporation (NTPC), National Hydro Power Corporation (NHPC) and Nuclear Power Corporation of India (NPCIL)--which generate electricity using coal, hydropower and nuclear energy, charged between Rs 2.8 to Rs 3.6 per unit for electricity during the financial year 2014-15. These companies operate many older plants, which drive down electricity costs.
If electricity were sold at prices close to those charged by the big three, solar power would still have a lot of catching up to do. However, industrial and commercial users, on average, pay more than twice the cost of the cheapest power generated by the big three. At these prices, shifting from grid power to solar electricity, increasingly, makes commercial sense.
Why airports, oil companies and homes like solar power--when it shines
In August this year, the Cochin International Airport went completely solar, with a 12-MW captive solar farm. The idea appeared to have caught on, with the Civil Aviation Minister calling for more airports to go solar. The Kolkata Airport has just finished installation of a 2-MW rooftop solar plant and wants to follow up with a 15-MW solar farm.
Public-sector oil companies have also started to adopt renewable power for their operations, with 3,135 petrol pumps using solar power. Indian Oil leads; it has converted 2,600 of its petrol pumps to operate on solar energy. Technology major Infosys has just completed a 6.6-MW solar plant at one of its software development centers in Telangana, which is now completely run by renewable energy. Infosys is already building a 40-MW solar farm and plans to add 110-MW solar capacity in the next two years, according to a news report. RBL Bank, a small private sector lender, has also decided to go solar in a small way at 10 of its branches, with rooftop solar panels. Tata Power recently installed a 12-megawatt rooftop solar plant at an educational institute in Amritsar.
However, this is not the full story.
Solar-electricity cost is competitive with grid power, but it is available only for about five or six hours every day. For the rest of the day, users must rely on the grid or store energy in batteries, which can be expensive.
Another market distortion has helped here: Since state power utilities lose money, they are often unable to supply electricity round the clock. As a result, many industrial and commercial users have backup diesel-run generation sets. During 2013-14, more than 2 million tonne diesel was consumed by industrial users to make up for irregular power supply.
"Rooftop solar costs around Rs. 6.5 per kWh (kilo watt hour) for systems of 200 kW or more," said Dr. Tobias Engelmeier, founder and director of Bridge to India, a solar-power consulting firm. "With batteries, you are looking at a doubling of the electricity cost. This currently makes no sense vis-à-vis grid tariff. People are trying to replace diesel gensets (which cost more than Rs 15 per kWh), but this is still early stage."
'Rooftop solar'--solar panels fitted on rooftops of houses, factories and commercial establishments--reached 525 MW across India by October 2015, of which 75% has been installed either by industrial or commercial users, according to Bridge to India estimates. The next 12 months should see another 455 MW of rooftop capacity, said the company. Mercom, another consulting firm, expects India to add 2,150 MW of solar capacity in 2015 and 3,645 MW in 2016.
In other words, the solar-power capacity added over these two years is more than the entire solar capacity added up till 2014, indicating a tipping point for solar power.
Rooftop solar plants are usually enough for a single user, a home-owner or a factory. Their popularity indicates costs are competitive. Thus far, only large users generated their own power.
Without energy reforms, the Prime Minister's solar-power dreams are difficult
The shift of industrial and commercial users from grid electricity will mean that high-paying customers will continue to leave state-owned power-distribution utilities, which lost Rs 62,154 crore ($10.3 billion) during 2013-14.
The Central Government appears to recognize the need for energy reform and has recently launched a scheme-- the Ujjawal Discom Assurance Yojna (UDAY)--to restructure the debts of power distribution companies and reduce the cost of electricity.
However, these measures do not address the energy stolen or lost and given to farmers free or almost free. These losses burden the taxpayer and prevent distribution and generation companies from investing in new infrastructure or technologies, such as solar power.
(Bhandari, is a media, research and finance professional. He holds a B-Tech from IIT-BHU and an MBA from IIM-Ahmedabad.)
We welcome feedback. Please write to respond@indiaspend.org. We reserve the right to edit responses for language and grammar.
__________________________________________________________________
Liked this story? Indiaspend.org is a non-profit, and we depend on readers like you to drive our public-interest journalism efforts. Donate Rs 500; Rs 1,000, Rs 2,000.