Congress Manifesto Focuses On Economic Issues; Promises Right to Health & Homes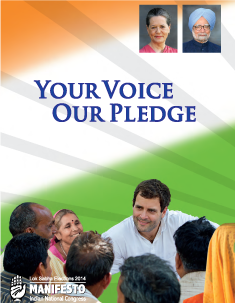 Congress vice president Rahul Gandhi, it seems, has finally started talking business. The Congress manifesto for the 2014 general elections starts with three economic promises:
1) 8% annual growth within 3 years
2) Will bring fiscal deficit down to 3% of GDP by 2016-17; and
3) Goods & Services Tax and a new Direct Tax Code Within 1 year.
So, growth, inflation control and positive economic signals from the Grand Old Party (GOP) could set the tone for discussions ahead of the nine-phased general elections for 543 Lok Sabha seats scheduled to start from April 7.
Party president Sonia Gandhi, Rahul Gandhi and Prime Minister Manmohan Singh released the manifesto in New Delhi on Wednesday (March 26, 2014).
Rahul Gandhi, while addressing the media after the release of the manifesto, said, "The manifesto we have here is truly the voice of the people of the country. Instead of having discussions behind closed doors, we asked people for their suggestions. We interacted with businessmen, women, coolies, youth to ask them what to put in the manifesto."
Here are some key takeaways from the manifesto:
1) Increase annual health expenditure to 3% of GDP
2) Enact health as a right to provide quality healthcare
3) At least 25% women personnel in every police station
4) Land rights for women, especially single women and women-headed households
5) 100 million new jobs in the next 5 years
6) 6 million new jobs in the health sector by 2020
7) All million-plus cities to be covered by high speed rail
8) To add 10 million hectares to irrigated area
9) Special envoy to bring back black money
10) Rs 10,000 voucher for every SC/ST unemployed graduate/post graduate for skill development
11) Building national consensus on affirmative action for SCs/STs in private sector.
Continuing its economic focus, along with social and political promises, the Congress manifesto is pledging to spend $1 trillion (Rs 61 lakh crore) to upgrade infrastructure across the country.
And in an attempt to woo over 375 million urban voters, the Congress party has made big promises: "We will ensure that Mayors and Municipal Chairpersons will have fully functional powers so that they can operate as Chief Executives Officers of cities, with executive powers and responsibilities."
After Right to Education and Right to Food, the Congress is now betting on Right to Health as well as Right to Homestead. "To ensure every person has a roof over his head, we will bring the Right to Homestead. The Rajiv Awaas Yojana will be expanded to cover all poor urban households in 250 cities by 2017. The Indira Awaas Yojana will be expanded to cover all poor rural households."
The main opposition party, Bharatiya Janata Party (BJP), has slammed the Congress and the Congress-led United Progressive Alliance (UPA) Government at the Centre. "The Congress-led UPA is slipping on all fronts. The people of India are disappointed with the Congress," Rajnath Singh, president of BJP, said.
Calling the Congress manifesto a 'document of deceit', BJP spokesperson Ravi Shankar Prasad said: "The Congress manifesto appears to be devoid of credibility and bereft of substance. The Congress has destroyed the Indian economy. With what face do they say that they will create 100 million jobs."