Congress-Free India? Not Any Time Soon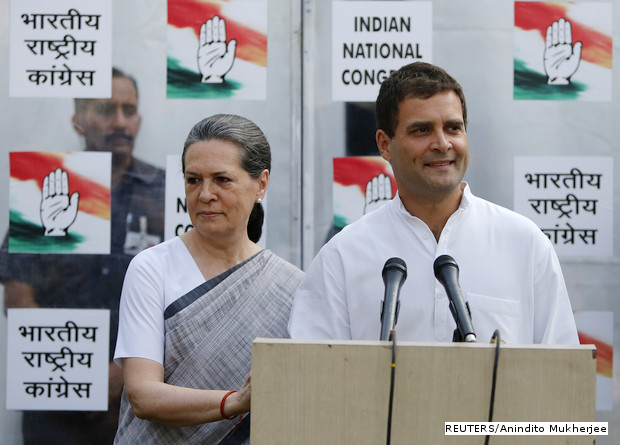 With the 35-year-old Bharatiya Janata Party (BJP) dominating electoral politics in 2014 and the seats held by the 130-year-old Congress being at new lows, it is hard not to feel that the Congress has been decimated, and that BJP president Amit Shah's vision of a "Congress-Mukt Bharat", or a Congress-free India, is at hand.
The data do not support that contention.
The Congress may have lost power, but the party retains strong voter loyalties. The BJP's popularity has soared mainly at the expense of other parties.
This conundrum is explained by India's first-past-the-post (FPTP) electoral system, which means that the candidate getting the maximum votes wins the election. A handful of voters can change outcomes, if they can be convinced into switching allegiances, even at the last minute.
In the 2013 elections in Rajasthan, Congress, despite being reduced to 21 seats, had a vote share of 33.7% compared to 96 seats in 2008 and a vote share of 36.8%.
In Madhya Pradesh, although it won only 58 seats, 13 less than in 2008, the Congress vote share increased by 4.7%. The data also reveal that BJP actually made inroads in the vote share of other parties, evidenced by the fact that vote share of "others" has reduced significantly.
In Delhi, Congress vote share has always hovered over the 40% mark. However, it dipped to 24.7% in 2013. The drop in vote share can be attributed to the rise of Aam Aadmi Party (AAP), which gained prominence in 2013.
In Jammu & Kashmir, Congress's vote share increased from 17.8% in 2008 to 18% in 2014. BJP, which secured its highest vote share of 23%, grabbed votes from other parties.
In Maharashtra, too, the Congress was reduced to its lowest tally of seats in 2014, but its vote-share dipped marginally, by 2.9%. Again, BJP's major inroads were into the votes of other parties.
The only exception is Haryana, where Congress's vote-share and seats fell drastically.
All data taken from the Election Commission website.
(Devanik Saha is Data Editor at The Political Indian.)
_______________________________________________________________
"Liked this story? Indiaspend.org is a non-profit, and we depend on readers like you to drive
our public-interest journalism efforts. Donate Rs 500; Rs 1,000, Rs 2,000."