'Congress Comeback In 2019 A Distant Goal. Modi Must Go Beyond Promises'
With recent wins in Himachal Pradesh and Gujarat, the Bharatiya Janata Party (BJP) is now in power in 19 of 29 Indian states, the best performance by an Indian political party since 1993, when the Congress or allied parties ran 18 of 26 states.
But while the BJP's performance in Gujarat--where it lost 16 seats, declining from 115 to 99--may not be satisfactory to itself and reveals future electoral risks, it may not herald a Congress comeback in the 2019 general elections, political commentator Suhas Palshikar--chief editor of a political journal--told us.
This has been Congress's best performance in Gujarat since 1995, in contrast to the BJP, which won the least seats in Gujarat since it first came to power 22 years ago, as IndiaSpend reported on December 18, 2017. In Himachal Pradesh, BJP won 44 of 68 assembly seats with 48.8% of the vote, the party's, the best and second-best performances, respectively in the state, we reported.
Palshikar, 61, is the director of Lokniti—a research programme on comparative democracy, based at Centre for the Study of Developing Societies, Delhi--and former professor at department of politics and public administration at the Savitribai Phule, Pune University. He is the chief editor of Studies in Indian Politics, a global peer-reviewed journal published by SAGE. His areas of specialisation include the political process in India, politics in Maharashtra and the political sociology of democracy. He has several publications in English and Marathi on elections, politics, democracy, party, class and caste systems in Indian politics.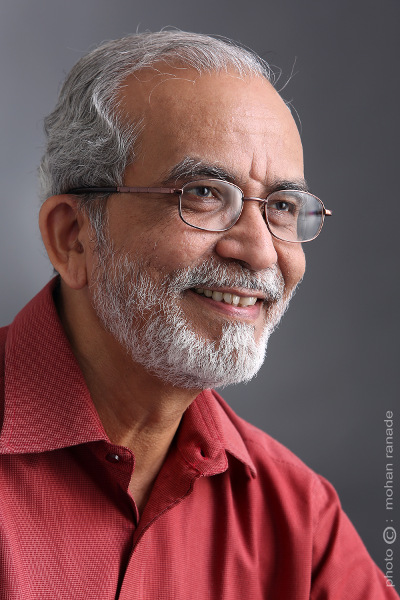 While the BJP's performance in Gujarat may not be satisfactory to itself and reveals future electoral risks, it may not herald a Congress comeback in the 2019 general elections, political commentator Suhas Palshikar told us.
Excerpts from an interview with IndiaSpend:
The BJP won 99 of 182 seats, the least since it came to power in 1995, when it won 121 seats. What do you read of BJP's victory in Gujarat?
While it is not very unexpected or surprising that a long-time incumbent party would be at the receiving end, the performance of the BJP must surely be disappointing to the BJP itself because it banked upon Gujarat as its backyard, particularly because of the fact that the prime minister belongs to that state. The BJP had also, for a long time, claimed that its Gujarat model of development is far better than that in any other state. In this backdrop, it is indeed embarrassing for the party to have just about survived. The most significant takeaway then is simply this: BJP is not invincible and that it is subject to electoral upsets like any other party.
The Congress won 77 seats in Gujarat, the most it has in 22 years, since it won 45 seats in 1995. It recorded a vote share of 41.4%, the best in over two decades. Does this mean a Congress resurgence in Gujarat? Do you credit this rise in vote share to Rahul Gandhi's leadership?
The Congress party in Gujarat does not have any organisational depth. As such, the improved performance of the party, though accrued through negative vote, is also in good measure due to the efforts of Rahul Gandhi. While this is good news for the Congress, its revival would depend upon how it strengthens its organisation and what broader narrative it communicates to voters.
The BJP has retained its hold on urban Gujarat, such as Ahmedabad, Surat, and Rajkot. In the rural areas of Saurashtra and Kutch, votes swung in favour of the Congress. The BJP has won 55 of 73 (75.3%) urban seats. The Congress won 18. But in predominantly rural areas, the Congress won 62 of 109 seats (56.8%), while the BJP won 43. What does this say about the urban-rural divide?
To the extent that large populations live in cities, the Congress needs to urgently create networks in urban areas balance its social profile. At the same time, both in Gujarat and in many more developed states, the divide between urban and rural populations reflects the anxieties and deep urban-rural fault lines. This is indicative of lopsided development and an imbalance in the economy. No party seems to have a clue to bridging this chasm.
In its first appearance in this Gujarat state assembly election, "None Of The Above (NOTA)" received over half a million votes (551,580), or 1.8% of 30.4 million votes polled. How significant is the role of NOTA in elections?
Gross numbers of NOTA are misleading. In other elections too, NOTA was the option chosen by around 2% of voters. So, while it remains to be investigated what motivates these voters to vote NOTA and who they are, at the moment, it does not seem to have any larger significance for the Gujarat outcome.
In Himachal Pradesh, the BJP won 44 of 68 assembly seats with a vote share of 48.8%, up from 38.47% in 2012. This is the best-ever performance by the BJP in terms of vote share, since it first contested elections in the state in 1982. Has the Modi wave helped the BJP in Himachal?
In Himachal, the contribution of Modi is undeniable, but two things must be kept in mind: One, there is a long history of the two parties alternating (with one another), and, two, the performance of the Congress government has been quite ordinary. These factors surely affected the outcome.
Is there a possibility that the BJP will win Karnataka?
Any projection of state election outcomes at this stage is only bound to be wild. The Congress government in Karnataka is relatively strong at the moment and yet, communal appeal, winning over Lingayats etc can be the key instruments in the BJP's armour.
Can Rahul Gandhi really inspire hope in next-generation voters?
The focus on so-called nextgen voters is myopic. Modi did not succeed only because of young voters. It is the ability to create realisable aspirations and the ability to perform when in power that matters most. The overemphasis on Rahul is both unjustified and uncalled for. It is the party that has to become active not just Rahul Gandhi.
Can the Congress make a come back in the 2019 general elections? What should it do to challenge BJP's cadre?
The Congress comeback in 2019 is a distant goal. Their immediate objective would be to retain power in Karnataka and then wrest power in the three BJP-ruled states (Chhattisgarh, Madhya Pradesh and Rajasthan) at the end of 2018. As I mentioned, organisational rejuvenation is a critical condition (for a Congress comeback), and that can happen only when the top leadership presents its followers with a clear vision or ideological anchor. Merely opposing the BJP is not enough. Both on the question of inclusiveness and of economy, the party will have to clearly indicate what it stands for and be able to communicate that to its rank and file.
Do you see the saffron surge continue in 2019 elections? Will the Modi wave hold till then?
2019 is not likely to be swayed only by Modi and the Modi wave. Although Modi will indeed play a very important role as the most acceptable leader, in 2019 he will have to go beyond promises and acerbic demagoguery. In 2019, voters will be curious about what is actually achieved.
(Mallapur is an analyst with IndiaSpend.)
We welcome feedback. Please write to respond@indiaspend.org. We reserve the right to edit responses for language and grammar.