Complaints Against Police Decline--Not Really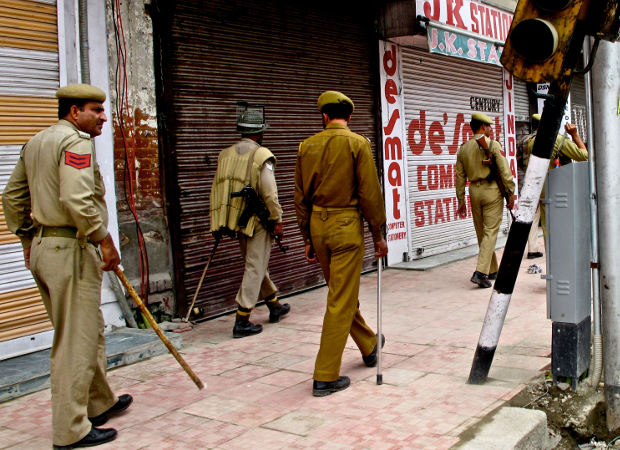 * Protests broke out in Tamil Nadu on April 7, 2015, after the Andhra Pradesh police shot dead 20 men--sandalwood smugglers, the police said.
* On March 31, 2015, a Central Bureau of Investigation (CBI) court in Patiala, Punjab, sentenced eight policemen, including a retired Superintendent of Police, to life imprisonment for two faked encounter killings in 1992.
* The order followed the Hashimpura massacre verdict, which acquitted 16 former police personnel accused of shooting Muslim men.
The police in India often require policing, with questions—now being asked of the Andhra Pradesh and Telengana police--often raised about their actions. Overall, though, data indicate that complaints against policemen and women are declining.
With 51,120 complaints recorded in 2013, there has been a decline of 7% from 54,873 in 2009, according to the National Crimes Record Bureau (NCRB), a unit of the Ministry of Home Affairs.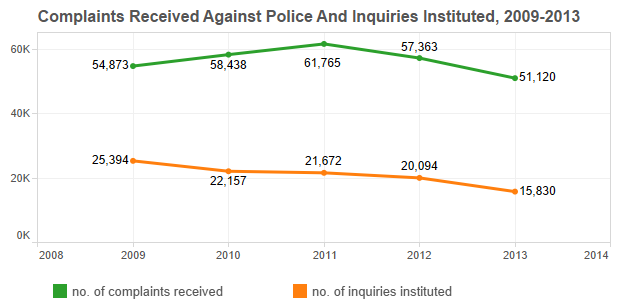 Source: National Crime Records Bureau
Inquiries against the police have declined from 25,394 in 2009 to 15,830, a decline of 37%.
Delhi received 24% of all complaints against policemen; in other words, one in every four complaints against the police comes from the capital. Madhya Pradesh and Maharashtra together accounted for the next 32% of complaints.
So, are the Delhi police -- 75,704 police personnel for 16 million people -- India's most unlawful police force?
The data may indicate this, but these figures are misleading.
What the data hide--the lack of redressal
Declining complaints against policemen and women do not necessarily indicate an improvement in the conduct of the police force--much as the overwhelming proportion of complaints against the Delhi police do not mean they are India's most unlawful force.
Despite Supreme Court orders in 2006, only 14 states have set up a Police Complaints Authority (PCA), an independent body that inquires into police misconduct and crimes. Every state and district was to have set up a PCA.
The PCAs that do exist operate below capacity, largely due to the general problems that plague the police nationwide: manpower shortage, limited mandates and inadequate funding.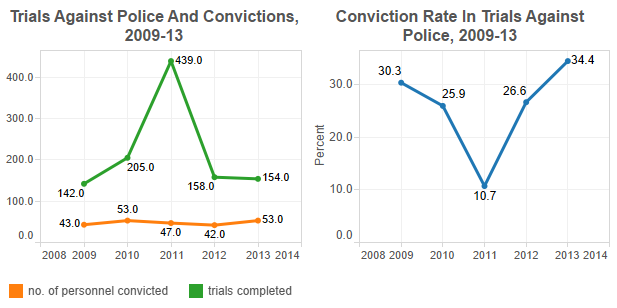 Source: National Crime Records Bureau
Cases filed in PCAs can be dismissed for lack of evidence and/or if litigation about the case is pending in a court of law.
If the enquiry establishes misconduct, the PCA recommends that a first-information report (FIR) be filed.
Of the trials actually completed, there have been more acquittals (varying from 65% to 89%) than convictions, which have remained at 11% to 35%.
Source: National Crime Records Bureau
(Jalan is studying to be a humanities graduate and is an intern with IndiaSpend)
Image Credit: Flickr/Austin Yoder
__________________________________________________________________________
"Liked this story? Indiaspend.com is a non-profit, and we depend on readers like you to drive our public-interest journalism efforts. Donate Rs 500; Rs 1,000, Rs 2,000."