Coal Kills Indians. Can The Sun Power India?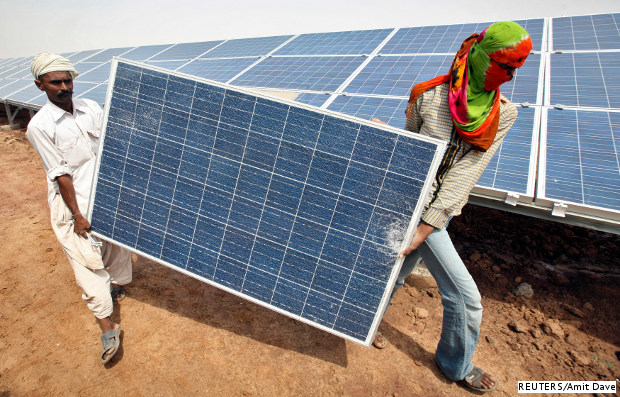 Workers carrying a photovoltaic panel in a solar park in Patan, Gujarat.
Third of a three-part series assessing India's energy options as climate-change gathers pace
The first and second part of this series largely argued that India--the world's third-largest emitter of greenhouse gases but 127th in per capita emissions--had few short-term economic options to using coal as its main energy source.
What is not frequently considered in India are the health and environmental impacts of using coal, which generates 75% of the country's electricity. Let's consider some impacts:
About 115,000 people die prematurely from pollution caused by Indian coal-fired plants, including 10,000 children below age five.
The health costs to India are about $4.6 billion (Rs 29,400 crore) annually, which is the cost of setting up five power plants of 1,000 mega watts (MW) each, or 2% of India's installed capacity, every year.
The death toll and health costs were estimated in a 2013 study by a former World Bank pollution analyst.
Emissions from an Indian power plant were estimated to kill 650 people, said this study of emissions between 2000 and 2008, conducted by Harvard University researchers.
"Air pollution produced by coal-fired power plants has been linked to premature deaths from lung cancer, respiratory illness and heart disease," said another 2012 study on the health effects of coal generation in India.
Although emissions from coal-fired plants are expected to double by 2030, according to this projection by Urban Emissions, a non-profit, there are no emissions standards fixed for sulphur dioxide (SO2) and nitrogen oxide (NOx), two of the three main pollutants from such plants.
These studies make it evident that not only do coal-fired power plants come at a cost, which is likely to skyrocket, but a detailed national accounting of the health and environmental impacts is not available.
Timing is right for Modi's great solar-wind push
Zero green-house gas emissions. Zero fuel costs.
The advantages of solar and wind energy are well known (hydro-power shares similar characteristics, but as we previously discussed, they face significant hurdles.
India's power sector added 22,566 MW (225 gigawatts, or GW) of conventional capacity--92% from coal-fired plants--during financial year 2014-15 and 18,846 MW (188 GW) during 2013-14. Bearing in mind capacity additions in thermal, nuclear and hydropower over the next seven years, renewable energy is likely to account for between 10% and 15% of India's total energy need.
With up to 400 million Indians without reliable energy, and industrial demand growing, the need for coal-fired electricity is estimated to increase three times by 2030, with consequent environmental impacts.
In talking about what he calls the "seven horses of energy"--coal, nuclear, hydro, gas, solar, wind and biogas--Prime Minister Narendra Modi has declared that India's efforts should increasingly move towards the latter three.
This support for renewable energy is in line with steps around the world to shift out of fossil fuels. This transition would get a boost from far-off Norway as legislators there consider changing the way their wealth fund works. The sovereign wealth fund—the world's largest at Rs 57.6 lakh crore ($900 billion)—could start divesting its stake in companies that earn more than 30% of their revenues from coal. This move would send a strong message to corporations--and countries--everywhere about the need for change.
In his latest budget speech, Finance Minister Arun Jaitley referred to a renewable-energy capacity target of 175,000 MW by 2022, against a current base of 33,750 MW (refer table 1). This would be primarily solar (100,000 MW) and wind (60,000 MW), the two big hopes for a clean, carbon-free future.
Table 1: Renewable power capacity in India (Dec 2014)

Source

Installed Capacity (MW)
Share (%)

Capital Cost (Rs crore/MW)

Cost of Electricity (Rs/unit)

Wind

22,500
67.0
5.5-6
3.5-4

Small hydropower

3,990
11.9
7.5-8
3-3.75

Biomass

4,200
12.6
4.5-5
3.5-4

Solar

3,060
9.06
8-12
7-11
Over the last 10 years, from 2005-06 to 2014-15, the renewable-energy installed capacity rose five times to reach 12% (according to the Ministry of New and Renewable Energy; the Press Information Bureau says it is 8%) of India's installed power capacity, or 33 GW, as on December 2014.
Small hydropower and biogas are good for local needs, but they are not an answer to large-scale energy demands.
Currently, wind accounts for 67% of renewable-energy generation capacity in India, contributing 22 GW, followed by biogas (4 MW), small hydro (4 MW) and solar (3 MW).
This sounds promising, but it really isn't.
The answer is not blowing in the wind
Wind energy is well-established in India with a capacity of 22,500 MW (and a potential of 102,788 MW, or 102.7 GW), 40% of India's current power-generation capacity. India ranks fifth in the world in wind-energy capacity, as these data indicate: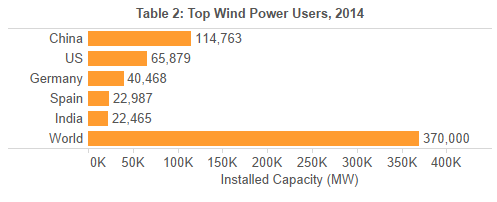 Source:
World Wind Energy Association
But wind energy needs, well, windy areas, and the wind, obviously, does not blow all the time. As a result, a typical wind mill generates less than one-fourth the electricity of a coal-based power plant of same capacity (see box "An explanation of energy efficiency" at the bottom.)
Almost 90% of India's installed wind-mills are in just five states: Tamil Nadu, Gujarat, Maharashtra, Karnataka and Rajasthan, all states that have mandated that a share of energy (between 5% and 10%) from utilities must come from renewable energy.
Even if India were to generate its full potential of wind energy, that would only be equivalent to a year's addition of conventional electricity, which was 22,566 MW (225 GW) in 2014-15.
Wind energy is clean and quiet, but it cannot replace coal.The renewable-energy holy grail is solar power.
The sun shines bright over India, but the outlook is still cloudy
The real potential in a sunny country to replace fossil fuels is solar: India has a renewable-energy potential of about 895 GW, of which 750 GW is solar, as IndiaSpend previously reported.
By 2022, solar energy could achieve grid-parity in India, meaning it would cost the same as other sources of electricity. That is the year, as another IndiaSpend report said, renewable-energy sector, primarily solar, could generate 1 million jobs.
Solar power plants can be built faster than either coal, nuclear or hydropower plants. Solar power installations rose 10-fold globally between 2008 to 2014, largely because of falling costs and improving solar-cell technology.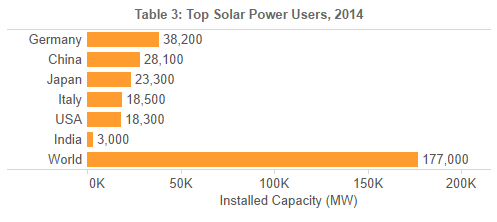 Source: IEA PVPS
Several Indian state governments have identified sites to set up large-scale solar-power plants: 17 solar parks in 12 states, with a capacity of 17,500 MW are proposed. Apart from zero emissions, job creation is another benefit.
Most of this will be from small-scale, rooftop solar power plants, not grid-scale mega projects. Several public and private sector firms, including NTPC, Adani, Welspun Energy and Azure Power have already announced plans for large-scale solar-power plants, while some large-scale projects have also been completed.
Solar power faces four major challenges; three related to economics and logistics can be addressed, while the last appears to be beyond current technology frontiers.
1. High (but falling) costs: Solar electricity in India currently costs between Rs 7 to Rs 11 per unit (refer table 1), compared to a cost of between Rs 2.7 to Rs 3.3 per unit for nuclear, coal and hydropower. At these costs, solar energy is not commercially viable. But technology is improving and costs are dropping.
For instance, NTPC, India's largest electricity company, recently signed an agreement to build a 1,000 MW solar-power plant in Andhra Pradesh. The 250-MW first phase will supply electricity at Rs 6.16 per unit, which is high, but it will stay the same for 25 years, while the cost of coal-based power will rise as the mining and coal prices increase.
2. Lots of land needed in land-starved India: Solar power needs a large area to tap relatively modest amounts of energy. For instance, the 1,000-MW NTPC project mentioned earlier will be spread over 5,400 acres of land, or 5.4 acres per MW. Since 4 MW of solar power replaces 1 MW of coal or nuclear power (an explanation later), this means 20-25 acres of land will be needed to replace 1 MW of conventional energy.
India added 22,000 MW of generation capacity during 2014-15; replacing that with solar energy will mean 475,200 acres of land--a hot-button issue--on which no plants can grow.
There are two ways of getting around the land block. First, rooftop-solar power (mandatory for new buildings in France), which is becoming increasingly popular in cities such as Pune and Bangalore. Tata Solar estimates that the potential of rooftop solar power at all India level could be 57,000 MW to 76,000 MW, or 20-30% of India's installed power capacity. The government can encourage rooftop-solar solutions that allow consumers to feed surplus energy to the grid at the same price that they pay for electricity.
Second, wastelands and deserts can host solar plants. Four such areas, desert swathes of Rajasthan, the Rann of Kutch and the cold deserts of Ladakh and Lahul-Spiti were identified in this report by the Power Grid Corporation of India. The solar power potential that can be harnessed by using a small fraction of waste or desert land in these four areas could be 284 GW, or 108% of India's installed power capacity.
3. Missing manufacturing base: India has limited manufacturing capacities for solar photovoltaic cells, the raw material of the solar-energy industry. To ensure its ambitious solar-energy targets are met, the government is persuading foreign manufacturers to make solar panels in India. During his recent visit to China, Prime Minister Narendra Modi saw 26 agreements signed between Indian and Chinese firms, four for the manufacture of solar photovoltaic cells in India. Germany, which intends for 45% of its energy to be solar by 2030, promised technical and financial support.
4. When the sun sets: While the economics and logistics appear to be falling into place, the biggest problem with solar power is that it is generated only during hours of peak sunlight (and wind energy, as we said, only if there is wind). As long as solar-power is small-scale, as it is now, this does not matter. But when thousands of megawatts of solar energy pushes into the grid in great spurts, the grid will need modification. Meanwhile, outside the peak sunshine hours, fossil fuels will still be needed. In theory, batteries can store power, but battery technology has lagged solar-power-generation technology. Even the latest high-storage capacity batteries, most notably a state-of-the-art line launched by Tesla, does not, yet, make economic sense. Until it does, and until this technology is available in India, solar energy can only supplement coal and other conventional power sources, not supplant them.
In terms of efficiency, coal--despite its environmental and health costs--is a winner. Generating the same amount of electricity as 1 MW of coal or nuclear power requires 4 MW to 5 MW of wind or solar power, as we explain in the footnote. This may change, but that is for the future.
Is India then left with no option but to produce more coal, cause environmental damage (most of India's coal is under its richest forests), harm more of its citizens and play a major part in making the planet more unlivable?
A realistic option: Cleaning up India's coal plants
Until solar-generation and battery technology evolves adequately, coal will continue to be India's energy mainstay. Renewable energy, especially solar, will grow in importance, but India can do much more than it does currently to mitigate the harmful effects of coal.
India's coal-fired power plants use poor-quality coal, low on energy content and high on waste, according to a two-year study of 47 Indian power plants (half of India's installed capacity) by the non-profit Centre for Science and Environment.
"As a result the coal-power sector is one of the most polluting and resource wasteful," said the study. "No country in the world uses coal as poor in quality as India, so our pollution challenges are huge. But our practices to overcome this challenge were found wanting. India's standards for pollution and resource-use lag far behind global norms, but its power plants fail to meet even such relaxed levels of performance, lacking the basic technologies to control pollution."
If India must use coal, it can reduce the health and environmental impacts by washing the low-quality, high-ash coal used by Indian plants and installing scrubbers in smokestacks, as this 2012 Harvard University study (referred to earlier) showed, analysing emissions of 89 Indian power plants over eight years.
Sulphur dioxide (SO2), nitrogen oxide (NOx) and fine particulate matter are the chief pollutants from power plants, with SO2 accounting for 500 of 650 deaths per plant in India, according to the Harvard study. Only one Indian plant (at Dahanu, Maharashtra) had a scrubber to reduce SO2 emissions, when the study was released, compared to a fourth of all US plants.
Analysing the Dahanu plant, a 500-MW plant, another study found the scrubber raised the cost of electricity by 9% but reduced SO2 emissions by 80%. Examining a much-larger plant, the 2,000-MW plant at Rihand, Uttar Pradesh, without a scrubber, the same study found that washing its poor-quality coal would reduce ash by 35%, save 250 lives annually and raise electricity prices by 16%.
These studies make a clear point: India can greatly improve reduce the environmental and health impacts of its dirty coal-fired plants at a marginal to modest increase in the cost of electricity.
With electricity demand set to rise from 1,028 billion units (BU) in FY15 to 8,000 BU by 2050, this clean-air investment--as the data we have presented show--should go hand in hand with the push for solar energy.
If India is to save lives, clean up its air, create jobs, boost growth--and help save the planet--business as usual is not an option. ¦
An explanation of energy efficiency
India has 228 GW of thermal, hydro and nuclear power plants currently in operation, so the renewable energy target of 175,000 GW is impressive. However, 1 MW of solar or wind energy is not the same as 1 MW of coal or nuclear power.
By nature, solar and wind energy are intermittent and for the same capacity generate only a fraction of what a coal or nuclear power plant with assured fuel supply can do.
Consider the state of Tamil Nadu, which leads India in wind energy, with 7,252 MW of installed capacity, which represents a third of all wind-energy installations in India. During 2013-14, these windmills generated 10,930 million units, or 1.5 million units for 1 MW of capacity. Meanwhile, India's largest power company, National Thermal Power Corporation (NTPC), generated 6.5 million units for every 1 MW of coal-based power plants.
For solar power, the installed capacity is similarly misleading because electricity is generated only for a few hours every day. The capacity factor--the actual output versus theoretical output if the plant could operate continuously--for solar power plants is less than 20%. For coal and nuclear power plants, this factor is between 70% and 80%. IIT Bombay recently installed a 1 MW solar power plant that can generate 1.4 million units of electricity annually. This is again a fraction of the 6.5 million units that NTPC gets from 1 MW of capacity.
In other words, to get the same amount of electricity as a coal or nuclear power plant, a solar power plant requires four to five times the capacity. So, if India meets the target of 160,000 MW (160 GW) of solar and wind power by 2022, that would be the same as adding just 40,000 MW (40 GW) of coal or nuclear power capacity.
Read the first story in this series here and the second part here.
(Amit Bhandari, is a media, research and finance professional. He holds a B-Tech from IIT-BHU and an MBA from IIM-Ahmedabad.)
---
"Liked this story? Indiaspend.com is a non-profit, and we depend on readers like you to drive our public-interest journalism efforts. Donate Rs 500; Rs 1,000, Rs 2,000."