Cheap Imports Imperil A Million Rubber Farmers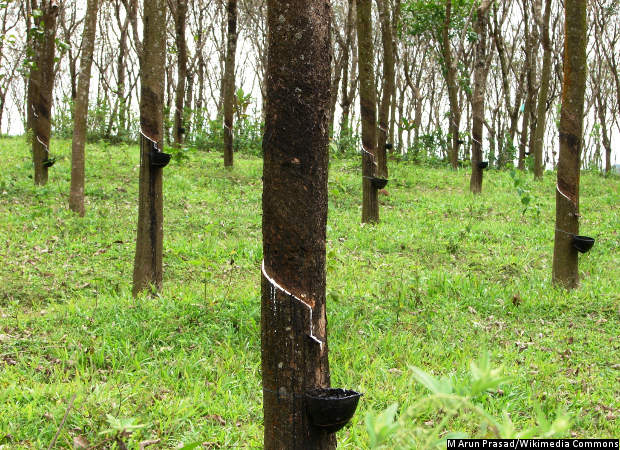 Kottayam (Kerala): For 30 years, here in a humid, prosperous corner of south India, Joshy Joseph, a tall, well-built farmer, watched seven rubber-tappers he hired every year practice a rare skill: The ability of get latex out of a rubber tree.
Joseph, 56, knows by instinct what botany text books explain. When a rubber tree is five years old, 50 cm in circumference and a metre off the ground, it is ready to be tapped. Joshy knows the cut in the bark of the rubber tree must not be more than 6 mm deep to tap the sap. If his awl--an iron-tipped point--goes deeper and slices through a thin, invisible layer called the cambium, the tree could be permanently damaged.
Last year, Joshy's knowledge of rubber-tapping had no further use.
"These days, a rubber plantation means no income," he told IndiaSpend. "A small rubber planter can hardly feed his family."
After a loss of Rs 15 lakh, Joshy cut all his trees, about 800 of them, on his 6.5-acre farm, one of more than a million rubber farmers who have lost their livelihoods because cheap imports from Vietnam and Indonesia wiped out their profits.
Prime Minster Narendra Modi, while speaking at a Bharatiya Janata Party (BJP) rally in Kerala recently, stressed the importance of rubber products, which are particularly important to various industries, particularly the burgeoning automobile sector, for tyres and engine parts. Rubber is vital to the Make-in-India initiative, and Modi promised to increase the import duty on rubber.
That has not yet happened. Even if import duty is increased—as it has been for other commodities—it may come too late for most rubber farmers.
Low import duty devastates India's rubber farming
The import duty on all forms of natural rubber, except rubber latex, until April 2015, was 20% of the average domestic price of the preceding three years. For rubber latex, used for making glues, balloons, gloves, the duty was 70%.
In April this year, import duty for all natural rubber was increased to 25%, media reports suggested. With prices about a fifth cheaper in Malaysia, Indonesia, that may not be enough.
Contrast this with coffee, which has an import duty of 100% and saw a record output of 327,000 tonne in 2015. India exports 70-80% of its coffee produce, and this has helped a formerly beleagured coffee industry stay profitable in the financial year 2014-15.
Raising import duties is not uncommon. To protect the domestic steel industry from cheaper, Chinese steel, the government on August 15, 2015, hiked import duty by 2.5%, the second hike in three months.
"India was self-sufficient in rubber production until 2013, and now it's becoming dependent on imports," said Biju John, a Kottayam rubber merchant.
Prices of rubber are near their lowest, according to this report, and it is costlier to produce rubber than sell it. The average cost of production is around Rs 160 per kg, the selling price Rs 110 per kg.
The price of rubber (a variety called RSS4 Kottayam) was Rs 130.45 per kg on January 1, 2015. It declined to Rs 101 per kg on December 15, 2015. (Table 3)
P.P Somarajan, president, Kerala Rubber Farmers' Association, urged the Centre to take "immediate steps to stop the import of natural rubber or increase the tax on imported rubber," The Hindu reported.
India Inc. wants more rubber, so why is production declining?
Although the industrial demand for rubber has steadily risen, rubber production plummeted 30%, from 9.1 lakh metric tonne in 2013 to 6.4 lakh metric tonne in 2015, according to the Rubber Board of India. (Table 1)
Rubber production is falling because growers—hit by falling prices and rising production costs—find it unprofitable. A major reason for rising costs is increased wages for toddy tappers, who now earn up to Rs 600 every day. As costs rise, imports fill the gap.
Rubber imports doubled between 2013 and 2015, from 2.6 lakh metric tonne in 2013 to 4.4 lakh metric tonne at the end of 2015. (Table 2)
Exports of rubber are at a record low. In 2015, India exported 1,002 tonne of rubber, against 30,549 tonne in 2013, even as the price of Indian rubber dropped from Rs 207 per kg to Rs 132.6 per kg.
India slipped to fifth place in global rubber production in 2013, from fourth place in 2012, according to the Association of Natural Rubber Producing Countries.
As glory days pass, government's 'lackadaisical approach' is criticised
The central government set up the Rubber Board in 1947 to develop and promote the rubber industry, which by the 1980s was flourishing.
By 2014, as the glory days passed, the Centre set up a committee to probe the precipitous decline in an industry that offered more than a million jobs, the same number that job-seekers nationwide require every month.
The 119th report on the rubber industry, presented to the Lok Sabha on August 12, 2015, revealed that small holdings were the norm in 90% of rubber plantations and 93% of rubber production, with 98% of holdings below 2 hectares.
These data are line with with larger national farm statistics: The land held by a farmer declined by half over 40 years to 2011.
Adverse economies of scale were not helped by weak governance. The government committee, headed by Chandan Mitra, Rajya Sabha MP, found the post of Rubber Board secretary vacant for more than a decade and no full-time chairman since September 4, 2014. The committee criticised the "lackadaisical approach" of the government, particularly at a time of crisis.
The black pepper déjà vu—and how pharma boomed
Years ago, black pepper went through a similar decline. India was the world's leading exporter of black pepper, but starting early 2010, production fell.
The area under pepper cultivation shrank to 182,000 hectares in 2010 from 218,670 hectares in 2001, according to data released by the International Pepper Community.
In 2011-12, the price of local black pepper was Rs 240 per kilogram; today, it is Rs 80. Once a pepper-exporting country, India now imports pepper from Sri Lanka and Malaysia.
As pepper was farmed in a smaller area than before—likely the result of a demand for residential land and factories—export of Indian pepper in 2012-13 declined 40% from the previous year.
Rubber may meet the same fate as black pepper, traders said.
To use another example, the Indian pharmaceutical industry grew 18.9%, the highest in the last 19 months, thanks to protective tariffs.
From being a small industry in the 1970s, India's pharma industry is now the fourth largest globally in terms of volume, thanks to patent protection through the (Indian) Patents Act enacted in 1970. That kind of protection, argue traders, is not evident in rubber farming.
"Farmers are not getting any support from the government In India," said Pious Kariya, a veteran rubber dealer and rubber industry expert. "To protect the interests of domestic farmers, the government should regulate imports of natural rubber."
Back on Joseph's plantation, rubber has changed to fruits, because "it's a safe and fair trade". Horticulture is an Indian growth story, as IndiaSpend previously reported. "Now, I grow Malaysian Rambutan, Mangosteen and Pulasan," said Joshy. There is no need for skilled labour, and he made a profit of Rs 15 lakh in 2015.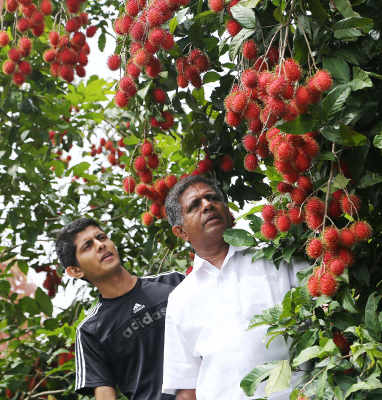 Joshy Joseph and his son inspect their Malaysian Rambutan orchard in Kottayam, Kerala. Hit by rising costs, falling prices and cheap imports from Vietnam and Malaysia, Joseph cut down his 800 rubber trees in 2014. Rubber is important to Indian manufacturing, but without compensating duties on imports, thousands of farmers have abandoned it.
For thousands of out-of-work rubber farmers, things have not turned out quite as well.
(Ghosh is with 101reporters.com, a pan-India network of grassroot journalists. He writes on political and social impact stories.)
We welcome feedback. Please write to respond@indiaspend.org. We reserve the right to edit responses for language and grammar.
__________________________________________________________________
Liked this story? Indiaspend.org is a non-profit, and we depend on readers like you to drive our public-interest journalism efforts. Donate Rs 500; Rs 1,000, Rs 2,000.