Can India's 150,000 Post Offices Really Become Banks?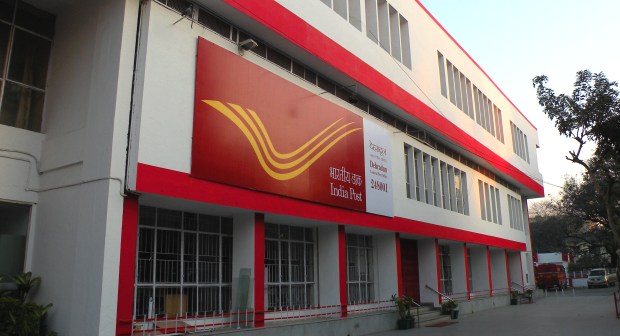 India's post offices (India Post) have tried to function as banks but have lacked an integrated banking structure or a core banking solution. Without integration, customers are confined to dealing only with post offices they have had direct dealings with.
In India's Union Budget presented by Finance Minister P Chidambaram on 28 February, he said: "Post offices will become part of the core banking solution and offer real time banking services. I propose to provide Rs 532 crore for the project in 2013-14."
The post office might seem like a relic of the past to some but fact is that India still has a network of 154,866 post offices across the country, the largest in the world. Of these, 139,040 are in rural areas. In contrast, in 1947 there were only 23,344 post offices, which were primarily in urban areas.
Some more numbers:
* Mail collected from nearly 0.6 million letter boxes;
* Total mail volume 6.6 billion in 2010-11, up 0.41% from 6.5 billion in 2009-10
* Over 7,800 people served by a post office (5,992 in rural and 23,828 in urban); and
* Over 21 sq.km area served by a post office.
The Ministry of Communications& IT, the nodal ministry of the Department of Posts, has green-lighted an ambitious IT-driven project to modernise the postal network at a cost of Rs 4,909 crore.
India Post currently offers Post Office Savings Bank (POSB) to retail customers, and operates more than 238 million savings accounts in more than 150,000 post offices. The Annual Report of 2011-12 of Department of Posts, the latest available, says: "POSB is an agency function by the Department of Posts on behalf of the Ministry of Finance."
And if things go according to Budget 2013 plan and post offices implement the core banking solution and real-time banking services, it could technically compete with any bank – public or private. Here are some numbers- over 264 million accounts and over Rs 600,000 crore as deposits/investments as on March 31, 2011:
Figure 1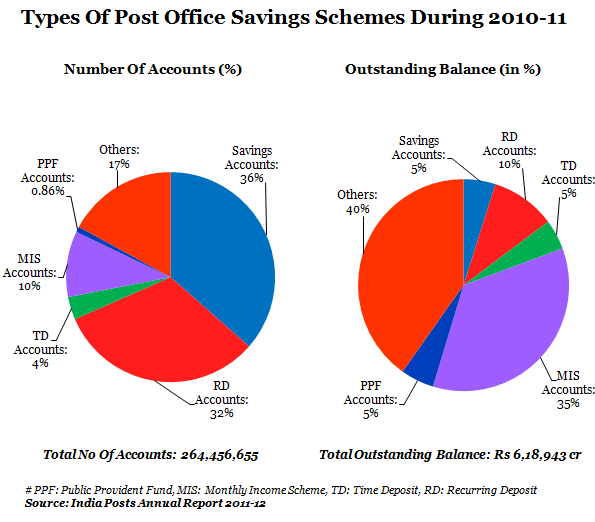 * Outstanding balance of MGNREGA accounts is included in savings accounts
Besides all these branch-based transactions, India Post offer services like Instant Money Order (online domestic money transaction), international money transfer service, MO Videsh (remittances to foreign countries), electronic money order, sale of mutual funds and postal life insurance products.
A look at India Post financials: total revenue increased 11% in 2010-11 to Rs 6,962 crore from Rs 6,267 crore in 2009-10 and expenditure increased 3% to Rs 13,308 crore from Rs 12,908 crore. Leaving a deficit of Rs 6,346 crore in 2010-11, a decline of 4.5% from Rs 6,641 crore in 2009-10.
Here's a glimpse of why Indian Posts is bleeding red...
Figure 2
So, is there any wonder India Post continues to be a social project and commitment for the government? DoP employed 466,903 people at the end of March 31, 2011, behind only Indian Defence (over 2.5 million) and Railways (1.4 million).
A Strategic Plan released by DoP talks about the future challenges: legacy issues of government department, inadequate infrastructure, perception of poor service, ageing workforce and attendant problem of disparate levels of IT skills and lack of scientific costing leading to lack of awareness of costs.
So, while the government is backing the department with funds and programmes, the plan also outlines the key threat of employees not willing or unable to meet the challenges and seize opportunities.
While Budget 2013 spoke about a PSU women's bank and Reserve Bank of India waiting for applications to issue new banking licences, it would be interesting to see how the conversion of India Post to a full-fledged banking entity will pan out.