Can India Meet Growth Target of 4.9%?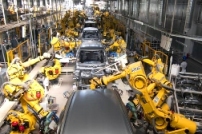 India's growth slowed down to 4.7% for the third quarter ended December 31, 2013 at Rs 14.8 lakh crore as against Rs 14.1 lakh crore in Q3 of 2012-13 at factor cost at constant (2004-05) prices. This was against a growth of 4.8% in the second quarter and 4.4% in the first quarter of the current financial year.
Financing, insurance, real estate and business services at 12.5% logged the highest growth in the third quarter of the current financial year followed by community, social & personal services at 7%. While construction slowed down to a growth of 0.6%, manufacturing witnessed a slowdown of 1.9%.
According to advance estimates of the Central Statistics Office, GDP is expected to grow by 4.9% in 2013-14, against 4.5% in 2012-13. For the economy to grow at 4.9%, GDP needs to expand 5.5% in the fourth quarter of 2013-14. And if that happens, it will be the highest growth rate since the quarter ended December 2011.
The Reserve Bank of India (RBI), in its third quarter review of macroeconomic and monetary developments report, had said: "During the current fiscal so far, the Indian economy has experienced an adverse mix of slowing growth and high inflation. However, an expected rebound in agriculture on the back of better kharif and rabi crops and a pickup in exports driven by improved global growth prospects and depreciated exchange rate is likely to keep growth in H2 of 2013-14 a tad higher than it was in H1. The government, in recent months, has been taking several policy initiatives to speed up infrastructure investment but these measures will take some time to fructify. Nonetheless, these may provide a toehold for recovery as we enter into 2014-15."
Finance Minister P Chidambaram, while presenting the interim budget on February 17, said: "Growth in Q2 of 2013-14 has been placed at 4.8% and growth for the whole year has been estimated at 4.9%. This means that growth in Q3 and Q4 of 2013-14 will be at least 5.2%."
With growth in the third quarter coming in at 4.7%, will growth for the full year meet the Government estimate of 4.9%?