Can AAP's Ban Of FDI In Multi-Brand Retail In Delhi Affect Jobs ?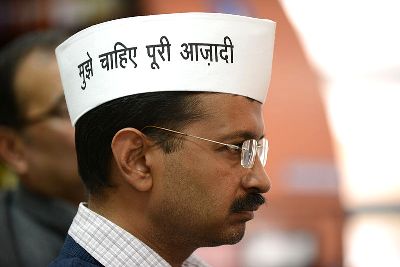 Pic Credit: Wikimedia Commons
Delhi Chief Minister Arvind Kejriwal has put his foot down and shut the doors on foreign direct investment (FDI) in multi-brand retail in the nation's capital.
The Aam Aadmi Party (AAP) leader wrote to the Department of Industrial Policy and Promotion (DIPP) on January 13, 2014, seeking to withdraw the Government's permission to allow FDI in multi-brand retail in the state. The previous Congress Government, led by Sheila Dixit, had given the green signal to FDI in retail.
Under the current policy, FDI in multi-brand retail is permitted only in states that allow such an investment. Only 12 states and union territories have given it the green signal so far. These include: Andhra Pradesh, Karnataka, Maharashtra, Jammu & Kashmir, Haryana, Uttarakhand, Assam, Himachal Pradesh, Manipur, Daman & Diu, Dadra and Nagar Haveli and Rajasthan.
Stopping FDI in multi-brand retail was part of the AAP election manifesto, and Kejriwal justified his decision saying: "While FDI provides a wide range of choice to consumers, it has been seen in several countries that it has led to unemployment. There is a huge unemployment problem in Delhi. We don't want to increase it further."
Commerce and Industry Minister Anand Sharma reacted the same day saying that the move was abrupt, irresponsible and ill-considered.
In December 2012, during debates on FDI and its impact on the livelihood of small traders, the Commerce Ministry had cited a study conducted by the Indian Council for Research on International Economic Relations (ICRIER) titled the "Impact of Organised Retailing on the Unorganised Sector".
The study which was done in 2008 highlights the following:
Adverse impact on sales and profit of unorganised retailers weakens over time
No evidence of a decline in overall employment in the unorganised sector as a result of the organised retailers
Rate of closure on account of competition from organised retail is lower still at 1.7% per annum
Farmers benefit significantly from the option of direct sales to organised retailers
Profit realization for farmers selling directly to organised retailers is about 60% higher than that received from selling to the mandi (wholesale market).
India's business community isn't happy with the decision either, saying that the move will most likely throw a wet blanket on foreign investments in the country.
Industry body ASSOCHAM on January 14, 2014, said: "If one party reverses the decision of its rival dispensation upon change of guards, the policy and political risks for global investors would definitely increase in India, scaring them away."
The Federation of Indian Chambers of Commerce and Industry (FICCI) reacted on social networking platform Twitter expressing its disappointment: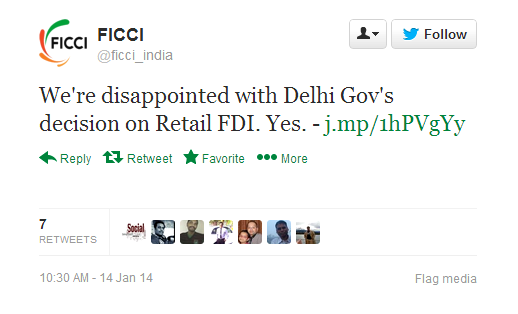 J Suresh, chairman of the Confederation of Indian Industry (CII) National Retail Committee told news agency Press Trust of India: "It is unfortunate that the Delhi Government has chosen not to allow FDI in multi-brand retail in Delhi. This will discourage international retailers planning to enter India."
CII's Twitter account posted a quote by Thomas Varghese, the former Chairman of the CII National Retail Committee saying that modern retail can generate 10 million jobs by 2020: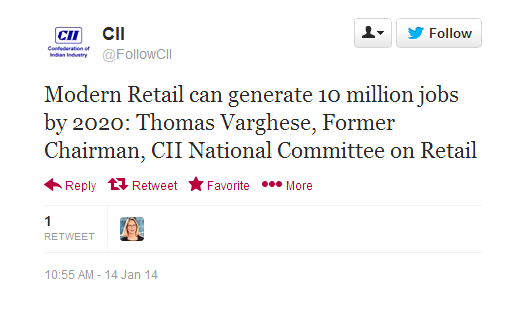 While Kejriwal drew the curtains on FDI in multi-brand retail, he has said that he is not opposed to FDI. He says that it has to be decided on a sector-by-sector basis, and he will soon meet industrialists to discuss further changes.