But India's Space Adventures Make Money Too

India's recent mission to Mars has come in for a spot of criticism, as have many past space missions. Critics say India is a poor country and ask if we must blow up money shooting rockets into deep space while there are serious problems to be resolved on ground, like sanitation.
Some have criticised the mission on scientific grounds too though the report that follows does not venture into these areas. Particularly since IndiaSpend is of the opinion that rocket science must indeed be rocket science.
For the part we do understand, we must point out that while most folks have looked at the expenditure side of the balance sheet, they appear to have overlooked the income side.
Fact is that assets created by India's space organisation have earned and continue to earn modest revenues and profits for the country.The gap between the spending and the earning might be like heaven and earth, literally. And possibly the little earnings that there are get sucked into the vast black hole that is the government's balance sheet. But earn they do.
Just that the entity which earns the revenues, Antrix Corporation, is different from the spending one, the Indian Space Research Organisation (ISRO). And Antrix was created precisely for this purpose, to monetise ISRO's assets.
"When we set up Antrix our vision was clearly to delink the commercial and business side from day-to-day governmental functions. Moreover, we wanted to professionalize marketing activities and expand the reach of ISRO's products and services across the world," said former ISRO Chairman U R Rao told the Times of India newspaper in February 2011.
"Globally, the space industry business turnover was $160 billion, while at Antrix it was $200 million, Dr.V S Hegde said in July 2011 while taking over as chief of Antrixand as quoted in a report in The Hindu newspaper. Antrix's board of directors then included names like Ratan Tata and J N Godrej.
Antrix says it provides "state-of-the-art" test facilities of satellites and launch vehicles. The firm also designs space systems for broadcast providers and facilitates satellite launches for various countries.
IndiaSpend earlier wrote that ISRO's total budget from 2003-04 to 2012-13 was Rs 43,867 crore. It can be assumed safely that ISRO's budget, since its inception, would be only twice or thrice as much as NASA's yearly budget (around $17 billion a year).
But even with such low annual allocations, ISRO has successfully launched 100 missions till now.NASA has launched more than 150 – many arguably grander - missions till now. Incidentally, NASA started in the 1958 while ISRO started in the 1960s.
Figures from Parliament question and answer sessions say that Rs 450 crore was budgeted for the Mars Mission. Let's look at the budget for the Department of Space in the last 2 years:
Figure 1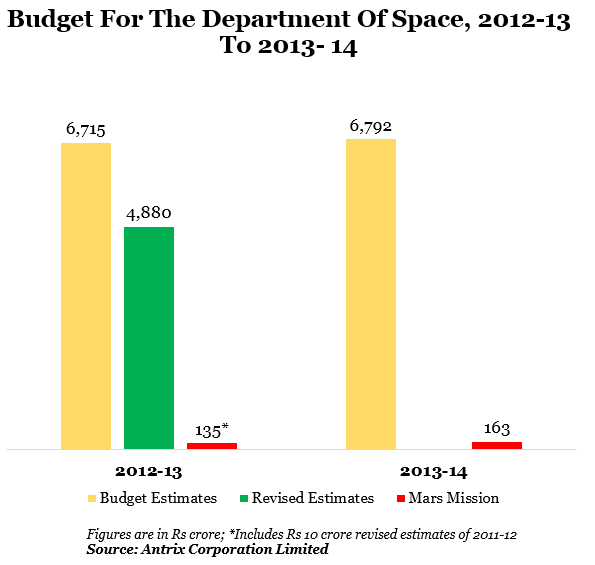 In all, Rs11,672 crore was allocated for the Department of Space (Budgeted Estimates of 2013-14 and Revised Estimates of 2012-13) over the last 2 years while Rs 298 crorewas allocated for the Mars mission, less than even 5% of the department's budget.
Let us now look at the financials of Antrix. The latest available annual report of Antrix is of 2009-10so lets also bring in numbers for 2007-08, 2008-09 and 2009-10.
Figure 2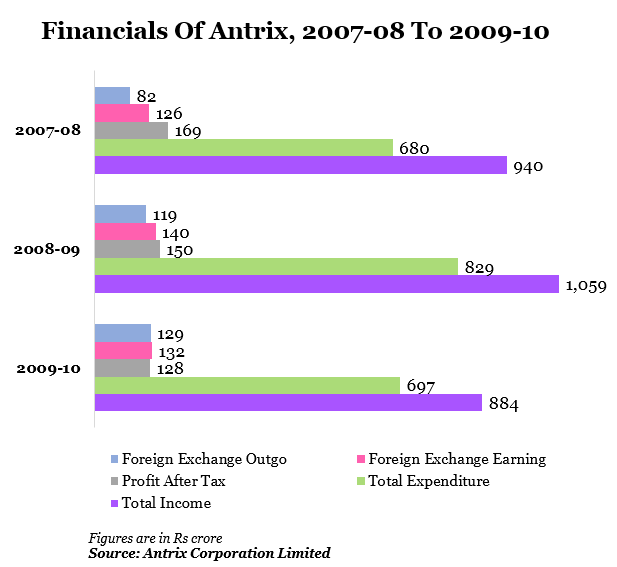 Antrix's revenues dropped 16% in the year 2009-10 to Rs 884 crore while profits dropped 15% to Rs 128 crore.
Figure 3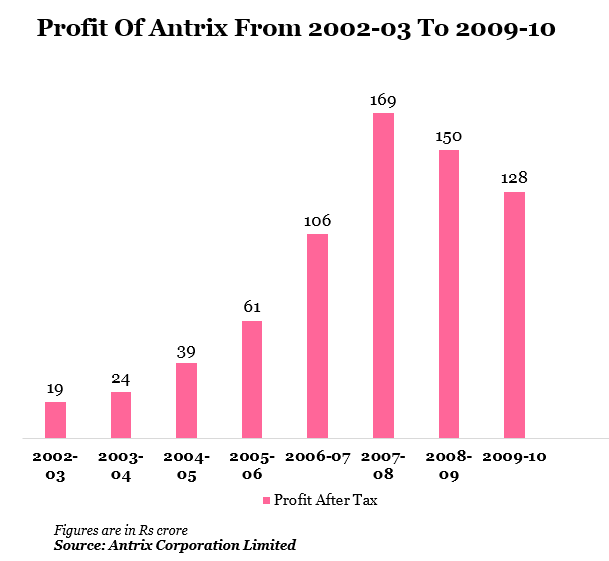 From 2002-03 to 2007-08, the profit made by Antrix rose steadily but has been following a downward trend since 2007-08 to 2009-10.
In recent years, Antrix has been involved in a spectrum sale controversy and you can read about it here. It's also unusual that there is no balance sheet available after 2010.
It is a fact that the success of the Mars mission, or similar missions, boost Antrix's capability to earn revenue elsewhere. Since a technology demonstrator is always useful in these quarters.
That is something we would like to watch out for. If only to understand if space is the final frontier, when it comes to making money. And by the way, there is a Venus probe launch coming from ISRO as well.