#Budget2017: Gender Funds Up 18%, Account For 5.2% Of Total Budget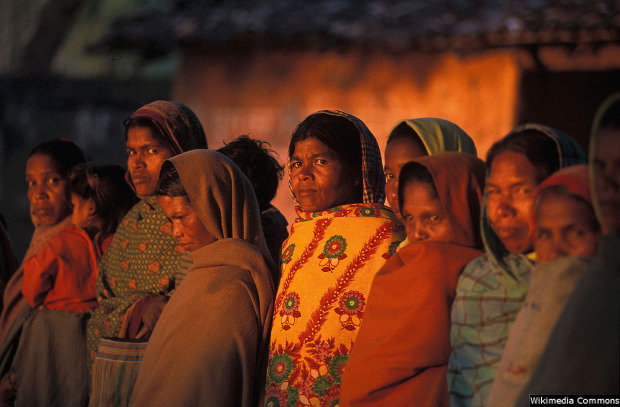 India's gender budget - spending on women-related schemes and projects - rose 18% from Rs 96,331 crore ($14.4 billion) in 2016-17 (revised estimates) to Rs 113,326 crore ($17 billion) in 2017-18 in the union budget announced on February 1, 2017.
The gender budget accounted for 5.2% of total government spending, an increase of 0.4% from 4.8% in 2016-17 (revised estimates). It accounted for 4.5% of budget expenditure in 2016-17, IndiaSpend reported in March 2016 but went up to 4.8% after revised estimates of the budget.
Source: Union Budget 2017-18
Gender Budgeting (GB) was introduced in Budget 2005-06. The GB funds two types of government schemes. First, schemes in which 100% provision is for women. Second, schemes where the allocations for women constitute at least 30% of the provision.
"The rationale for gender budgeting arises from the recognition of the fact that national budgets impact men and women differently through the pattern of resource allocation," said this statement from the ministry of women and child development."Women constitute 48% of India's population, but they lag behind men on many social indicators like health, education and economic opportunities. Hence, they warrant special attention due to their vulnerability and lack of access to resources."
Only 27% of Indian women are in the labour force, the second-lowest rate of female labour-force participation in South Asia after Pakistan, 1,403 females never attended any educational institution for every 1,000 males who have not and eight in 10 illiterate children who were married before 10 in India were also girls. (Details here, here and here)
India was ranked 87th in the Global Gender Gap Index 2016, according to the World Economic Forum, a jump of 21 places from 2015. In women's health, India ranked 142nd in the index, third from bottom, highlighting the need to increase funding for improving it.
Apart from the central government, 17 states have adopted gender budgeting.
Jharkhand increased its gender budget by 30% from Rs 5,909 crore ($0.8 billion) in 2016-17 to Rs 7,684 crore ($1.1 billion) for 2017-18. Kerala announced that it will revive its gender budgeting manual with the possibility of more than 10% of the proposed budget being allocated for gender-based schemes.
GB is positive and significant for primary school enrollment equality, and can potentially improve gender equality in primary education, according to this 2016 report by the International Monetary Fund. While more young women are enrolled in higher education than ever before–and apparently more successful in clearing 10th-standard board exams than young men–they are either marrying early or not finding or not looking for jobs, IndiaSpend reported in August 2016.
The ministry of women & child development received a 20% increase in budget allocation this year at Rs 22,095 crore ($3.3 billion) as against Rs 17,640 crore ($2.6 billion) last year.
Funding rises for nutrition, Beti Padhao Beti Bachao and maternity schemes
The Indira Gandhi Matritva Sahyog Yojna (Maternal Benefit Scheme) saw an increase of 326% in allocation from Rs 634 crore ($94.6 million) in 2016-17 to Rs 2,700 crore ($298 million) in 2017-18. India's maternal mortality rate (MMR) was 178 deaths per 100,000 live births in 2011-12, which was worse than Sri Lanka (30), Bhutan (148) and Cambodia (161), and worst among the BRICS countries: Russia (25), China (27), Brazil (44), and South Africa (138), IndiaSpend reported in September 2016.
However, the more than three-fold increase in funding may still not be enough.
"The government's own report by the standing committee on Food, Consumer Affairs and Public distribution presented in January 2013 puts the number of eligible women at 22.5 million every year," Kanika Kaul, senior programme officer with the Centre for Budget and Governance Accountability (CBGA) told the Mint. This works out to Rs 14,512 crore ($2.1 billion) a year.
Prime Minister Narendra Modi announced on December 31, 2016 that Rs 6,000 would be transferred directly to the bank accounts of pregnant women who undergo institutional delivery/and vaccinate their children.
The option of giving Rs 6,000 to pregnant women already existed in the National Food Security Act (NFSA), 2013 but it just had not been implemented by the government, FactChecker reported on January 2, 2017.
The budget for the National Nutrition Mission increased 28 times from Rs 19 crore ($2.8 million) in 2016-17 to Rs 550 crore ($82 million) in 2017-18. India reported anaemia among 45% of its pregnant women–the highest in the world–even though there has been a fall of 12% in the last ten years, IndiaSpend reported in September 2016.
Modi's pet project Beti Bachao Beti Padhao (Save the girl child, educate the girl child), has been allocated four times more funds for 2017-18. India's sex ratio at birth–the number of girls born alive for every 1,000 boys–declined over the last 65 years from 946 to 887 even as per capita income increased nearly 10 times, IndiaSpend reported in December 2016.
Source: Union Budget 2017-18
The allocation for scheduled caste/scheduled tribe (SC/ST) women accounted for less than a per cent of the gender budget, according to this analysis in The Wire. The literacy rate among Dalit women has increased by 14.6 percentage points–which is more than the increase for women in the general population (10 percentage points)–from 2001 to 2011 but SCs and STs still lag Indian educational indicators: 66% of SCs are literate, as are 59% of STs; literacy among the general population is 74%, IndiaSpend reported here and here.
(Saha is an MA Gender and Development student at Institute of Development Studies, University of Sussex.)
We welcome feedback. Please write to respond@indiaspend.org. We reserve the right to edit responses for language and grammar.
__________________________________________________________________
"Liked this story? Indiaspend.org is a non-profit, and we depend on readers like you to drive our public-interest journalism efforts. Donate Rs 500; Rs 1,000, Rs 2,000."