Budget 2018: Falling Education Spending Aggravates India's Learning Crisis, Wastes Its Demographic Dividend
Fund cuts, a learning crisis, poor assessment practices and a shortage of teachers -- these factors are weakening India's demographic dividend, the growth potential a country enjoys when its population has a high share of those in the working age (15 to 64 years).
With a median age of 27.9 years, India has one of the world's youngest population, with 66% of its 1.3 billion people in the working age of 15 to 64 years.
Population of South Asian & BRICS Nations
Country
Median age (In years)
Working age population (In %)
Population (In millions)
India
27.9
66
1,324.17
Bangladesh
26.7
66
162.95
Pakistan
23.8
61
193.20
Sri Lanka
32.8
66
21.20
Nepal
24.1
63
28.98
Bhutan
27.6
68
0.79
Maldives
28.2
72
0.42
Afghanistan
18.8
54
34.66
Brazil
32
70
207.65
Russia
39.6
69
144.34
China
37.4
72
1,378.66
South Africa
27.1
66
55.91
Source: US Central Intelligence Agency, World Bank population and working age population
Note: Median age 2017 estimates, population census years of countries.
About 12-15 million of them will join the workforce every year in the next five years, according to a March 2017 study by global consultancy Boston Consulting Group and industry body Confederation of Indian Industry. As finance minister Arun Jaitley prepares to deliver his government's last full budget before the general elections in 2019, IndiaSpend highlights the blind spots in the country's education policy.
India has enrolled more children than ever before in secondary schools, but it is failing to teach them what they should be learning, according to an ongoing international study, funded by the University of Oxford, UK, IndiaSpend reported on September 20, 1017.
Enrolment In An Educational Institution Among 14- To 18-Year-Olds In Rural India
Source: Annual Status of Education Report 2017
Students throughout their school years in rural India are failing to retain skills learnt in lower classes, showed education advocacy Pratham's Annual Survey of Education Report (ASER) of 2016 and 2017 (click here and here).
One in every 10 and every four rural Indians aged 14-18 years could not read a standard I and standard II (meant for children aged 5-7 years) text in their own language, according to the 2017 ASER report, as IndiaSpend reported on January 16, 2018. In 2017, only 43% adolescents were able to divide a three-digit number by a one-digit number, only 23% were able to subtract and only 34% recognised numbers below 99.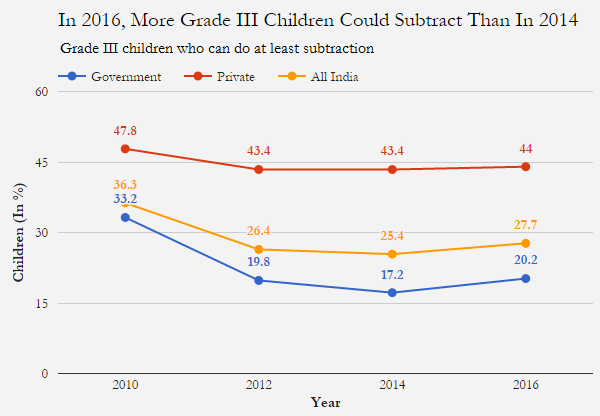 Source: Annual Status of Education Report, 2016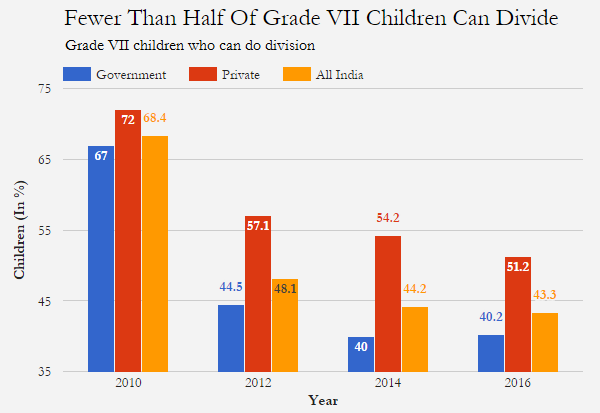 Source: Annual Status of Education Report, 2016
Source: Annual Status of Education Report 2017
India's school examinations focused on recall of very specific rote-learnt knowledge and actively discouraged higher-order skills, with some material being worse than in Nigeria and Uganda, revealed a December 2017 study of assessment materials by Research On Improving Systems Of Education, a multi-country education research programme based in Oxford, UK.
Education allocation down to 0.62% of national income in 2017-18
The Narendra Modi government has been reducing spending on education (budget estimates): It has fallen from 1% of the country's income in the government's first budget in 2014-15 to 0.62% in 2017-18. Its share in the budget has been slashed from 6.15% to 3.7%.
Education Spending Under The Narendra Modi Government
Year
HRD Ministry Budget (In Rs crore)
Total Central Budget (In Rs crore)
Gross National Income (GNI, In Rs crore)
HRD Ministry Budget (As % of GNI)
HRD Ministry Budget (As % of Total Central Budget)
2014-15
1,10,351.10
17,94,891.96
104,12,280.00
1.06
6.15
2015-16
96,649.76
17,77,477.04
112,46,305.00
0.86
5.44
2016-17
92,666.65
19,78,060.45
120,34,713.00
0.77
4.68
2017-18
79,685.95
21,46,734.78
128,35,004.00
0.62
3.71
Source: Union Budgets, Economic Survey 2017-18
Note: Figures at constant prices. Gross national income for 2016-17 provisional estimate, for 2017-18 first advance estimate. HRD: Human Resource Development
Allocation to Sarva Shiksha Abhiyan--the national programme for universal elementary education--as a share of total allocation was 33% in 2015-16, 31% in 2016-17 and 29% in
2017-18, shows an analysis by New Delhi-based think tank Centre for Policy Research (CPR).
Per-student allocation (based on the 2015 enrolment) to the programme increased by 17% in 2016-17--to Rs 6,350 from Rs 5,424 in 2015-16--as government school enrolment fell by 2% between 2014 and 2015, the CPR analysis said. The allocation remains far below the estimate made by the human resource development ministry, with the Centre releasing Rs 22,500 crore in 2016-17 against a demand of Rs 55,000 crore.
Funds released as share of approved budget on Rashtriya Madhyamik Shiksha Abhiyan--an integrated national programme for secondary schools--had decreased from 78% in 2015-16 to 54% in 2016-17 (till December 5, 2017), showed an analysis of the programme by the CPR. Consequently, expenditure as a proportion of funds available rose from 74% in 2015-16 to 94% in 2016-17 and 78% till November 30, 2017.
Of the 6 million teaching positions in government schools nationwide, about 900,000 elementary school teaching positions and 100,000 in secondary school--put together, 1 million--were vacant, IndiaSpend reported on December 12, 2016.
"India will account for more than half of the increase in Asia's workforce in the coming decade," Anis Chakravarty, lead economist at global consultancy Deloitte India, said on September 18, 2017. "With the invasion of machines and improvement in robotics, India needs to pay special attention to skilling and reskilling its workforce with a focus on the changing nature of today's jobs."
This is the sixth of our eight state-of-the-nation reports ahead of Budget 2018. You can read our report on renewable energy here, on agriculture here, on urban development here, on rural jobs here, on healthcare here, on defence here and on sanitation here.
(Vivek is an analyst with IndiaSpend.)
We welcome feedback. Please write to respond@indiaspend.org. We reserve the right to edit responses for language and grammar.