Budget 2014: The Dope On Who Gets How Much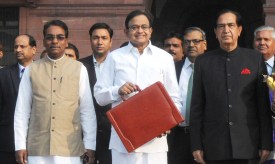 The Ministry of Finance gets the maximum allocation of Rs 6,36,923.09 crore in the interim Budget 2014-15 presented by Finance Minister P Chidambaram today. The finance ministry had the maximum allocation last year.
The Ministry of Defence got the second highest allocation (Rs 2,79,202.87 crore) followed by the Ministry of Consumer Affairs, Food and Public Distribution.
Click Here for a more detailed look at the budgetary allocation and revised estimates of the top 10 ministries over the last five years.