Blown Pakistani Boat Furore Hides Coastal Insecurities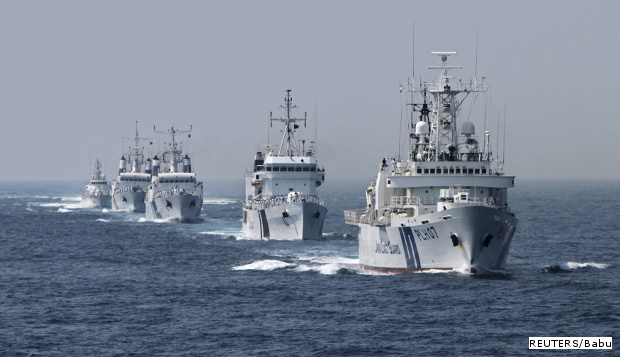 "Blow the boat off...we don't want to serve them biryani."
That controversial order from a Coast Guard deputy inspector general to sink a Pakistani trawler in December 2014, revealed in an Indian Express video on February 17, may have contradicted the official stand of the government--that the boat blew itself up--but the furore masks a larger problem: India's 7,500-km-long coastline is as vulnerable as it has ever been.
Source: Indian Express
Lax coastal security led to the smuggling of explosives to the coast of Raigad in Maharashtra, leading to the 1993 Mumbai serial blasts. The landing of 10 terrorists in Mumbai via this porous coastline resulted in the 26/11 attacks in 2008.
How India gathers most of its intelligence along the eastern seaboard--from fishermen--tells you why coastal security falters, said defence analyst C. Uday Bhaskar.
At least 22 ministries and department are involved with securing India's coastlines, writes Pushpita Das, associate fellow at the Institute For Defence Studies and Analyses (IDSA), in her report, "Coastal Security – The Indian Experience". Obviously, coordination is a problem.
Admittedly, India's coastline is not short, sprawling more than 7,500 km, involving nine states and four union territories: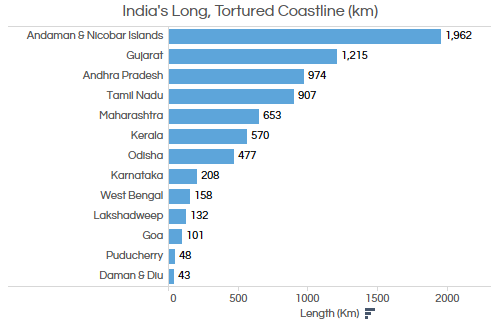 Source: Ministry of Home Affairs
Defence Minister Manohar Parrikar held a high-level meeting last week to identify isolated spots, which could be used by others to land arms, explosives or terrorists. The government is now planning to set up a dedicated marine police force, another cog in an already complex wheel.
Piracy. Armed robbery. Smuggling. A rising tide
An examination of maritime infiltration and smuggling cases reveals that India's coasts are a hub of criminal activity.
Source: Lok Sabha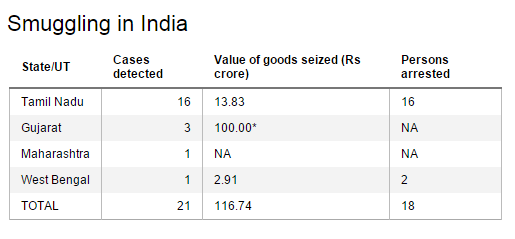 Source: Lok Sabha *Figure is approximate
In 2013, major infiltration cases were reported around Andaman & Nicobar Islands and Tamil Nadu. A total of 857 people were reported for infiltration attempts, most of them from Myanmar and Sri Lanka. These arrests were carried out by the Indian coast guard and local police.
Tamil Nadu reported 16 of all smuggling cases reported in 2013. Nearly Rs 117 crore worth of goods were seized and 18 people arrested. There were no cases of smuggling of arms or men reported in the year 2014 due to improved security measures, according to the government.
Maritime piracy and armed robbery: 49 actual and attempted incidents of piracy and armed robbery were reported off the Indian coasts between 2009 and June 2014. IndiaSpend had previously reported 189 piracy cases in the Indian Ocean region in 2013.
Maritime Trade & Strategic Locations: India's coastline is marked by 13 major and 187 non-major ports, through which 90% of maritime trade connects to international sea lanes. These ports are important because of its economic activity and strategic establishments, such as naval bases, nuclear plants, satellite launch pads, LNG terminals and off-shore and on-shore exploration.
A web of security--and more on the way
India's waters are protected by a three-layered defence.
The territorial waters up to 12 nautical miles (22 km), are guarded by marine/coastal police. The jurisdiction of the Indian Coast Guard extends from 0 to 200 nautical miles (0-370 km), the extent of India's exclusive economic zone. The area beyond 200 nautical miles comes under the jurisdiction of the Indian Navy.
The Indian Coast Guard has 10,646 personnel, 23% short. The Coast Guard has 103 women officers.
After the 2008 Mumbai attack, the central government has spent Rs 570 crore on coastal security.
Source: Rajya Sabha/Lok Sabha
In 2005-06, the government, under the Coastal Security Scheme (Phase I), provided 73 coastal police stations, 97 check posts, 58 outposts, 30 barracks, 204 interceptor boats, 153 jeeps and 312 motor cycles. This cost Rs 646 crore.
However, the 26/11 terror attacks pointed to major loopholes in India's coastal security. So, Phase II has been under implementation since 2011. It will cost Rs 1,580 crore, of which Rs 122.58 crore has been released till November 2014.
In the second phase, the government is planning to provide 131 marine police stations, 60 jetties, 10 marine police operation centres, 150 boats (12 tonne), 10 boats (5 tonne), 20 boats (19 metre), 35 rigid inflatable boats and 10 large vessels for Andaman and Nicobar Islands.
Of these, 82 police stations are up and running, but only 10 sites have been acquired for jetties. Only 42 coast guard stations have been commissioned.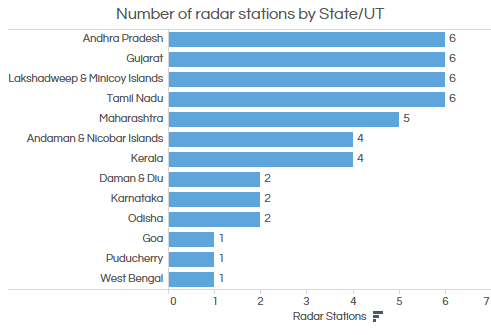 Source: Lok Sabha
A total of 46 radar stations were approved by the government,of which work on 44 stations are ready, with an additional 38 radar stations due to go up in Phase II of the coastal security scheme.
Apart from these measures, the government has started the national population registry for coastal populations and registration of all fishing vessels.
And since 2009, the coast guard has been conducting community interaction programmes with fishermen to act as the 'eyes and ears' of enforcement agencies. The role of the fisherman isn't likely to end any time soon.
(Chaitanya Mallapur is a Policy Analyst/Research Writer with IndiaSpend)
____________________________________________________________
"Liked this story? Indiaspend.org is a non-profit, and we depend on readers like you to drive our public-interest journalism efforts. Donate Rs 500; Rs 1,000, Rs 2,000."