Big Fights in Delhi--But Similar Promises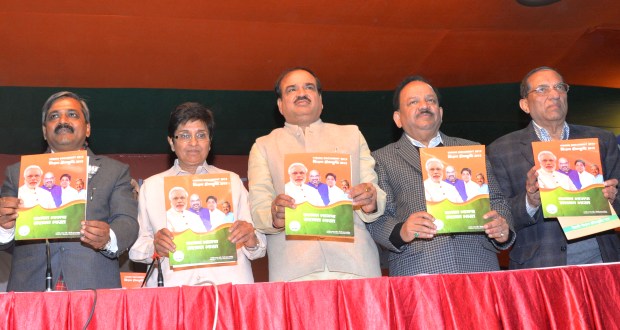 For all the sound and fury exchanged by the three principal parties in the electoral battle to control Delhi, the promises they are making to the capital's 16.8 million people are largely similar.
An IndiaSpend analysis of the manifestos of Indian National Congress (INC) and the Aam Aadmi Party (AAP) and "vision document" of the Bharatiya Janata Party (BJP) reveal these key issues: reduced power bills and more energy company choices to consumers; more water-supply infrastructure (the AAP's trump card here is 700 litres of free water); expanded health and education facilities; enhanced security for women and regularisation of Delhi's sprawling unauthorised colonies.
While development debates for most other states account for rural-urban divides and "vote banks" (voting targeted at religious and caste groups), Delhi, one of India's largest, most prosperous and unequal urban agglomerations, skips those issues.
"Development" for Delhi is not GDP growth but management of urban life.
This is particularly important because a good urban-development policy for Delhi can become a blueprint for other Indian cities. The effect of the Delhi Metro is one example, as IndiaSpend has previously reported.
The INC is putting forth its 15-year record in power, claiming to have "made" Delhi. The BJP has focussed on the central government's achievements while making its promises for the capital, and the AAP, which formed the government after the 2013 elections, has stuck to the promises it made last time.
Let us compare some key issues in the manifestos of these three major parties:
Policy Heads

INC
BJP

Aam Aadmi Party

Electricity
-Increase in the number of power distribution companies from the current three.

- People using above 200 units of power will be given 50% discount.

-Two new transmission units.

-Promote rooftop solar energy.

-Significant reduction in bills through increase in the number of power distribution companies.

-Discount of 5% on one-time payment of bills.

- Solar energy of rooftops.

-All street lights will be power-efficient LEDs

-Subsidised electricity for the poor.

-Electricity bills will be halved.

-Will try to generate at least 20% of its electricity needs through solar power.

-Will offer consumers choice among electricity providers.

INC
BJP

Aam Aadmi Party

Water
-3 new water- treatment plants.

-18 additional water reservoirs

-Bi-monthly billing of water for households

--Rationalisation of water bills

-rain water harvesting.

-Every housing complex will have drinking water for domestic and other help

-Construction of Renuka Dam in Himachal and Munal canal in Haryana.

-Water as a right.

-700 litres of free water every day per household.

- A network of water kiosks in slums for safe drinking water.

-Discharge of untreated water into the Yamuna will be prohibited.

INC
BJP

Aam Aadmi Party

Housing
-Regularisation of unauthorised colonies.

-Right to housing to be passed.

- Regularisation of unauthorised colonies.

-Low-cost housing for middle-class and lower- income groups.

-Community centres on vacant lands.

- Regularisation of unauthorised colonies within a year.

-Affordable housing not just for rehabilitation of slum dwellers now but for the future as well.

-Roads, toilets and water to be provided until slum-rehabilitation begins.

INC
BJP

Aam Aadmi Party

Health
-24 hour diagnostic centres with CT scan, MRI and ultrasound in every hospital.

-Special ambulances for senior citizens.

-Three new medical colleges.

-Regional forensic labs to be set up

-Children under 14 will be covered under Chacha Nehru Sehatyojana scheme, a health programme expected to cover all school-going children

-Compulsory health insurance for everyone

-New trauma centres and fair-price medicine shops.

-15 bed hospitals and ambulances every 5 km.

-Bring down Infant mortality.

-An increase of 40,000 hospital beds, including 4,000 maternity beds.

-About 15,000 paramedics and 4,000 doctors to be recruited.

- Build 900 new primary health care units.

- Health cards for everyone in Delhi to ensure long-term health services.

-Free mortuary services.

-Emergency beds and services to be expanded from 10% to 40%

INC
BJP

Aam Aadmi Party

Education
- Professional evening colleges to be set up in government schools. 85% seats to be reserved for Delhi students.

- 20 news colleges and 150 new schools.

- More teachers and counsellors in government schools.

- Subsidised higher education for lower-income groups.

-An innovation council to be set up

-Vacant teacher and other posts to be filled in Universities, schools and colleges.

-85% of college seats to Delhi students.

-Garhwali-Kumaoni academy to be set up.

-National medical college in Delhi with 250 seats to opened up.

-Madrassa modernisation programme to be set up

-Five hundred new schools and 20 new colleges.

-Will bring transparency into KG and nursery admissions.

-Will start a Higher education guarantee scheme.

INC
BJP

Aam Aadmi Party

Women's Safety
-Closed-circuit TVs in public transport.

-Severe punishment for crimes against women

-Special training for police forces to deal with crimes against women.

Self-defense as a part of school curriculum.

-Every district to have fast-track courts.

-CCTV in public transport and other crowded areas.

-More ladies special buses.

-Adequate street lighting.

-Will improve last- mile connectivity in public transit.

-CCTV in all public spaces.

-Speedy justice with 47 new fast track courts.

-Set up female protection units using home-guards.

-Suraksha (safety) buttons on every mobile, so that family and the police can be alerted in case of emergencies.
Source: Party manifestos
The urban agenda of all parties is clear, with concrete plans on electricity, water and housing. While electrification is not a concern for the Delhi state government, meeting demand and controlling prices is a big challenge.
As far as water supply and sanitation is concerned, census 2011 data reveals that 10% of households in NCT of Delhi are without toilets and 19% of households do not have access to tap water.
Image Credit: BJP.org
_____________________________________________________________
"Liked this story? Indiaspend.org is a non-profit, and we depend on readers like you to drive our public-interest journalism efforts. Donate Rs 500; Rs 1,000, Rs 2,000."