Beti Bachao: The Declining Sex Ratios Of Indian Cities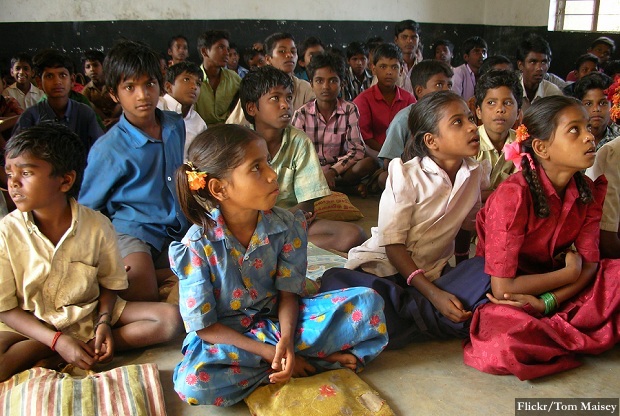 Contrary to popular perception that the deeply rooted prejudice against girls, reflected in the country's sex ratio, is mostly present in rural areas, some of the largest cities in India--including Delhi and Mumbai--had imbalanced sex ratios in 2011, according to an analysis of government data.
In 2011, for every 1,000 boys aged 0-6 years, there were 852 girls in Mumbai, 832 girls in Delhi, and 942 girls in Hyderabad, according to data put together by Kanya.Life, an initiative founded by Tarun Amarnath, a United States-based high school student, that analyses large and openly accessible data sets on gender provided by the Government of India's Office of the Registrar General and Census Commissioner.
Data from 2011 is the latest publicly available on sex ratios of Indian cities.
The worst child sex ratio was in Mahesana (762 girls per 1,000 boys) in Gujarat, followed by Agra (772) in Uttar Pradesh (UP), Modinagar (778) in UP, and English Bazaar (781) in West bengal (WB), data show. Bally, in WB had more girls (1,185) per 1,000 boys , as did Nagaon (1,043) in Assam, and Tambaram (1,019) in Tamil Nadu.
A normal gender ratio at birth is between 102-106 boys per 100 girls, which would be equivalent to 943-980 girls per 1,000 boys, according to a report by organizations working on gender issues. This ratio is not 1,000 boys for every 1,000 girls because it is nature's way of balancing a higher risk of death for boys as they grow older, according to the World Health Organization.
The child sex ratio, which is based on the number of boys and girls between 0 and 6 years of age registered at the time of the census, shows whether sex selection is prevalent in the country. A sex ratio less than the normal range of 943-980 girls per 1,000 boys, suggests discrimination against girls, and the presence of female infanticide, which is the killing of girls after birth, or of female foeticide, sex-selective abortion of the foetus.
An adverse child sex ratio is also reflected in the distorted gender makeup of the entire population. In 2031, India will have 936 females per 1,000 males, lower than the sex ratio in 1951 of 946 females per 1,000 males, the World Bank predicts.
Source: Census 2011
For this story, Kanya.Life used data for India, each of its states, and its 500 most populous cities from 2011, the latest available city-level data. The largest municipality at the time of the census, Greater Mumbai, had a population of 12 million, while the smallest, Nagda in Madhya Pradesh, had a population of 100,000.
The average child sex ratio in the largest 500 Indian cities--the total population (221 million) of which is nearly equal to that of the United Kingdom, France, Germany, and Spain combined--was 902. Ratios in Indian cities were as bad or worse than those found in rural India in 2011, which has an average child sex ratio of about 923 females per 1,000 males.
Source: Census 2011
NOTE: Data For Telangana is not available
India's sex ratio at birth--the number of girls born for every 1,000 boys--since 2011 has slightly improved, from 902 girls per 1,000 boys in 2011 to 903 girls in 2015, according to data from the World Bank. But this ratio is still the fifth worst in the world, better than only Liechtenstein (794), China (867), Azerbaijan (879), and Armenia (883). India's sex ratio is worse than Pakistan (920), South Korea (952), Nigeria (944), and Nepal (939), according to the World Bank.
Source: World Bank
How analysing city-level data could help
Analysis, when taken down to the level of cities and towns, could help identify trends on gender discrimination which could aid the government and non-governmental organisations combat female foeticide and infanticide.
Further, research at a local level could also be used to make communities aware about the problem, and empower them to act.
Governments and organisations working on these issues could also learn from cities that have a healthy gender ratio such as Puducherry (Puducherry), Aizawl (Mizoram), Kolar (Karnataka), Kumbakonam (Tamil Nadu), and Nagercoil (Tamil Nadu).
Why India's fight against foeticide, infanticide has failed
India's national child gender ratio has fallen over the past three decades from 945 in 1991 to 918 per 1,000 boys in 2011, according to census data. The states of Haryana, Punjab, Jammu & Kashmir, Rajasthan, Gujarat, Uttarakhand, and Maharashtra have a ratio lower than 900 girls per 1,000, which could imperil the future gender balance and demographics of the country.
In the mid-1960s, new technology that allowed for prenatal gender determination, and thus sex-selective abortion, such as the ultrasound, was brought into India, reported the Times of India in October 2011.
The liberalization of the Indian economy in the 1990s made ultrasound technology more easily available, according to a 2012 discussion paper by researchers at the Institute for the Study of Labor (IZA) in Germany. "The number of ultrasound machines manufactured in India increased rapidly between 1988 and 2003 with an especially marked increase after 1994," found the study, which said that the "initial introduction of ultrasound led to sex-selection," but the rate of sex-selective abortion did not increase more with the rapid expansion of the technology in the 2000s.
The Indian government has implemented regulations to prevent female foeticide arising because of these new technologies. One of the main laws, the Pre-Conception and Pre-Natal Diagnostic Techniques Act (PC & PNDT) of 1994 prohibits sex selection, before or after conception, and regulates diagnostic techniques to prevent misuse of sex determination techniques.
But these laws are often implemented poorly. For instance, in Maharashtra officials failed to complete 55% of inspections of sonography centers in 2014-2015, the Comptroller and Auditor General (CAG) found, as IndiaSpend reported in June 2015. In Gujarat, the shortfall in inspections of sonography center was 73%.
Further, In violation of Supreme Court directions to prosecute cases filed under the PC & PNDT Act within six months, cases in Maharashtra and Gujarat continued from one to 12 years.
The Uttar Pradesh government has left unspent about half the funds it was allocated to curb female foeticide, according to the CAG, as IndiaSpend reported in October 2016. None of the diagnostic centres followed all mandatory rules of preserving image records or backups taken during the ultrasonography of pregnant women, the CAG audit found. In 68% of cases, women did not even hold the necessary referral slips from their doctors.
Disempowered women, culture of dowry, smaller family size, might lead to sex selection
Despite significant economic and scientific growth over the past few decades, female infanticide and foeticide remain major issues in India, data show.
Reasons for female infanticide include anti-female bias, as women are often seen as subservient to men, who often employ positions of power, according to information from the United Nations Population Fund.
In addition, parents believe they will be better taken care of in their old age by men, as men are perceived as the principal wage earners of the family. Parents of girls are usually expected to pay a dowry, which could be a massive expense, avoided by raising males.
Coupled with son preference, smaller family sizes might also lead to greater gender selection, as IndiaSpend reported in December 2016. "Sex ratio at birth becomes skewed in favour of boys when fertility rates are low "by choice or coercion", according to a 2006 article published by the National Academy of Sciences, USA. "Female births must be prevented to allow for the desired number of sons within the family size norm".
India's sex ratio at birth declined even as per capita income increased nearly 10 times over the last 65 years, according to an IndiaSpend analysis of government data. This could be because rising income, which results in increased literacy, makes it easier for families to access sex-selective procedures such as amniocentesis, or sex determination by using the amniotic fluid, as IndiaSpend reported in June 2015.
Though education could help reduce son-preference in India, women need to be empowered more broadly, according to research, as reported by IndiaSpend in May 2016. Education, travel, the freedom to grow and make decisions, and the opportunity to use education just like men are the key ingredients for changing gender perceptions, not education or economic development alone or jointly, as IndiaSpend reported in December 2016.
(Amarnath is a high school student and the founder of Kanya.Life. He has a deep interest in applying data science to address large problems in society.)
We welcome feedback. Please write to respond@indiaspend.org. We reserve the right to edit responses for language and grammar.
__________________________________________________________________
"Liked this story? Indiaspend.org is a non-profit, and we depend on readers like you to drive our public-interest journalism efforts. Donate Rs 500; Rs 1,000, Rs 2,000."