Bengaluru's Unpaid Bills Up 7706% In 4 Years; Top Official Says Things Improving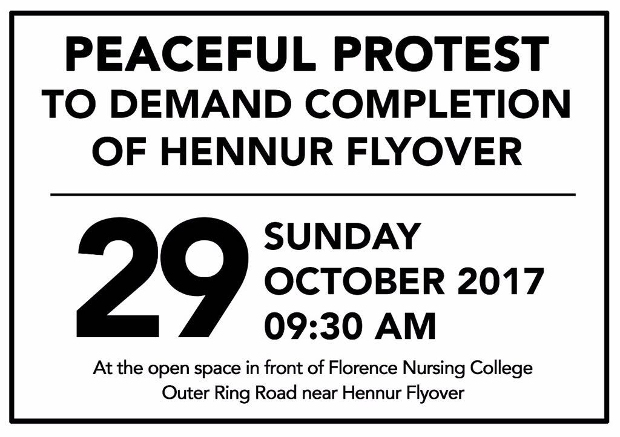 A flyer announcing a protest to demand the completion of Bengaluru's Hennur Road flyover, under construction for eight years now. Six months into the financial year, no more than 3.6% of Bengaluru's budget for new projects was spent, according to an IndiaSpend analysis of data released by Janaagraha, a think tank.
As India's fifth-largest city and technology capital battles flooding, a sea of potholes, uncleared garbage and unfinished projects, the municipal corporation's unpaid bills rose 7706% over four years and--six months into 2017--no more than 3.6% of its budget for new projects was spent, according to an IndiaSpend analysis of data released by Janaagraha, a think tank.
Since 2013-14, Bruhat Bengaluru Mahanagara Palike's (BBMP's) pending bills--for projects begun in previous years--grew 76 times, from Rs 15 crore to Rs Rs 1,171 crore, according to Janaagraha's Budget Performance Report H1 of the BBMP, released on October 24, 2017.
This backlog in payments includes bills for capital works, or works that involve creation of civic infrastructure for the city, such as building roads and drains and maintenance of existing infrastructure.
Source: Janaagraha's Budget Performance Report H1 of the BBMP
"The problem of pending bills in the BBMP has been steadily growing and this is not a good sign," Sapna Karim, head of civic participation at the Janaagraha Centre for Citizenship and Democracy, told IndiaSpend. "It shows the corporation's increasing inability to execute and clear works within a financial year, leading to a growing problem of pending payments over years as the data show."
The BBMP acknowledged the problem, but argued that a pending-bills backlog had been cut by nine months.
"The situation of pending bills has actually improved since 2016-17 when we had a backlog of bills with a pendency of 27 months," Manoj Rajan, BBMP special commissioner (finance), told IndiaSpend. "Since then, we have been working hard to ensure the BBMP has good financial management--we have so far managed to bring down the pendency of bills to 18 months, which is a significant achievement."
"Through efficient property tax collection, prompt work on outstanding bills, we are working determinedly towards fixing it (the problem of pending bills) and reducing its further impact on the city's finances," Rajan said.
With a population of 8.4 million, according to the 2011 census, Bengaluru is India's fastest growing metropolitan city. An estimated 756 people were added to the population every day between 2001 and 2011, the latest census data show. To cope with this growth, experts said, the BBMP must get its planning and execution right. That does not appear to be happening.
In six months, BBMP spent 3.9% of 2017 budget
The municipal commissioner's 2017-18 budget speech emphasised the completion of on-going projects and "strengthening and securing a strong foundation for the city's future".
The BBMP has already spent Rs 1,198 crore--more than the 2017 budget (Rs 1,171 crore)--to clear pending bills, even as its spending on new projects and projects from previous years lags.
Over six months, up to September 30, 2017, the corporation has spent Rs 177 crore of Rs 4,482 crore earmarked for new projects.
Source: Janaagraha's Budget Performance Report H1 of the BBMP
Similarly, the corporation has yet to spend nearly 70% of the budget set aside to finish projects started in previous years.
Such financial problems in the current year may lead to more pending bills the next year, if work orders and payments are not issued before March 31, 2018.
"While it's a good sign the BBMP has focused on clearing pending bills this year as that takes care of a significant backlog, this comes with caveats," said Karim. "The corporation must now ensure it executes and clears works budgeted for the current year so as to avoid another situation of bills pending the next year."
The BBMP said funding delays from the state government set off a cascade of delays.
New capital works, such as building bridges, "tend to take time" because multiple processes--from creating a project report to floating a tender and commissioning--are involved, said special commissioner Rajan. "Since the BBMP gets a lot of its funds from the Karnataka government, if there are delays in receiving funds, this may affect commissioning of works," he said.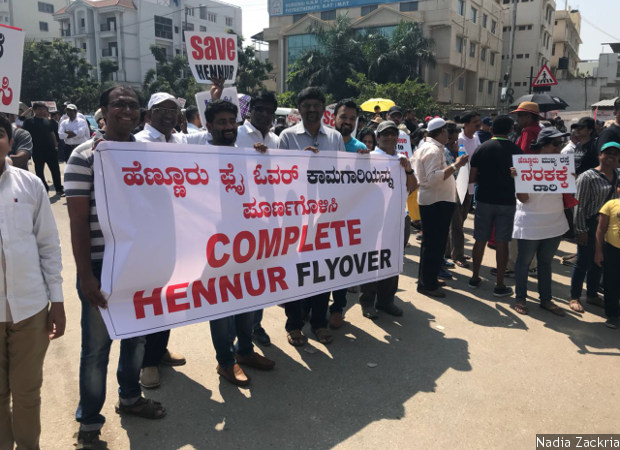 A protest on October 29, 2017, at the unfinished Hennur Road flyover in Bengaluru, under construction for eight years.
"Only half the year is through and we still have some time to let these processes play out. We are optimistic that most budgeted works should be cleared by February-March 2018 before the fiscal year-end," Rajan said.
Less than half or 45% of BBMP's income for expenditure is self-generated
The expenditure budget for Bengaluru city in 2017-18 is Rs 9,241 crore, of which Rs 6,055 crore, or 65%, is for capital works, and the rest, Rs 3,187 crore, is for revenue spending or maintenance.
The BBMP has budgeted the largest share (45%) to building and maintaining roads, followed by afforestation, horticulture and preservation of the city's lakes (15%) and solid waste management (10%).
One reason for the lag in clearing payments, as the special commissioner (finance) pointed out, is the BBMP's reliance on state and central government grants. More than half (55%) of the civic budget revenue comes from these, which the corporation often receives in delayed installments, as BBMP budget data show. Self-generated revenue--including property tax, service charges, advertisement taxes--for 2017-18 was Rs 4,252 crore, or 46% of income. Of this, property tax is the principle source of revenue (Rs 2,600 crore or 61.1%).
"The situation of pending bills is not the BBMP's fault alone," said Karim. "This reliance on other institutions for its revenue is problematic as it affects operational efficiency. In such cases, the BBMP will obviously first pay off salaries and push project spending which has led to these mounting bills."
Source: Janaagraha's Budget Performance Report H1 of the BBMP
The BBMP is working to curb its dependence on state funds, the Janaagraha report showed. For instance this year, within six months, the corporation has already collected Rs 1,723 crore or 66% of its property tax-collection target.
Source: Janaagraha's Budget Performance Report H1 of the BBMP
However, while the BBMP's property tax collection has improved by 50 percentage points from 23% (or Rs 727 crore) in 2013-14 to 73% (or Rs 1,723 crore) in 2016-17, annually, about 25% of budgeted property tax remains uncollected, although the BBMP lowered its target for collection by Rs 900 crore, from Rs 3,200 crore in 2013-14 to Rs 2,300 crore in 2016-17.
"The property tax collection targets may have been rationalised from 2013-14 based on the BBMP's accounts," said Karim.
In his 2017-18 budget speech, the municipal commissioner announced the civic body has tied up with the ISRO (Indian Space Research Organisation) to introduce a GIS (geographic information science)-enabled property tax information system (GEPTIS). "But from our own assessment of the BBMP area, using satellite imagery, we found Bengaluru has the potential to earn three times the amount it currently does in collection of property tax," Karim told IndiaSpend.
"Don't look at the targets, we rationalise the targets based on what we feel is achievable. Instead, focus on how collection has significantly improved in the last couple of years," Rajan said. "Janaagraha brought the suggestion to us in February-March 2016, we took it up in August and completed the exercise in eight months. We are now the first corporation in the country to use a database of all the properties within BBMP limits and have moved to a scientific assessment of property tax."
"We are now going to direct our efforts towards discovering how owners have been deceiving the system by undervaluing their properties," the special commissioner said.
(Saldanha is an assistant editor with IndiaSpend.)
We welcome feedback. Please write to respond@indiaspend.org. We reserve the right to edit responses for language and grammar.
__________________________________________________________________
"Liked this story? Indiaspend.org is a non-profit, and we depend on readers like you to drive our public-interest journalism efforts. Donate Rs 500; Rs 1,000, Rs 2,000."