Banks Race To Targets, Rural Women's Groups To Defaults
Nirmala Devaki, a landless farmer from Dastikoppa village in Karnataka's northwestern Dharwad district, had borrowed Rs 10,000 from her self-help group for her cousin's marriage. At a monthly interest rate of 2%, Devaki owes the SHG Rs 1 lakh--a sum the widow with five children says she cannot pay back. Across India's villages, over the last three years, Rs 9,000 crore given by banks to 3.9 million SHGs run by women to boost rural incomes has turned into non-performing assets, or loans in danger of being written off.
Two years ago, Nirmala Devaki borrowed Rs 50,000 for a cousin's wedding from her self-help group (SHG), one of 3.9 million across India, comprising groups of women who assist each other and offer loans as small as Rs 10,000, including for marriages.
To Devaki, a landless farmer from Dastikoppa village in Karnataka's northwestern Dharwad district--and one of approximately 40 million SHG members nationwide--the monthly interest rate of 2% charged by her SHG, Gayatri Sevasahaya, seemed easy to handle.
Today, Devaki owes the SHG nearly Rs 1 lakh, a sum the widow with five children says she—like 8 million women—cannot pay back. Her family survives on Rs 5,000, which it earns from selling the milk of its one cow. "Being part of a self-help group has become more of a burden than a help," she complained.
Across India's villages, over the last three years, Rs 9,000 crore given by banks to SHGs, under the National Rural Livelihood Mission (NRLM)--a government programme set up five years ago to boost rural incomes--have turned into non-performing assets (NPA), or loans in danger of being written off, much like the bad-loan crisis unsettling India's commercial banking system, with more than 5,000 wilful defaulters owing banks Rs 56,621 crore, as IndiaSpend reported in March 2016.
At 12% of the Rs 77,650 crore the NRLM has lent over the last three years, the NPA figure may appear low. The corresponding NPAs in the commercial banking system for corporate sector are 5.5% up to March 2015, according to Reserve Bank of India data.
The scale of the NPAs in the SHGs pale in comparison to corporate NPAs: Rs 9,000 crore owed by 8 million women is less than the Rs 9,478 crore default of one commercial defaulter, Lloyds Steel, second on the corporate NPA list.
The defaults of the women from SHGs are warning signs of similar stress and indicate that the Mission's goal of organising up to 90 million rural households into SHGs over the next decade may have overambitious targets, inadequate safeguards and could jeopardise the very livelihoods it hopes to improve.
There are two rules to lend money, said micro-finance expert M S Sriram, an economics professor at the Indian Institute of Management, Bangalore: One, assess the credit worthiness of a consumer, as banks do; two, penalise defaulters, which means customers can assess their repayment ability.
Those rules were ignored by banks lending to India's largest companies, and they are being ignored now, as the NPA crisis similarly grows in rural India.
There are two reasons for the unfolding rural debt crisis involving women. One, SHGs are not educating and training rural women on the basics of smart borrowing, how to invest and spend wisely. Money borrowed for income-generating activities such as stitching, candle making or farming, is often spent on personal expenses, from weddings to home construction. Two, banks are aggressively pushing loans through SHGs to meet the government's loan targets, without similar efforts at checking where this money goes.
"The basic idea of forming a SHG and educating them, creating awareness among them, why the groups are made and what is the use--these things are not being taught to the members," said Satish Solanke, a bank manager in Kalghatgi, Karnataka.
The same story, across India's villages
Kalghatgi is a taluka, an administrative subdivision, 25 km from the town of Hubli. Agriculture and dairy farming are the main occupations. The women either help their husbands at the farm or do assorted work outside home, but a few start their own businesses. They normally form SHGs, with about 15 to 20 members and an elected head. It is the head who decides the interest rates, which range from 2% to 5% per month. That adds up to 24% per annum, three times the bank rates, but less than the 36% that moneylenders can charge.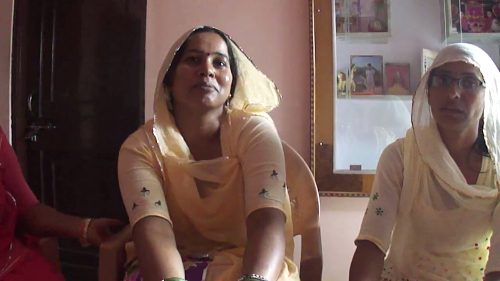 Mamta Kanwar of Niwaru village in Jaipur, Rajasthan, narrates why she could not repay the loan she took. Kanwar borrowed Rs 50,000 from her SHG, Om. She then distributed it to the group's members so they could invest in stitching units. But they spent the money for personal purposes.
You can hear stories like Nirmala's in rural north India too. Mamta Kanwar, of Niwaru village in Jaipur, borrowed Rs 50,000 from her SHG, Om. She then distributed it to the group's members so they could invest in stitching units. But they spent the money for personal purposes. Today, three years later, the Rs 50,000 has become an NPA.
Banks lending to SHGs stuck with Rs 9,000 crore in unpaid loans
Until June 2016, Rs 9,000 crore in loans disbursed under the National Rural Livelihood Mission had turned NPA since 2013-14, according to government data.
Source: National Rural Livelihoods Mission; hover for details.
Karnataka leads the table with the highest NPA of Rs 2,235 crore, followed by Andhra Pradesh and Telangana with Rs 1,768 crore and Rs 1,415 crore, respectively. Karnataka also has the highest number of "irregular accounts", which means the account holder has not paid one or more instalments. As a percentage of all accounts, Rajasthan with 91% leads the pack.
The State Bank of India reported the highest NPA of Rs 1,556 crore, followed by the Union Bank of India with Rs 1,311 crore. More than Rs 2,900 crore is in danger of turning NPA nationwide. Mission-appointed banks, mostly government-owned, have lent more than Rs 77,650 crore over the last four years. Of this, about Rs 39,000 crore is outstanding.
Source: National Rural Livelihoods Mission; hover for details.
Source: National Rural Livelihoods Mission
In terms of outstanding loans, SHGs in Andhra Pradesh owe Rs 13,412 crore, followed by Telangana and Karnataka. These three states account for 87% of NPAs.
How a town of 17,000 has 25,000 women registered in self-help groups
Stories from rural India reveal why loans are turning bad: Bankers appear to be scrambling to meet government-set loan targets, sacrificing due diligence.
Consider the example of Kalghatgi. The town has 1,907 Stree Shakti (Woman Power) SHGs with more than 25,000 registered members, which is more than the town population of 17,000, according to the 2011 census. This is because each of these members is registered with more than one SHG.
Women from the self-help group Shiv Shakti, based in Niwaru village in Jaipur, Rajasthan, narrate why they could not pay back loans. For instance, Rukmani (centre) borrowed Rs 10,000 from the SHG for tailoring equipment, but could not repay the amount as there was little demand for her work. As many as 91% of such loans in Rajasthan were not paid in time.
Multiple financing is the result of intervention by NGOs, micro-finance institutions and government agencies, said Solanke, the Kalghatgi bank manager. "Members are borrowing from multiple groups though they don't have the capacity to repay."
For instance, Mahadevi Tongle, a farmer with a monthly income of Rs. 10,000, from the town of Devikoppa, took five loans from five groups. The first of these was for her daughter's wedding. Today, she owes a total of Rs 2 lakh and cannot repay.
"The money received after the maturity of one loan is usually used to pay off loans taken from other SHGs," said Renuka M Bhovi, secretary of an SHG in Devikoppa. "There is no saving."
Meanwhile, banks are under pressure to offer more loans
The ratings of SHGs in loan repayment have deteriorated over the last three years, a situation indirectly encouraged by micro-finance institutions and banks, said Basavaraja S Hugar, lead district manager of Vijaya Bank in the district headquarters of Dharwad.
One of the flagship features of the rural livelihoods mission is that it subsidises the interest on loans banks give to SHGs. Banks offer loans to SHGs at 7% per annum instead of the regular 12-13%. The government pays the difference to banks. The only pre-requisite is that the SHG has a bank account.
Then, the SHG in turn extends loans to its members at annual interest rates as high as 24-50%, which members, often, cannot repay. That does not stop banks giving loans to SHGs to meet rural livelihoods mission targets.
Micro-finance institutions are yet another layer between banks and SHGs. They take loans from banks at regular interest rates of 12%-13% but charge 18%-24% from SHGs. The rural livelihoods mission does not cover micro-finance institutions, but they do extend micro loans of upto Rs 1 lakh per SHG.
SHGs are set up by various organisations, including banks, government, NGOs and micro-finance institutions.
National rural livelihoods mission: 90 million households to organise into SHGs by 2024-25
Ever since the NRLM started in 2011, it has lent more than Rs 77,650 crore to SHGs across 620 districts. The government has spent another Rs 1,000 crore subsidising cheap loans.
The objective of the mission is to organise poor women in villages into self-help groups and support them till they climb out of poverty. The mission aims at organising 80-90 million poor, rural households into about 7.5 million SHGs over the next 10 years. So far, the government has organised 3.9 million SHGs.
States in the south lead with more than 50% SHGs across India.
Source: National Rural Livelihoods Mission; hover for details.
"The NRLM is not a government subsidy scheme," said B Lokesh, senior mission executive (Financial Inclusion), NRLM. "It is basically helping banks increase business. SHGs are a priority sector under RBI (Reserve Bank of India) guidelines, which means banks have to lend a certain percent of their total credit to SHGs."
Banks are given targets, starting with an initial loan of Rs 50,000. If this amount is repaid, banks have to finance that SHG with an amount of up to Rs. 1 lakh, which can later be raised to Rs 3 lakh. The branch manager decides the final loan, based on a SHG's records, book-keeping and repayment. So far, each SHG has received, on average, Rs 2.5 lakh.
Why women do not know what they should
The SHG programme also seeks to provide regular training and education to women. "NRLM has an MoU (memorandum of understanding) with some resource states like Andhra Pradesh, Tamil Nadu and Bihar where SHG movement is much evolved," said Dr. N. V. Madhuri, assistant professor of sociology at the Centre for Self- Employment and Rural Enterprises, National Institute for Rural Development, Hyderabad.
"So they bring the CRPs (community resource persons) of those states to promote the groups and train these groups," he said. "They also get loans from banks at a very subsidised rate and see to it that they have proper financial discipline."
In reality, as the stories prove, there is very little awareness among the women about the real nature and use of these loans.
Once a loan is given, banks don't know what happens
SHGs are judged on the basis of regular meetings, regular internal lending and bank linkage. There are no clear instructions or conditions to loan money. "Banks do not enquire about the purpose of loan from the self-help groups," said Vasanth Gowda, a field worker from Ujjivan Mini bank in Dharward.
"Members show handmade items to the government official for loans," said Gaourava Ningappa, a member of a SHG in Tabakadahonnalli village, Kalghatgi. "But once the loan is sanctioned, and the money is withdrawn, they will stop whatever business they took the loan for and use the money for personal expenses."
Click here for data on all states and banks.
Correction: We earlier said that the National Rural Livelihoods Mission aims to organise 80-90 million households into 750,000 self-help groups. The correct datum is that they will be organised into 7.5 million SHGs. We regret the error.
(Agarwal is a New Delhi-based journalist and a member of 101Reporters.com, a pan-India network of grassroots reporters.)
We welcome feedback. Please write to respond@indiaspend.org. We reserve the right to edit responses for language and grammar.
__________________________________________________________________
"Liked this story? Indiaspend.org is a non-profit, and we depend on readers like you to drive our public-interest journalism efforts. Donate Rs 500; Rs 1,000, Rs 2,000."