If We Ate Less Rice, Delhi's Air Could Be Cleaner
Stubble burning is believed to be the prime reason for the air pollution crisis that has hit north India, but the six-fold growth in paddy cultivation at the cost of other crops, mechanised harvesting and the lack of political will to invest in alternate technologies means that many farmers do not have a viable alternative.
Stubble burning by farmers in Punjab and Haryana is responsible for the critical drop in the air quality in major north Indian cities, specially the Northern Capital Region. On November 7, 2017, the 24-hour average particulate matter (PM) 2.5 concentration in Munirka, in south-west Delhi, stood at 655.78 μg/m3. This was 26 times more than the 24-hour average standard set by the World Health Organization (WHO) at 25 µg/m³, IndiaSpend reported on November 10, 2017.
Air pollution levels in seven other north Indian cities, analysed using IndiaSpend #Breathe air-quality sensors, were between 2-3 and 10 times above safe limits, based on the 24-hour average of PM 2.5. It led to widespread respiratory distress in Delhi and neighbouring areas.
Putting a stop to the practice of burning post-harvest straw residue in paddy fields would improve air quality in Delhi up to 90%, IndiaSpend reported on October 17, 2017, citing an Indian Institute of Technology study. But stubble burning is a much larger agricultural issue with environmental implications beyond air pollution in north India, economist Sucha Singh Gill told IndiaSpend.
"Stubble burning was not a problem prior to the 1990s. To stop it, we must ask why," said the professor and former director general, Centre for Research in Rural and Industrial Development, Chandigarh, in a phone interview with IndiaSpend.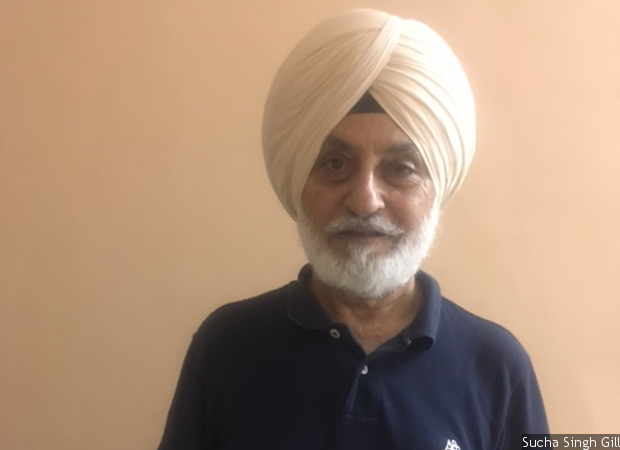 Sucha Singh Gill, professor and former director general, Centre for Research in Rural and Industrial Development, Chandigarh.
Driven by his interest in agriculture, the backbone of the Indian economy and a way of life in Punjab, Gill has been following the issue closely.
Agricultural policies influence crop choices and the farmer is not the only one who should be held responsible for the air crisis, he said.
It is commonly believed that mechanised harvesting of the rice crop creates stubble. Combines, the machines used to harvest, thresh and clean grains, cannot cut the crop close to the ground the way manual harvesting can. If you put the average height of a paddy plant at 100 cm, this generates 50 cm of loose straw and 50 cm of standing stubble. Is this true?
Yes and no. We must differentiate between basmati rice and ordinary paddy. Basmati rice, which is typically grown in the sub-Himalayan belt, is still harvested manually because the use of a combine results in increased grain losses. Basmati is grown in districts (such as) Pathankot, Nawanshahar and Ropar in Punjab and in Ambala, Karnal, Kurukshetra and Yamunanagar in Haryana. Farmers feed the straw residue of basmati rice to livestock. So its disposal is not a problem. The problem arises only for ordinary paddy grown in Punjab and harvested using machines. Up until the 1980s, labourers from Bihar would travel to Punjab and Haryana in large numbers to harvest ordinary paddy. Mechanised harvesting using combines was introduced in the 1990s and became the preferred way for all farmers, big and small, after 2000. It is cheaper and faster and helps minimise damages that could be caused by unseasonal rainfall.
Farmers say they burn the stubble because they need to get rid of it quickly between mid-October and mid-November when they sow the wheat crop. Surely technologies exist to help dispose of the 20 million tonnes of stubble generated in combine-harvested fields?
The problem is not the absence of technology but its cost. Farmers could use a rotavator, also called rotary tiller, a machine that is attached to a tractor and can cut and lift standing stubble. The residue could then be spread over the field as mulch cover. The big question is whether the government is willing to support this use of technology. A rotavator costs Rs 95,000. It takes around two hours to clear an acre of land, at an hourly cost of Rs 250. Farmers who do not own tractors would have to rent out the rotavator plus the tractor. Obviously, they prefer to avoid this extra cost.
If farmers do not want to spread this residue on their fields, the dry straw can find use as packing material for crockery and glassware. It is a useful base for growing mushrooms. It can be used as an input in the cardboard manufacturing industry. It can be used to produce fuel. It can be used to make manure. It can be used as livestock feed, not exclusively but mixed with other foodstuffs. It can safely comprise up to 20% of the feed.
Solutions exist. But the political will to act is lacking. Neither the central nor the state government has moved to support the use of technology or create a market for the alternative uses of stubble.
Is there any other reason for this rise in stubble burning?
If paddy cultivation in Punjab had stayed stagnant at the levels achieved in the 1960s, stubble burning would not have caused a major air pollution problem. The fact is that rice cultivation in Punjab has increased almost six-fold between 1970 and 2010, from 6.87% of the gross cropped area (GCA) to 35.85%. This increase in paddy cultivation happened at the cost of maize, groundnut, millets and cotton. The area under maize fell from 9.77% of the GCA to 1.69%. Pulses used to occupy 7.29% of the GCA but four decades later their share was 0.25%. The acreage of oilseeds in Punjab is down from 5.20% of the GCA to 0.71%.
Rice (and wheat) snatched away the area from other crops because the government supports its cultivation. Support for a crop involves creating an assured market by declaring a minimum support price and creating a procurement mechanism. The government practically supports only ordinary paddy and wheat.
Source: State Agricultural Profile – Punjab
On paper, the government declares a minimum support price for pulses and oilseeds but we see no procurement mechanism for these in Punjab. Procurement involves having an agency in place as well as godowns to store the crop. A writ petition filed in the Punjab & Haryana High Court to enforce the procurement of maize has also not changed anything on the ground despite a court stricture. The Punjab government pleads that the Centre has not made maize a part of the public distribution system (PDS), nor does it allow its use to produce fuel.
The government also does not support the cultivation of basmati rice under the pretext that it is mostly grown for export, and hence [it assumes that it] would fetch a good price. Basmati rice consumes less water than paddy and as I pointed out, it is harvested manually. However, not all the basmati grown in north India is exported.
Stubble burning is causing air pollution for north India but paddy cultivation is also raising groundwater scarcity concerns in Punjab. Punjab is facing a dire shortage of water. We have already exhausted the top two layers of groundwater and are down to the third layer. Ordinary paddy cultivation in Punjab should be retired in the long run. The government must encourage crop diversification. It must support the cultivation of oilseeds, fruit, pulses, maize and bajra (pearl millet), to name a few crops.
It is time to stop using the excuse of food scarcity to avoid encouraging crop diversification. India is not a food insecure nation and will not face a food scarcity as long as the government acts on the decision to include millets in the PDS. Bajra can be grown in Punjab. In the last decade, crop diversification in Punjab has been spoken about at the union government level but nothing has come of talks so far.
Haryana has banned stubble burning. Punjab has not. Is banning a solution?
Banning stubble burning is not a solution. It just shows the urban population that some action is being taken. Farmers are too big a vote bank for any government to seriously implement punitive action en masse. Urban people are being fooled.
Stubble burning and its fallout is a manmade problem. To eliminate the chances of a repeat of the pollution crisis in Delhi and other parts of north India, the central government needs to act now and address the issue jointly with respective state governments.
I would also point out that the governments must simultaneously address the other compounding issues such as the increase in vehicular traffic, especially large transport vehicle movement, and the creation of many thermal plants in the last few decades. Industrialisation (too) has adversely impacted air quality.
(Bahri is a freelance writer and editor based in Mount Abu, Rajasthan.)
We welcome feedback. Please write to respond@indiaspend.org. We reserve the right to edit responses for language and grammar.