At Least 27 Indian Soldiers Killed Along LoC, J&K Terror Attacks, Since 'Surgical Strikes'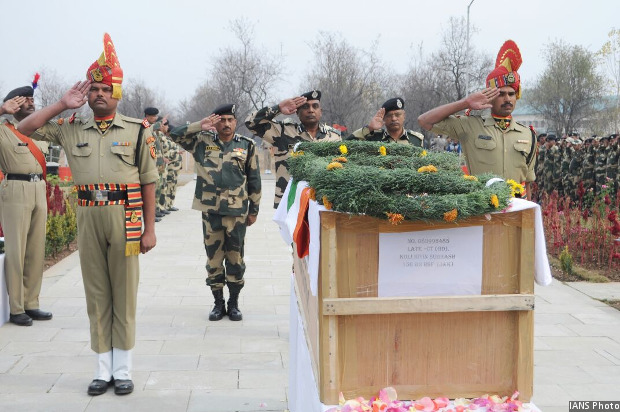 Soldiers pay tribute to martyr Nitin Subhash--who was killed in cross border firing in Machil sector of Jammu and Kashmir--in Srinagar on October 30, 2016. Cross- border firing accounted for 13 of the 20 deaths of Indian security forces since the 'surgical strikes'.
At least 27 Indian Army and Border Security Force soldiers have been killed in cross-border firing, terrorist and Pakistani attacks along the line of control (LoC), the international border and in the state of Jammu & Kashmir (J&K) since the September 29 "surgical strikes", according to data collated by IndiaSpend from various news sources.
This includes seven soldiers killed in a terror attack on an army base in Nagrota, southwestern Jammu & Kashmir, on November 29, 2016, and three Indian Army jawans killed in the Machil sector of Kupwara district in north Kashmir on November 22, 2016. One soldier's body was beheaded, and the army vowed that "retribution will be heavy for this cowardly act".
Pakistan said Indian forces killed three of its troops and nine civilians after the Machil killings. Both sides routinely blame each other for "unprovoked firing" and promise "befitting" replies.
Pakistani soldiers and terrorists operating in concert killed the three Indian soldiers who died on November 22, 2016, according to the army, quoted here in NDTV.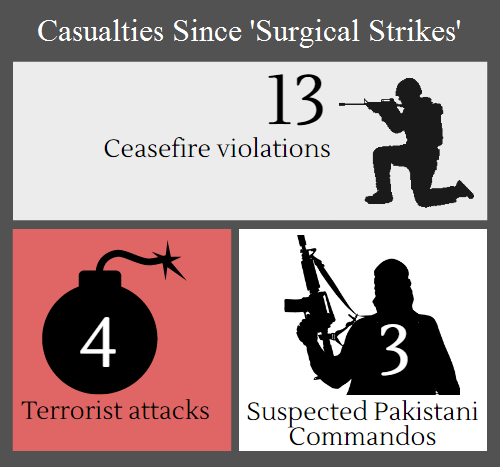 Source: Compiled through various news sources
As many as 13 deaths after the "surgical strikes"--attacks by Indian commandos on terrorist bases in Pakistan--occurred during ceasefire violations, including cross-border firing and shelling by Pakistani troops. Terrorist attacks accounted for four deaths of Indian soldiers.
Pakistani firing has also killed at least 12 civilians, including women and children, and injured 50 others along the twin borders of J&K since the strikes.
The deaths come amid simmering tensions between nuclear-weapons-armed arch rivals India and Pakistan; 279 exchanges of fire were reported till November 15, The Indian Express reported on November 24, 2016.
Indian security forces have retaliated with artillery and small-arms fire, claiming the lives of several Pakistani troops, including seven on November 14, 2016.
As of November 20, 2016, the number of Indian security forces killed in terrorism-related incidents in J&K was 74, the highest death toll recorded since 2009 when 78 were killed, according data released by South Asia Terrorism Portal (SATP). There has been an 81% increase in deaths of security forces due to terrorism since 2015.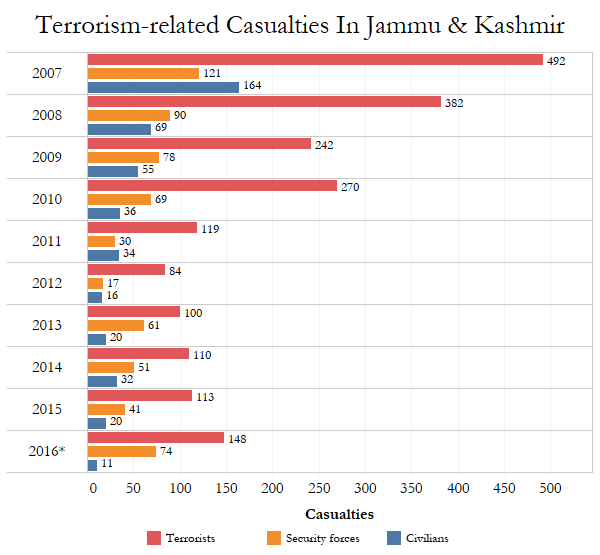 Source: South Asia Terrorism Portal; *Data till November, 20, 2016
As many as 11 civilians were killed in 2016 (as of November 20), the lowest since 1988, the year when SATP started compiling data on terrorism-related deaths for J&K. Civilian deaths have declined 45% since last year.
Indian security forces have killed 148 terrorists in 2016, the highest in a year since 2011. The number of terrorists killed has increased 24% from last year.
The increase in deaths of security forces and terrorists since 2015 indicates that terrorist activities have increased this year in J&K.
The decline in civilian deaths could indicate that militants are targeting security forces and their infrastructure.
This possible strategy by militants could be an effort not to antagonise local Kashmiris but rather capitalise on the wider discord among them against security forces in a year that has witnessed over 100 days of curfew in J&K and an overall deteriorating security situation.
Massive violent protests erupted after security forces gunned down militant leader Burhan Wani on July 8, 2016. Over 90 people have died in protests and hundreds blinded from "non-lethal" pellet guns used by security forces in what The Guardian has questioned as "the world's first mass blinding".
Statement From Indian Army On Nagrota Attack Of November 29, 2016
In the early hours of 29 November 2016, a group of heavily armed terrorists disguised in police uniform targeted an Army unit located three kilometres from the Corps Headquarters at Nagrota.
The terrorist forced their entry into the Officers Mess complex by throwing grenades and firing at the sentries. In the initial counter action, one officer and three soldiers of the Army were martyred. The terrorist entered two buildings which were occupied by Officers, families and men. This led to a hostage like situation.
The situation was very quickly contained and thereafter, in a deliberate operation all were successfully rescued, which included 12 soldiers, two ladies and two children. However, in this rescue attempt one more officer and two jawans sacrificed their lives. Bodies of Three terrorists have been recovered and operations are in progress to sanitise the complete area.
This story was updated on November 29, 2016, after the terror attack on an army base in Nagrota, Jammu & Kashmir.
(Sethi is a Mumbai-based freelance writer and defence analyst.)
We welcome feedback. Please write to respond@indiaspend.org. We reserve the right to edit responses for language and grammar.
__________________________________________________________________
"Liked this story? Indiaspend.org is a non-profit, and we depend on readers like you to drive our public-interest journalism efforts. Donate Rs 500; Rs 1,000, Rs 2,000."