At 66, The Indian Republic Has Much To Do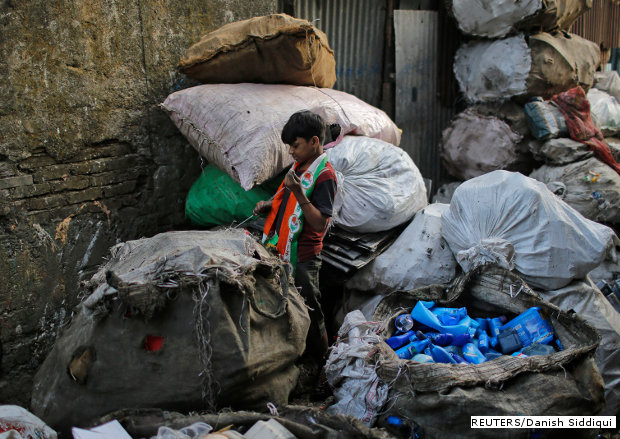 As the latest military hardware, ranks of soldiers marching in perfect step, pomp, glory and Barack Obama mark India's 66th republic day, praise is likely to be heaped on Prime Minister Narendra Modi for projecting India as an emerging superpower.
Much has improved after 68 years of independence, but millions of Indians live in a precarious situation. Although India is expected to grow faster than China in 2016, its wretchedness will take much longer to go away.
Here are seven statistics that should alarm and galvanise India:
1. Malnutrition: One of three malnourished children in the world is Indian, according to the United Nations Children's Fund (UNICEF). According to the Global Hunger Index, India (at 55th rank), is marginally ahead of Pakistan and Bangladesh (57th each), but ranks worse than its other neighbors Nepal (44th), Sri Lanka (39th) and China (5th). Although malnutrition deaths per 1,000 children in India have reduced significantly from 1990 to 2010, much more needs to be done.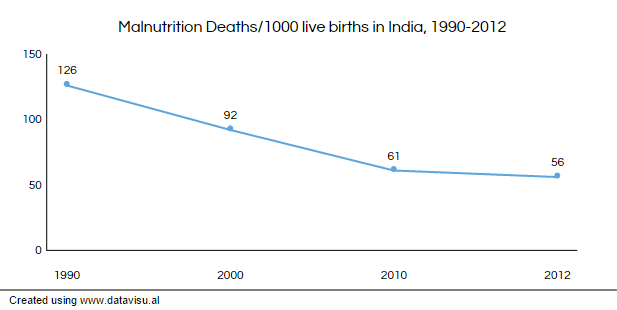 Source: UN Inter-agency group Child Mortality 2013
2. Human Trafficking: As per data from National Crime Records Bureau (NCRB), the number of registered human trafficking cases has increased 38% over five years, from 2,848 in 2009 to 3,940 in 2013. The conviction rate for such cases has declined 45%, from 1,279 in 2009 to 702 in 2013.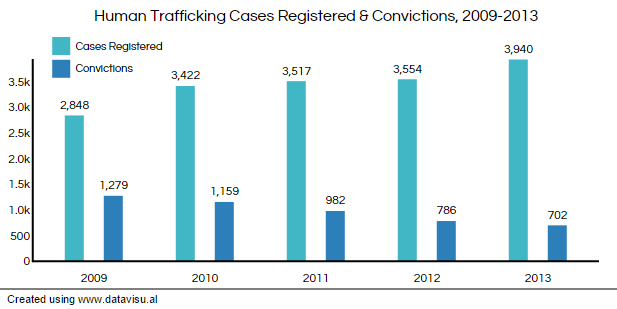 Source: NCRB
3. Crimes against women: With a surge in crimes against women in India, elections are increasingly being fought on the promise of ensuring women security. India is the fourth-most-dangerous place for women in the world, after Afghanistan, Democratic Republic of Congo and Pakistan, according to a survey conducted by Thomson Reuters' Trustlaw Women in 2011. Registered crimes against women have increased 52% over five years, from 203,804 in 2009 to 309,546 in 2013, NCRB data reveal.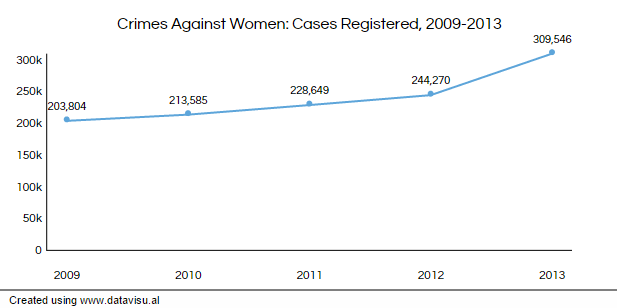 Source: NCRB
4. Child labour: India has the highest number of child labourers in the world at 4.9 million, according to National Sample Survey Organisation statistics for 2009-10. Uttar Pradesh accounts for 1.7 million child labourers followed by West Bengal with 0.5 million.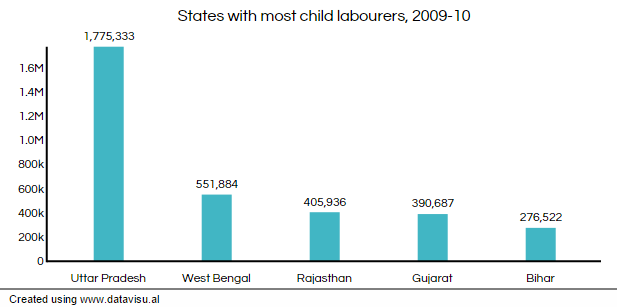 Source: Lok Sabha
5. Crimes against Children: India is turning into an extremely dangerous country for children. The registered cases for crimes against children have increased by 120% in three years, according to NCRB data.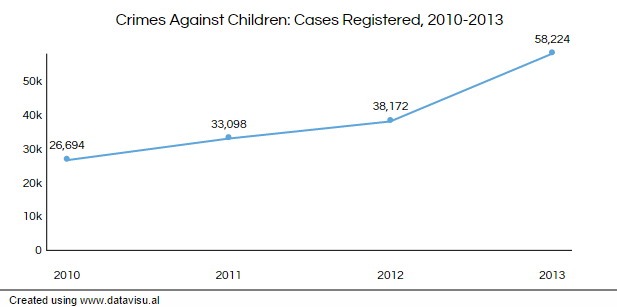 Source: NCRB
6. Poverty: There are a lot of different measures and statistics by numerous organisations to estimate poverty levels. There are more poor people in eight Indian states (421 million in Bihar, Chhattisgarh, Jharkhand, Madhya Pradesh, Orissa, Rajasthan, Uttar Pradesh, and West Bengal) than in the 26 poorest African countries combined (410 million), says an analysis by Oxford Poverty and Human Development Initiative of the United Nations Development Fund.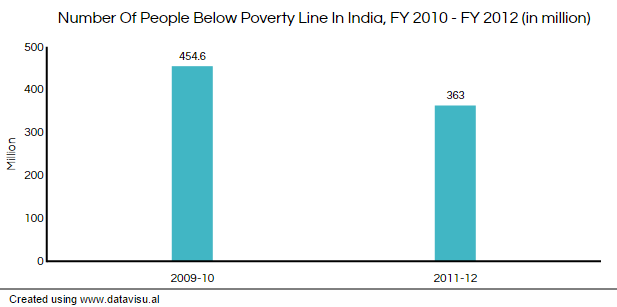 Source: Rangarajan Committee
A person spending less than Rs 1,407 a month (Rs 47/day) would be considered poor in Indian cities, as per the latest estimates of a government-appointed panel, the Rangarajan committee. An earlier panel, the Tendulkar Committee, suggested Rs 1,000 a month (Rs 33/day) as the poverty line. In villages, those spending less than Rs 972 a month (Rs 32/day) would be considered poor. This is much higher than the Rs 816 a month (Rs 27/day) recommended by the Tendulkar Committee.
So, as per the Rangarajan committee's estimates, India had 363 million poor people (29.5% of the population) as of 2011-12, compared with 454.6 million (38.2%) in 2009-10.
7. Sex Ratio: Though India's overall sex ratio has improved from 933 in 2001 to 943 in 2011, its child sex ratio (upto the age of six) has declined from 927 in 2001 to 919 in 2011, which means many girls are either being aborted or dying after birth, either by design or negligence.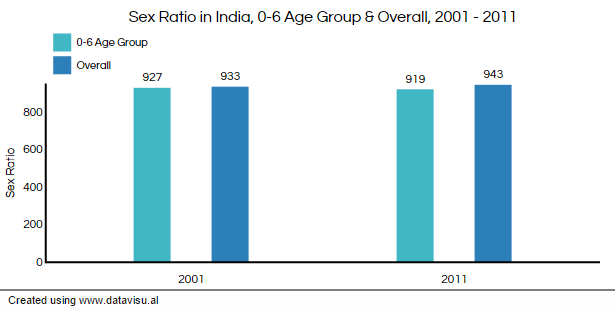 Source: Census 2011
__________________________________________________________
"Liked this story? Indiaspend.org is a non-profit, and we depend on readers like you to drive our public-interest journalism efforts. Donate Rs 500; Rs 1,000, Rs 2,000."