As U-17 Football World Cup Begins, Air Pollution May Be A Dampener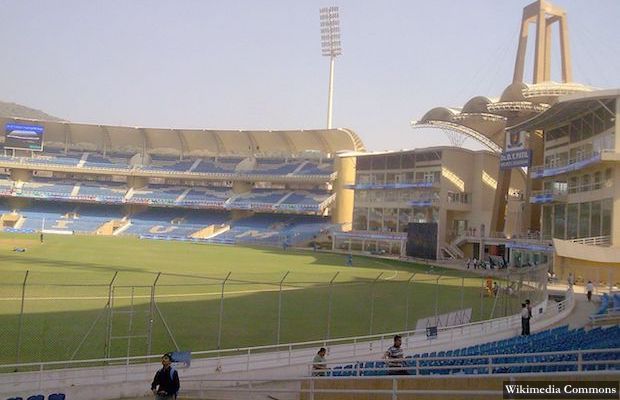 The FIFA under-17 World Cup, which begins today in six regions across India-- Navi Mumbai, New Delhi, Goa, Guwahati, Kochi and Kolkata--has given players and spectators cause for worry, with all six cities exceeding international safe levels for air quality in October 2016, according to a new Greenpeace report.
Weather conditions (such as winter setting in) coupled with the harvest and festive season, will make air quality worse, the report said.
The report measured PM10 levels in the six regions for all days in October 2016. PM10 is inhalable particulate matter less than ten microns in diameter (a fifth the width of a human hair), emitted by burning coal, kerosene, petrol, diesel, biomass, cow dung and waste.
Air pollution due to particulate matter—fine particles made up of oxides of sulphur, nitrogen and carbon—especially PM2.5, is the fifth biggest killer in the world, after diseases related to the heart and diabetes, according to a 2017 report by the Institute for Health Metrics and Evaluation, an independent research center.
The World Health Organisation (WHO) prescribes limits for permissible particulate matter in the air for annual averages (25 micrograms/cubic metre, µg/m3) and 24-hour averages (50 µg/m3). The permissible daily average limit for PM10 is 100 µg/m3, according to India's air quality standards.
The daily averages for October 2016 (taken as the 24-hour average of all days for the monitoring stations covered) showed that Delhi's average was six times that of the WHO limit (304 µg/m3), while Mumbai's was twice that of WHO norms at 100 µg/m3.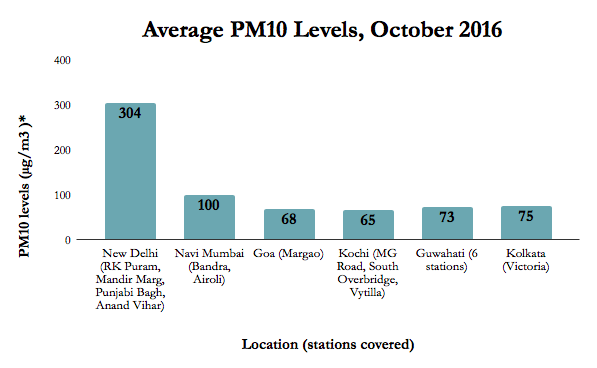 Source: Greenpeace, CPCB
Note: *Average of all days measured in October 2016 for which data was available.
"Although air pollution levels vary slightly from year to year, the Indian government has not been very successful in tackling the problem till now. The actions taken were in isolation from each other as well as were not comprehensive enough to cover big sources of pollution in a systematic manner," the report said.
While five of the six cities fall below the daily average Indian standard, Delhi was still three times the standard.
Health impacts
Football matches that take place during periods of worse air pollution are played more slowly, according to a study of the German league. The study found the strongest effect when PM10 concentrations were above 50µg/m3 and when players have fewer than five rest days between matches. The FIFA U-17 tournament will meet both of these criteria, according to the Greenpeace report.
"The risks are greatest for older people, children and those with lung or cardiovascular conditions. Young athletes undergoing extreme physical exertion are at risk," the report said. "Everyone, including healthy adults, should reduce outdoor physical exertion when PM10 concentrations are above 100µg/m3."
Eight of the 52 matches will take place in Delhi, the city with the worst air quality, and the last of these will be on October 16. During field visits made by the Central Pollution Control Board (CPCB) in Delhi between September 1-8, 2017, there was open burning of waste and solid fuel, construction activities without dust-control measures, no water sprinkling on roads, dust re-suspension from unpaved roads, municipal waste dumps and emissions from landfills and industrial sites, all causes of PM pollution, according to this September 19, 2017 circular from the CPCB.
The circular stressed action to ensure clean air during the games.
Goa, Guwahati, Kochi have no real-time air-quality monitoring
Of the six cities hosting matches, three--Goa, Guwahati and Kochi--have no real-time air-monitoring stations, as a result of which there are no health advisories being issued on bad air quality days, the report said.
India currently has 74 air-monitoring stations in 16 states and 43 cities. Most cities have one station to check all pollutants (including NO2, carbon monoxide, ozone and particulate matter). This is inadequate because it generates a statistically insignificant sample to represent the city or the range of sources contributing to the pollution problem in the city, as The Wire reported on September 15, 2017.
People living in areas with more pollution die prematurely, and inconsistent monitoring makes it difficult to assess the threat posed by ambient air pollution, as IndiaSpend reported on May 31, 2017.
(Patil is an analyst with IndiaSpend.)
We welcome feedback. Please write to respond@indiaspend.org. We reserve the right to edit responses for language and grammar.
__________________________________________________________________
"Liked this story? Indiaspend.org is a non-profit, and we depend on readers like you to drive our public-interest journalism efforts. Donate Rs 500; Rs 1,000, Rs 2,000."