As Millions Try To Prove Citizenship In Assam, One Man's Story Reveals Perils of Proof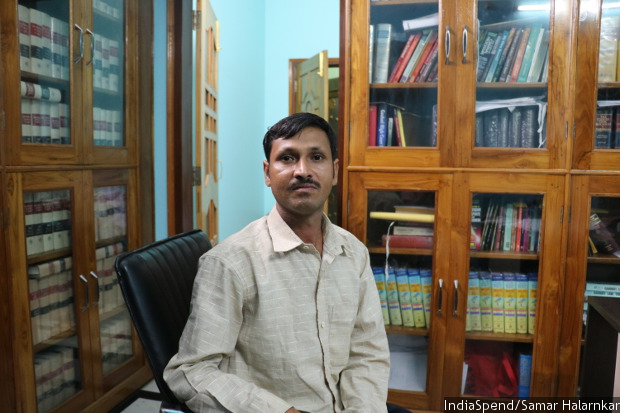 Moinal Molla, 32, at his lawyer's chambers in Guwahati, Assam. He was one of nearly 90,000 people declared as an illegal immigrant over 51 years to August 2017. More than 2,000 are currently in six detention centres statewide.
Guwahati (Assam): There are many things Moinal Molla does not remember: The Prime Minister of India, the party ruling his home state of Assam. There is one thing he never forgets: September 5, 2013, the day the police came to his house in Barpeta, 90 km north-west of here, and took him to the police station.
An illiterate, slightly built Bengali weakened by asthma, Molla, now 32, wasn't told why he was being taken, only that the gaon-burra, the headman, would come and get him. Instead, he was taken to a magistrate's court, pronounced an illegal immigrant even though his parents were Indian, and put in a police vehicle, he said.
"I cried," said Molla, "I didn't know where I was going." He wound up 100 km from home in a detention centre, where he would stay for the next two years, 10 months and 29 days--this, too, he remembers. For the first few weeks, he cried every day, uncertain if he would ever see his wife, three children and parents again. The shock lasted two months. After that, he told himself that whatever happened would be Allah's will.
Molla was among 89,395 people--among 5 million illegal immigrants estimated in Assam--declared "foreigners" in the state over 51 years to August 2017, according to data provided to IndiaSpend by the Assam Border Police Organisation, the only state with a force dedicated to stopping illegal migration. There are currently more than 2,000 people in six detention centres statewide.
At the detention centre, the jailers segregated inmates into two categories: "Bangladeshis" and "d-voters", or doubtful voters, the phrase used in Assam to describe 150,000 voters with questionable electoral credentials. The jailers' logic was that no one came to visit the "foreigners", while families came to visit d-voters from other parts of Assam, so they were Indian.
That blurred, unofficial distinction is at the heart of a renewed effort--given fresh impetus by the ascension to power in May 2016 of the state's first Bharatiya Janata Party (BJP) government--to identify, arrest and deport "Bangladeshis". It involves about 100,000 or more government personnel, costs hundreds of crores and is India's--and one of the world's--largest efforts at disenfranchisement.
Now, as a December 2017 deadline for the latest Supreme-Court-monitored iteration, driven by computers and algorithms nears, it threatens to flounder on legal definitions, religious and ethnic turmoil, implementation hurdles and a fraught question: Who is an Indian citizen?
For Molla, that proof was in documents issued by the government--except that the government declared him a d-voter without checking those documents.
For months, Molla's life fell into the routine of imprisonment: Wake up at 6 am, tea and a chapati for breakfast, some hours in the open air, television; the occasional hospital visit when his asthma alarmed the jail authorities; and anticipation of the weekly non-vegetarian meal (fish and egg alternated), the tri-monthly visit from his younger brother, who--like Molla--binds books for a living and had to forgo Rs 550 in wages every time he made the 160-km journey, and more infrequently from his wife and children.
"When they came," said Molla, "We all cried."
Can parents be citizens, their son a foreigner?
The police took Molla to a detention camp after a magistrate's court declared him a foreigner. He did not get a chance to defend himself because he was not present in court.
Molla was declared a d-voter in 1998, in absentia by government officials--most carrying out immigration duties are from various departments, such as irrigation or education--who told the judge he was not there when they went to his house in Barpeta seeking proof of citizenship. Molla said no one came. On February 16, 2010, by "ex parte judgement"--delivered after considering only one party, in this case the state--he was declared a foreigner. Ex-parte judgements are common because those served notice either do not get the notice (home and work addresses may be hundreds of kilometres apart) or go missing once they do, as more than 26,000 have, although many have been arrested, according to the border police.
Molla found the details of his case at the detention centre, more than 15 years after he was first listed as being of doubtful citizenship. His lawyer, who was from his home village, told him he had a strong case. "I thought then, for the first time," said Molla, "that I would be free."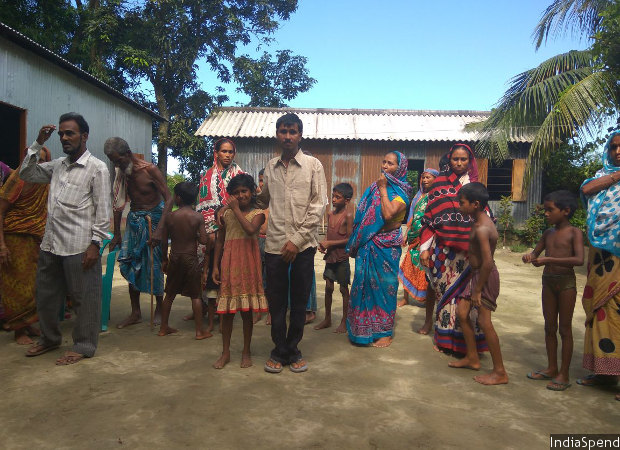 Moinal Molla, with his weeping daughter and mother, on August 3, 2016, the day he was released after more than two years at a detention centre in Assam. An illiterate book binder, Molla was declared a foreigner, although his parents and children are Indian. The Supreme Court accepted his citizenship proof and freed him. The entire village gathered to receive him as he was released. Photo: By special arrangement.
The obstacles on his road to freedom included three rejected appeals in the Guwahati High Court--a writ petition, writ appeal and a review petition. It was the Supreme Court that saw no reason for Molla's proofs of citizenship to be rejected. His parents were Indian, as were his wife, children, brother and the rest of the family. His father's land records dated back to 1938. The gaon burra had issued a domicile certificate, a document often accepted by the state when other records are incomplete, wrong or destroyed. Molla's four grandparents were on a 1951 citizenship list and 1966 voter lists, and his parents were on a 1970 voter list.
One or more of these documents is considered proof of citizenship across India, which requires citizens to prove citizenship when needed. But no state has "foreigners tribunals"--there are now 100 in Assam, up from four in 1964--and asks for citizenship proof as Assam does. The anomaly is connected with a wave of illegal immigration, primarily from Bangladesh, and rising hostility to Muslims.
Why citizens must prove they entered Assam before 1971
In 1985, the year Molla was born, former Prime Minister Rajiv Gandhi signed the Assam Accord, which said that anyone who entered the state after March 24, 1971, would be classified a foreigner.
That date, as we shall see, is the crux of the multi-crore effort to disenfranchise illegal immigrants, although concern over illegal immigration was first evident when the Immigrants (Expulsion From Assam) Act, 1950 was passed 67 years ago.
"During the last few months a serious situation had arisen from the immigration of a very large number of East Bengal residents into Assam," the 1950 Act said. "Such large migration is disturbing the economy of the province, besides giving rise to a serious law and order problem."
The 1985 agreement was the culmination of six years of violent protests--known as the Assam Agitation--against illegal immigration from Bangladesh, a nation with which Assam shares a 4,096-km border. Over the decades, the share of Muslims in Assam's population rose from 23.3% in 1961 to 34% in 2011, according to census data.
Source: Census 1961, 1971, 1991, 2001, 2011Note: The 1981 census could not be conducted in Assam owing to disturbed conditions.
What isn't clear is how many of these are Assamese, Bengali or Bangladeshi. An IndiaSpend analysis of census data showed the state's population growth rate saw a spurt in 1971, a reflection, officials said, of a tide of migration, which is why that is the cutoff year to prove citizenship. The only other time that Assam's population growth rate exceeded India's since was in 1991--by 0.3 percentage points.
Source: Planning Commission
It was in Molla's home district that one of the movement's flashpoints occurred, the killing--allegedly by units led by former Assam and Punjab police chief K P S Gill--of a 20-year-old student, Khargeswar Talukdar, one of 855 "martyrs", as those who died in the Assam agitation are called.
The 1990s were a period of relative quiet because the students, the All Assam Students Union (AASU) who fired the movement against the government, had become the government.
In 2004, India's minister for state for home told Parliament that Assam was home to 5 million Bangladeshis (of 20 million nationwide, including 5.7 million in West Bengal), a statement he was forced to withdraw by his party, the Congress.
By the 2010s, the failure of the process of identifying and deporting illegal immigrants was apparent with less than 80,000 identified since 1971, or about 1,740 every year. One of Prime Minister Narendra Modi's electoral promises was to send Bangladeshis back. "You can write it down," he said at an election rally in Bengal. "After May 16, these Bangladeshis better be prepared with their bags packed."
When a BJP government took charge in Assam, after a campaign that echoed Modi's anti-Bangladeshi and, by implication anti-Muslim, rhetoric, it moved swiftly to boost anti-immigrant infrastructure and hasten the pace of action, including a move to grant automatic citizenship to illegal Bangladeshi Hindu immigrants, through the Citizenship (Amendment) Bill, 2016, which is pending in Parliament. That isn't as straightforward as it appears.
"If the government grants citizenship to Hindu Bangladeshis," Talukdar's brother told The Times of Assam on December 11, 2016, "the sacrifice of the Assam Agitation martyrs will go in vain."
The slow, contentious process of disenfranchisement prompted repeated judicial intervention. In 2005, the Supreme Court likened illegal immigration in Assam to "external aggression". In 2014, the Supreme Court ordered 64 additional foreigners tribunals to be added to the existing 36, apart from ordering a revamp of the National Register of Citizens (NRC), one of the world's largest, most complex efforts to determine who is a citizen and who is not.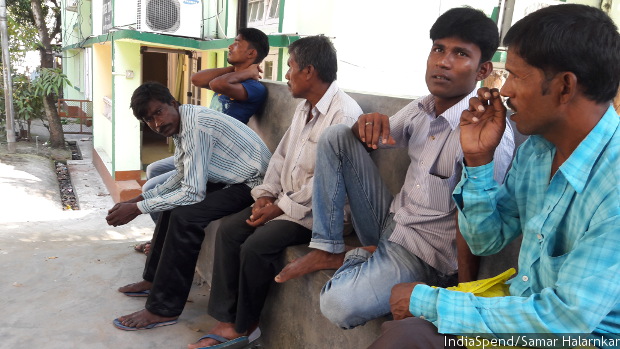 Men asked by the government to prove they are Indian gather outside the Kamrup foreigners tribunal in Guwahati, Assam. Most are poor, poorly educated or illiterate and Muslim: Rickshaw pullers, masons, labourers, mechanics and tenant farmers.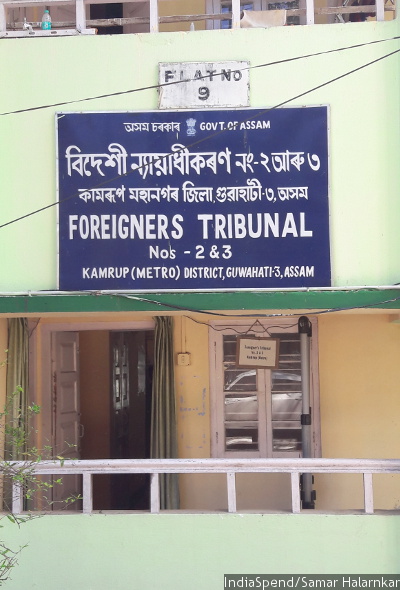 The Kamrup foreigners tribunal in Guwahati, Assam.
That year, although thousands were supposedly identified as being illegal, no more than 24 were deported. In 2015, that number fell to one, going up to 13 in 2016.
With the NRC now racing towards a December, 31, 2017, deadline--it missed the first deadline of January 1--to determine how many of Assam's 34 million people are Indian citizens, the fate of many new Mollas now hangs in the balance.
'In India you are a citizen by birth, in Assam by descent'
In an airconditioned office room piled with files and papers, Prateek Hajela, special secretary to government and NRC coordinator, simultaneously used an i-Pad and desktop to explain the complexity of his work.
Over nearly four years, the NRC has entered into its database nearly 66 million documents (about 500 truck-loads, he estimated), from birth, school, college certificates to electoral rolls to land and local-government records submitted by 32.5 million people--Molla was one of them--anxious to prove they were here before March 24, 1971. More than 50,000 state government officials went door to door verifying records, and computer programs were deployed to spot fakes. There may be documents that may not be forged but are not true, said Hajela, referring to "contaminated" electoral records--fake rolls prompted the Assam agitation--fake income-tax PAN cards and birth certificates.
"Some (documents) are forged, but a large number are not forged, so I have to go by descendents, otherwise I will be legalising everyone who is illegal," said Hajela, an electronics engineer from the Indian Institute of Technology, Delhi, and member of the elite Indian Administrative Service.
Descendents are the crux of the issue for the NRC, since the original number of living people born before 1971 is--by his reckoning--about 4 million. The descendents of these 4 million are now trying to prove they are Indians.
"In Assam, you are a citizen by descent," Hajela told IndiaSpend over the course of a three-hour presentation of the NRC's work. "In the rest of India, you are a citizen by birth."
Apart from home visits to verify identity and cross-checking millions of documents with thousands of institutions that issued them, the key method of trying to attempt accuracy is the family tree, which the NRC generates from its database. A computer programme matches grandparents, with children and grandchildren. Officials call everyone on the family tree to test if they can name everyone in the family.
"Basically, it's about checking consistency among siblings," said Hajela. Some mismatches are innocent enough--the offspring of people with multiple spouses may not be able to build a tree, some people may have given nicknames, others may have changed names--but they will all be called together before an officer and their statements verified. "This is the only process," he said, "to bring in the accuracy expected of us."
Some lies have been caught. For instance, tens of people claimed to have the same mother or father, with family tree questioning revealing their inability to name their siblings or grandparents.
Of 66 million documents submitted by 6.8 million families--about 32 million people--in Assam, the NRC had verified 49 million documents by October 2017. Hajela would not say how many people had been found illegal. He will submit the final list of illegals to the Supreme Court, which will decide when it will be made public.
A former soldier gets police to back down, others--particularly Muslims--cannot
Clad in a banian and pant, Mohammed Azmal Haque, 49, was pacing in his modest living-cum-dining-cum-bed room in a Guwahati flat on October 3, 2017, when Assam director general of police Mukesh Sahay appeared on the television.
"Basically, it was a case of mistaken identity," said Sahay, referring to a notice sent to Haque, asking the balding, clean-shaven former Indian soldier to prove he was Indian. The case became national news, prompting the army to intervene, as the embarrassed Assam government backed down.
Haque, who joined the army at 18 and served for 30 years, snorted at Sahay's explanation.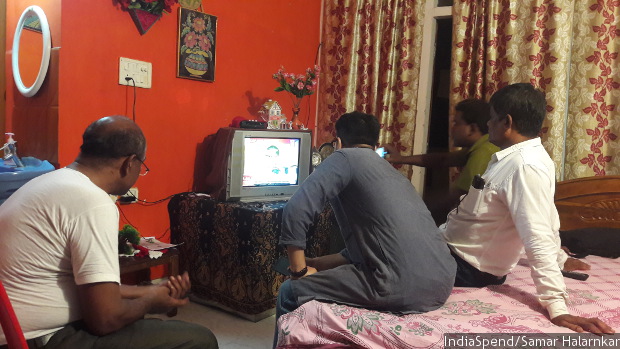 Retired soldier Azmal Haque (left) and his family in Guwahati, watching the Assam police chief admit that a notice sent to Haque demanding proof of citizenship was a "mistake".
"There was no mistaken identity," he told IndiaSpend over biscuits and sweetened puff. "They came for me, and when my angry family refused to accept it, I went to the police station and accepted the notice."
"Jab notice aaya, main hil gaya, aur dukh bhi hua. When the notice came, I was shaken, and I was sad," said Haque. "If I, as a former soldier, had not publicised my case, I would have ended up in detention. There are thousands of others, citizens of India, who are facing the same harassment. What kind of investigation are they doing before sending out such notices?"
Among Haque's proofs of citizenship: His father's 1942 primary school certificate, father's name on 1966 electoral rolls, his mother's name on the 1951 NRC, and a land deed. Besides, the army conducts its own verification before recruitment. This system of checks failed in Haque's case. "There is a huge gap between the law and its implementation," said Syed Burhanur Rahman, a graduate of Delhi's elite St Stephen's College and a lawyer who argues citizenship cases in the Guwahati High Court.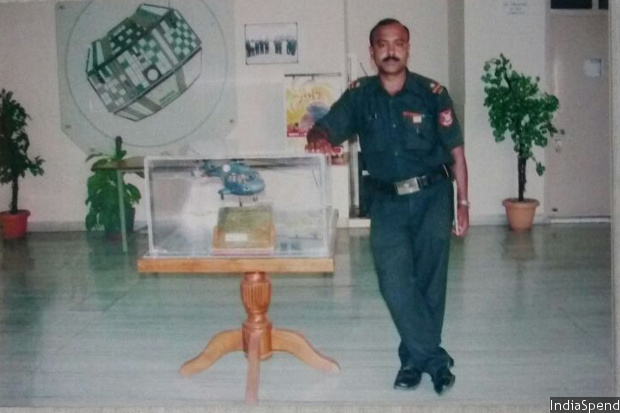 Azmal Haque in his days as an Indian army soldier. Photo courtesy: Azmal Haque
As with Molla, Haque's documents were either not considered or ignored, reinforcing allegations made by many Muslims and lawyers that Muslims are random targets in citizenship sweeps, a fact that two senior police officials admitted to IndiaSpend on condition of anonymity.
Most illegal migrants from Bangladesh are poor, and once they get forged documents and mingle with Muslim migrants from erstwhile East Bengal (now Bangladesh) and West Bengal, rank-and-file police officers find it hard to tell the difference, although there are clear differences in dialect. "You see, often our men don't care if people are Bengali or Bangladeshi," acknowledged one of the officers cited above. "If a cycle-rickshaw driver has a beard, that is enough."
Bangladeshi Hindus, according to a September 7, 2015, notification, were not illegal migrants and were not to be proceeded against. But they have to submit an affidavit with exact date of crossing, route, address in Bangladesh and make clear that were the targets of religious persecution or fear from it.
This affidavit has to be submitted online to the ministry of home affairs in Delhi for a long-term visa. After six years, they can apply for citizenship. In reality, the process is either unknown or too convoluted for Hindu migrants. As of October 2017, there were 264 Hindus among 1,094 people in six detention camps, according to border police data.
While in detention, Molla made a friend, Guwahati mechanic Mihir Biswas, who pleaded with Molla to request his lawyer to help him, which he did. Biswas, whose father migrated from Bangladesh in 1965, married a local and made a life for himself, with a variety of backing documents, before he was arrested in a sweep for illegal immigrants. The Guwahati High Court held his detention illegal in September 2016.
It is primarily the poor who are targeted in these sweeps, and anyone can be stopped on the streets. Cycle-rickshaw drivers are particularly vulnerable; they made up the majority of about 20 cases of suspect citizenship that IndiaSpend investigated. Others included tenant farmers, mechanics and daily-wage labourers, mostly with a primary education or illiterate--all subject to questioning at any time and other humiliation.
At a foreigners tribunal, a shouting judge and barefoot litigants
On a hot, humid October day, down a quiet, leafy suburban Guwahati lane, a crowd of people gathered, amid nurseries, traditional wooden houses with tin roofs, and an irrigation canal. They did not notice the beauty of their surroundings, focussed as they were on proving they are Indians and ready to be humiliated if that is what it took.
The women were dressed in sarees--few Muslims in the state, whether Bengali or Assamese, wear hijabs--the men in lungis or in shapeless pants with loose, full-sleeved shirts. Older men had skull caps and beards, the younger men, mostly, did not. There were no fans in the narrow corridor outside the courtroom of the Ullubari foreigners tribunal, so everyone sweated profusely. They had been waiting for more than 90 minutes, but there was no sign of the judge, officially called tribunal member, who is known to arrive late every day.
At 11.45 am, the tribunal member--a lawyer on a two-year contract--walked in. Every litigant who went in had to leave footwear outside. The tribunal member required they stood barefoot before him. Their lawyers and court officers were exempt.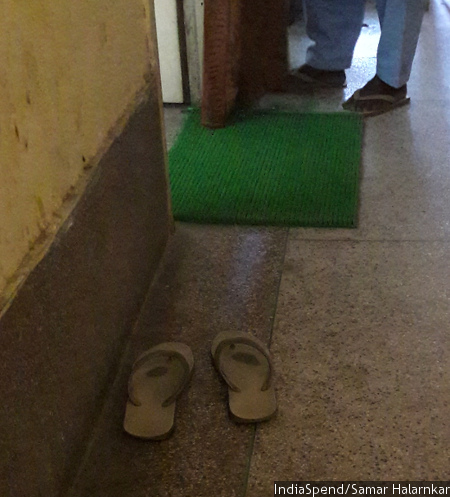 Litigants, almost all poor Muslims, must leave their footwear outside a court room in the Ullubari foreigners tribunal in Guwahati, Assam. Lawyers and court officers can keep footwear on.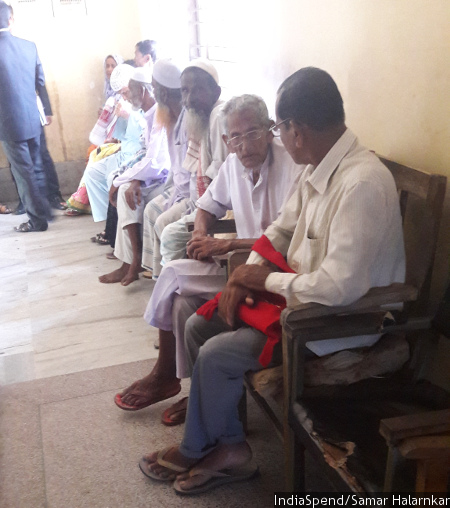 Outside the courtroom that requires litigants to be barefoot, most of those asked to prove Indian citizenship are Muslim and aged, many making journeys of a few hours to appear--barefoot--for a few minutes before a tribunal member.
After Samad Ali, 59, left his rubber chappals and went in, the tribunal member began to shout. Ali, a tenant farmer with a primary education and weak hearing, had made it to a local Assamese channel because his citizenship was being questioned for a second time, even though he had been declared a citizen the first time. Ali and his lawyer apologised profusely, and the tribunal member said he would rule on the case next time. Two weeks later, despite his previous irritation, the member ruled that Ali was indeed an Indian.
Ali's case is typical. He was declared an Indian by a foreigners tribunal in 2010, but in 2017 he was again served a notice, this time using the fact that a voter roll used the name "Abdul Samad". Differences in names, spellings and ages--almost all the litigants IndiaSpend met were hazy about when they were born--are common failings in documents across India, but in Assam such variations can have you declared a foreigner.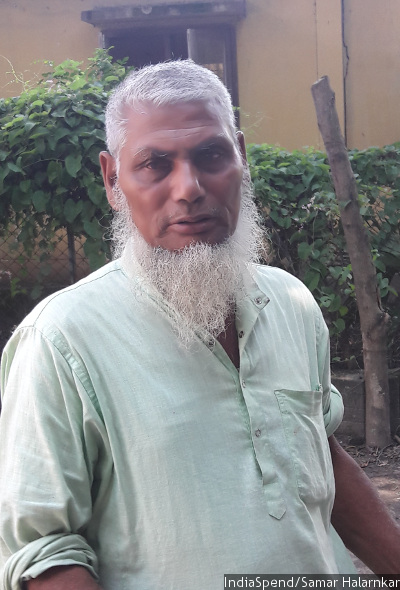 Samad Ali, 59, a tenant farmer with a primary education, outside the Ullubari foreigners tribunal in Guwahati, Assam. Ali was declared an Indian by a foreigners tribunal in 2010, but in 2017 he was again served a notice because his name was 'Abdul Samad' on a voter list. He was later cleared of suspicion.
The variations could be as minor--Samad Ali spelled Samat Ali. Some names vary because people have incorporated their professions into their names, such as Peon, Master, Munshi. Typically, many use single names, but, for instance, a census official may have added an Ali after or an Abdul before, as was the case with Samad Ali alias Abdul Samad. In some cases, the alias was mentioned in legal documents, but many courts simply ignored variations. Some litigants are simply victims of petty harassment.
Across town outside a neo-natal government facility near a police station, IndiaSpend met Tuffazul Islam, selling baby clothing from a cycle. How old was he? A thin man--who said he was fat before he was arrested--with a thin moustache, Islam thought for a few seconds. "34 to 36," he said. Three years ago, according to Islam, policemen called him to the police station and asked him for a Rs 200 bribe: "I refused, so then they took my fingerprints and said, tum bideshi ho--you are a foreigner."
Six months later, a policeman delivered a notice to his cycle, demanding his presence in court with proof of citizenship. The case went on for two years. The first lawyer Islam hired charged Rs 1.3 lakh, almost all of Islam's savings. "Bahut paisa lootliya (he looted lots of money from me)," said Islam in Bengali-accented Hindi.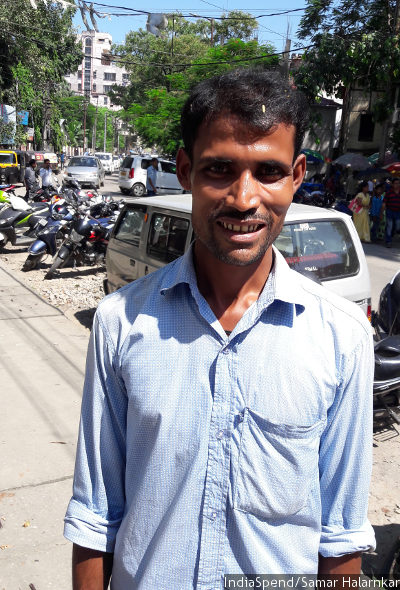 Tuffazul Islam, who cannot remember if he is 34 or 36, spent Rs 1.3 lakh, almost all his savings, in court after local police--he refused them a bribe, he says--asked him to prove his citizenship. After two years and a change in lawyers, a foreigners tribunal accepted he was Indian. Islam sells clothes for infants from a cycle in downtown Guwahati.
Finally, he got to know of Aman Wadud, a 31-year-old lawyer who fights such cases pro bono, or accepts whatever clients would like to give. A tribunal judge agreed with Wadud: Islam was Indian, and his mother's name appeared in the 1966 voters list.
"These are copy-paste cases," said Wadud. "The police use the same modus operandi again and again, and the poorest people are harassed, repeatedly in many cases."
At the NRC, coordinator Hajela said electoral rolls were compromised. "If I am an illegal migrant from Bangladesh, what should I first do? I will start creating documents," said Hajela. "I will say I am son of someone whose name is on the rolls. I will adopt a father. I will get a certificate from the village headman. I will go the civil supplies department and get a ration card--they only want to know how many in my family. I can get a driving licence. With any of these documents, I can be included in the electoral rolls. That is de facto proof of citizenship. So, I cannot rely on the electoral rolls."
Once the NRC verifies the 32.5 million in its database, IndiaSpend asked Hajela, will this be the definitive list, which will supersede the arbitrary sweeps of the border police and the fallibilities of foreigners' tribunals?
"No," said Hajela. Those being arrested will find no solace from being on the NRC master list.
Chasing ghosts, catching illegal migrants and the Bangladeshi position
"This makes no sense at all," said Monirul Hussain, a retired Guwahati University professor, referring to the conflicting approach of varying arms of the government in deciding who to arrest or subject to citizenship trials. "It's like chasing ghosts."
Hussain, an Assamese Muslim, is from Lakhimpur in upper Assam, regarded as a bastion of "original" Assamese. Migrants, whether from Bengal or Bangladesh, tend to congregate in lower Assam. He recalled how police drives were even more arbitrary in the 1960s, when nearly 200,000 Bengali speakers were deported without a trial, "pushed back"--as the official term goes--across the border.
Hussain cited the example of a poor Muslim family rounded up by the police near his home in 1965. "The man was so nervous, and his sense of time so fluid, that when the police asked him when they had come here, he said 10 years ago," said Hussain. "My mother said they had been around for half a century. The next morning, they were all gone. The police were given targets."
Over 51 years to August 2017, 29,738 "Bangladeshis", according to border police data shared with IndiaSpend, were "pushed back"--marched to the Bangladesh border and left there.
"...the practice of occasionally pushing illegal Bangladeshi immigrants back across the India-Bangladesh border has not been effective," said this June 2016 comment from Carnegie India, a think tank. "They are either prone to re-enter voluntarily from a different porous stretch or pushed back into India by Bangladeshi border guards. Moreover, such a system of deportation is devoid of any legal strength."
Today, no one talks of "pushing back" people. However flawed, there is a legal process, and Bangladesh is a friendly country. There is persistent talk, though, that the current government has given the police targets for issuing notices.
At his office, where updated lists of declared foreigners, detenus, convicted and released are written by hand on a white-board, Special Director General of Police R M Singh, chief of the Assam border police, dismissed talk of targets but acknowledged the possibility of wrongful legal proceedings.
"It is true," said Singh, "the police are under pressure, so some of these things (harassment) do happen." The days of crude "pushing back" are gone, he added, and deportation now implied a diplomatic process.
That diplomatic process precludes the possibility of millions of Bangladeshis--even if they were identified as such--being deported. In his home-cum-office in a quiet lane in central Guwahati, Kazi Muntashir Murshed, a clean-shaven young diplomat dressed in a dark, blue suit, pointed to the procedure laid out for deportation by the Vienna Convention. Once someone is identified for deportation, the Indians must notify the nearest Bangladeshi High Commission, which will then ask for consular access. A team will then interview and satisfy itself that the person is indeed a Bangladeshi and arrange for a temporary passport. What the NRC does is of no concern.
"Our position is that the NRC is an internal matter of the government of India," Murshed, Bangladesh Assistant High Commissioner and Head of Mission at Guwahati, told IndiaSpend. "Theoretically." What he implied is the fact that Bangladesh follows and is aware of the turmoil in Assam. "So far," he said, "the government of India has not put up to Bangladesh that there are Bangladeshis in India."
The Bangladesh of 1971 and today are not the same, said Murshed. Indeed, Bangladesh has overtaken India on many human-development indicators. He argued there was "no incentive for a Bangladeshi to come to Assam today". "Our minimum wage is higher," he said. "And if they came before 1971, then we should not talk about that. There was no Bangladesh."
Citizens may become second-class citizens, the turmoil may endure
But in Assam, a state with India's second-highest infant mortality rate, current politics are built around illegal immigration and the Muslim question.
"The Hindu rate of population growth is declining. But the Muslim rate is rising," the Washington Post quoted Himanta Biswa Sarma, finance minister in the Assam government (and was once a minister in charge of implementing the Assam accord) as saying on November 27, 2016. "Most of the Muslims here are from Bangladesh. If this continues, the Assamese Hindus will become a minority soon; we will lose our language, our culture, our identity."
That the intricacies of international realities and relations make mass deportations a dim possibility has dawned upon the government of Assam. Whatever the current urgency and momentum, the identification process will likely be in the thousands, said a senior government functionary involved in the process--requesting anonymity given the sensitivity of the issue--instead of the millions of illegal immigrants the politicians seek.
"This is a fool's errand," said the government official quoted above. "Given that mass deportations will never happen, our background discussions with the government of India are veering around to two possibilities: One, that those identified will be removed from the electoral rolls and their land rights, where applicable, rescinded. In short, most may stay on, but as second-class citizens."
In a Guwahati backlane, that reality already exists for Molla, even though he is an Indian. He works at his book-binding job from dawn to after dusk, his three children are in school, but he had no idea what will become of them, and he was only dimly aware of the politics of his country.
What did he want from his state's government, I asked.
Molla looked confused. "What do you mean?" he asked. "What will any government do for people like us?"
Who was the party in power anyway, I asked.
"The Congress?" he said, tentatively.
And the prime minister of India?
He thought for a few seconds.
"Moti," he said. "Yes, Moti or something."
Correction: An earlier version of this story erroneously said Moinal Molla was declared a foreigner by a foreigners tribunal--the declaration was made by a magistrate's court. He was declared a foreigner once--not twice as we earlier said. We regret the errors.
(Halarnkar is editor of IndiaSpend.)
We welcome feedback. Please write to respond@indiaspend.org. We reserve the right to edit responses for language and grammar.
__________________________________________________________________
"Liked this story? Indiaspend.org is a non-profit, and we depend on readers like you to drive our public-interest journalism efforts. Donate Rs 500; Rs 1,000, Rs 2,000."