As Karnataka Nears Elections, State Support Fails To Alleviate Farm Distress
Mandya and Yadgir, Karnataka: The Bharatiya Janata Party (BJP) manifesto for the Karnataka assembly elections 2018 released on May 4, 2018, declared that farm loans upto Rs 100,000 in nationalised banks and cooperative societies would be waived. A few days earlier, the BJP's chief ministerial candidate and party state president B.S. Yeddyurappa promised a waiver of agriculture loans in both nationalised banks and cooperative societies if his party came to power, hoping, as a consequence, he said, for a 3-4% rise in vote share for his party.
As Karnataka chief minister Siddaramaiah, running the only Congress government in southern India, tries to remain in favour of the electorate ahead of the May 12 elections to the state assembly, he has his task cut out. Among other steps, the government waived Rs 8,165 crore of farm loans from cooperative banks in 2017, claiming this would benefit more than 2.2 million farmers.
8. Farm Loan Waiver

Karnataka Govt announced a farm loan waiver in 2017 worth Rs 8165 crores for loans taken from co-operative banks benefitting 22,27,506 farmers in the state.

Modi Govt has refused to waive Farm Loans taken from Nationalized Banks.#KarnatakaVirodhiBJP pic.twitter.com/PHw6YSh8Ue

— Karnataka Congress (@INCKarnataka) March 12, 2018
Rural Karnataka, which accounts for 154 (69%) of the state's 224 legislative constituencies, has to remain the primary focus. Karnataka's farmers, battling drought and water shortage, have been under dire financial duress, and how well the Siddaramaiah government is seen to handle this challenge will be among the factors that will determine a positive outcome for his government. While the government is implementing the farm loan waiver, experts believe that the such a move will help in the short-run to win elections, but will not help in the welfare of farmers in the long term till agriculture is made more remunerative.
IndiaSpend travelled to Yadgir district in the arid, impoverished northeast of Karnataka, as well as Mandya district in the state's "sugar bowl", to feel the pulse of these regions.
In both districts, families in which farmers had killed themselves said the ex-gratia compensation of Rs 500,000 had not diminished their loan burden, primarily because erratic rainfall and unremunerative prices have squeezed incomes, perpetuating dependence on moneylenders. Nevertheless, the farmers and their families said they appreciated the support provided by the government in the form of loan waivers and ex-gratia compensation, despite delays in paying out monthly pensions. Farmers we spoke to in Yadgir said that they would vote for the present government, while in Mandya which has strong Vokkaliga (sect) presence and is a Janata Dal (Secular) stronghold, they are undecided, although they were not unhappy with the government.
The Congress won a majority of seats (122) in the 2013 assembly elections, compared to 80 in 2008 when the BJP was the single largest party. Although without a clear majority, the BJP formed the government with help of independent candidates in 2008.
Farming at the mercy of rains
"I never thought he would do something like this, when he left the house that evening," said Chennamma, 55, leaning against a pillar in her small house in Nadihal village in Yadgir district of northeastern Karnataka. Her husband Chandrashekar Hanumanthappa, 60, had hanged himself from a tree on March 24, 2018, near his four-acre farm.
"He could not bear the financial loss of four failed borewells," Yellapa Maharaj, his 27-year-old nephew, said. Like farmers across Karnataka, Hanumanthappa was driven to desperation after successive years of drought and acute indebtedness.
Agriculture in Karnataka supports 13.74 million workers, of which 23.61% are cultivators and 25.67% agricultural workers, according to this 2013 study by the Institute for Social and Economic Change (ISEC), a Bengaluru-based research institute. The sector supported 60% of Karnataka's workforce of 28 million, the study added. With so many people dependent on farming, the focus on farmers' issues at election time is obvious.
Although the number of farmer suicides in India declined 21% in 2016 compared to 2015, Karnataka recorded the second-highest number after Maharashtra, IndiaSpend reported on March 21, 2018. Between 2000 and 2014, 30,604 farmers in Karnataka took their lives--2,040 every year--according to this 2017 report by the ISEC.
Source: Farmer Suicides in Karnataka, Institute for Social and Economic Change (2017)
Thirty-one farmers committed suicide in Shahpur taluk, where Nadihal falls, in 2017-18, according to information accessed by IndiaSpend from the district agriculture department.
Yagdir, carved out of Gulbarga district in 2009, lies in one of the state's most underdeveloped regions. Two major peninsular rivers, the Krishna and the Bhima, meander through the district, yet no more than 14% of its farmland (net sown area) is irrigated, compared with the state average of 24%. Nearly 70% of Karnataka's agriculture is rainfed, and Yadgir is no different.
In 2016, 160 of the 176 taluks in Karnataka were declared drought-hit during the rabi or winter crop season, and 139 during in kharif or monsoon crop season, according to this 2016 Karnataka State Disaster Management Monitoring Centre (KSNDMC) document. In the 15 years from 2001 to 2015, only three years--2005, 2007 and 2010--witnessed no drought, as per a 2017 KSNDMC drought vulnerability assessment report.
Mandya, 700 km southwest, is ground-zero for the farmer agitation in Karnataka, especially regarding the Cauvery water dispute. The irrigated regions of the district are dominated by sugarcane and paddy.
Small landholdings and unremunerative prices
Small and marginal farmers have limited access to credit from banks. "For banks, the scale of finance depends on the cost of production," said T. Sudheer, district development manager of National Bank for Agriculture and Rural Development in Mandya. "It will change based on factors like irrigation in case of paddy or sugarcane. Unirrigated land will find lower finance."
Commercial banks generally will not fund digging borewells, as there are regulations and permissions required, which farmers may not have applied for. Another challenge is the lack of clear land titles, without which banks cannot approve loans, Sudheer said.
In Karnataka, the average size of landholding is just four acres--up to five acres being classified as small and marginal landholding--and difficulty in accessing institutional credit leaves farmers at the mercy of moneylenders, as in the case of Hanumanthappa.
Over half a decade, Hanumanthappa had borrowed nearly Rs 500,000, much of it from moneylenders, and close to Rs 50,000 from a nationalised bank. "He had recently borrowed close to Rs 400,000 for the four unsuccessful borewells," said Maharaj. After a cropping season, every 6-8 months, he would have earned Rs 45,000-50,000 at most, Maharaj added.
At the same time, a prolonged period of erratic rainfall has made farming difficult, and unremunerative prices have worsened farmers' condition.
Much of rural lending is by moneylenders--who account for 44% of rural debt in India, as IndiaSpend reported on January 4, 2018. But the loan waiver by the present government applies to loans from cooperative societies of up to Rs 50,000 only. Loans issued by moneylenders were not covered, nor were larger loans from cooperatives.
"Farmers commit suicide when they know that there is no way to generate money to pay back loans," said R. Balasubramaniam, development activist and founder and chairman of Grassroots Research & Advocacy Movement (GRAAM). "Due to the cycle of loans, even when they take a loan it is for consumption, not always directly for production in farming."
Many farmers in Nadihal grow tur (pigeon pea) or cotton. "The government used to buy tur at Rs 6,000 per quintal. Now it has fallen to Rs 3,500 per quintal," Maharaj said. An acre of land produces approximately four quintals, according to local farmers. At these prices, an investment of Rs 14,000 gets them an income of Rs 25,000 over an agriculture season--a meagre profit of Rs 11,000 spread over months and required to support an entire family.
Moneylenders can exert tremendous pressure on farmers to pay up. Nearly 700 km away in Mandya, Karnataka's "sugar bowl", 50-year-old Jayaram of Holalu village committed suicide in February last year. He was upset that a moneylender had asked him to repay the loan on an auspicious day during a local village festival, his wife, Gowramma, said. Jayaram had 4.5 acres of land on which he grew paddy and sugarcane. He had accumulated debt of Rs 15 lakh.
"He took to drinking as the loans increased," she said, "I told him to not stress as there could be help from the government. Loans [were known to] have been waived." Gowramma was undecided about the party she would vote for, but said that she would vote for a party that she believes support farmers.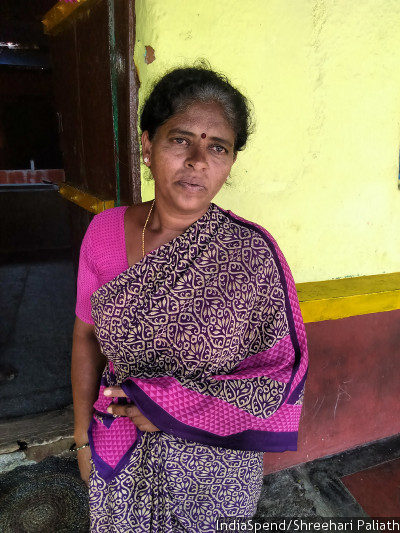 Gowramma's husband, Jayaram (50), killed himself in February 2017. He grew sugarcane and paddy in his 4.5 acre farm in Mandya and owed close to Rs 15 lakh.
Between July 2015 and June 2016, 118 farmers committed suicide in the district, according to the ISEC report.
"In Mandya and Belagavi the sugar companies unduly delay the payment for several months. As a result the interest amount payable to money lenders pile-up and reach debt-trap situation," the ISEC report said.
Another farmer in Gogi in Yadgir district, Mallina Rathore, commited suicide in March 2017. The 30-year-old owned 1.5 acres of land, on which he grew tomato, brinjal and onion. "He had more than Rs 10 lakh as loan over the last seven years," said his brother Laxman Rathore. "The farm produce was not enough. He had mortgaged the land for more money to invest in farming." The state government gave a compensation of Rs 5 lakh to the Mallina's wife, who has gone back to her home village, he said.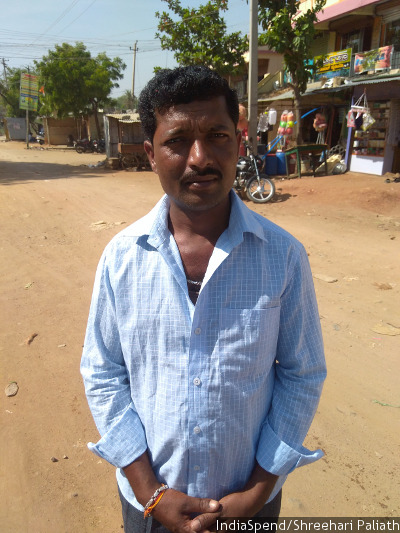 Laxman Rathore said his brother Mallina, a vegetable farmer, had accumulated a debt of more than Rs 10 lakh over seven years. Unable to repay the loans, Mallina committed suicide in March 2017 in Shahapur, Yadgir. His wife has received the compensation from government.
Despite the tragedy, Rathore's and Hanumanthappa's families in Yadgir expressed their support for the present government.
Farms, a battleground for competitive populism
The BJP highlighted farm distress, with prime minister Narendra Modi tweeting that Karnataka had neglected its agriculture sector on May 1, 2018.
The Congress Government in Karnataka has completely ignored the state's agriculture sector. They have been insensitive towards the aspirations of the farmers. The farmers of Karnataka deserve better.

— Narendra Modi (@narendramodi) May 2, 2018
In response, chief minister Siddaramaiah listed the steps his government has taken for farmers in a retaliatory tweet on May 2, 2018:
Really! This is rich coming from the you Mr. Prime Minister. I have spoken a lot about what we have done for the farmers. But I will repeat it in this thread. I will also talk about your insensitivity to farmers. 1/6 https://t.co/C1B1KSOa1D

— Siddaramaiah (@siddaramaiah) May 2, 2018
1 We are the only state that gives farm loans at zero % interest rate
2 We have waived Rs 8165 Cr. farm loans taken from cooperative societies. 22.50 lakh farmers benefited
3 We spend Rs 8000 Cr every year to give free assured power (7Hrs) to farmers
2/6

— Siddaramaiah (@siddaramaiah) May 2, 2018
4 We have launched Direct Income Support program for 70 lakh dryland famers. They get Rs 5000 to 10000 in their Bank account for growing crops
5 We have financed construction of two lakh farm ponds.
6 We have allocated 50,000 Cr in 5 years & spent 45,000 crores on irrigation
3/6

— Siddaramaiah (@siddaramaiah) May 2, 2018
7. We have given bonus over MSP & procured lakhs of tons of Tur when prices fell
8. We have contributed 50% to the Fasal Beema Yojana & are the only state to have an IT system for direct cash transfer of insurance payment
9. We pioneered eMandi system & it is a model for GoI
4/6

— Siddaramaiah (@siddaramaiah) May 2, 2018
10. We do free (cashless) surgeries for farmers who are cooperative members.
11. We have set up Agri Machinery Hiring centers through out the state.
12. We have built an excellent network of roads in the state.
13. We have added 5000 MW of power capacity in 5 years.
5/6

— Siddaramaiah (@siddaramaiah) May 2, 2018
Now about PM's insensitivity towards farmers
1. I asked for farm loan waiver. PM refused
2. I asked for intervention to solve Mahadayi issue. PM refused.
3. I asked for increase in Disaster Relief Fund as Karnataka gets 1750 Cr. & Maharashtra gets 8000 Cr. No reply from PM
6/6

— Siddaramaiah (@siddaramaiah) May 2, 2018
The JD(S) too jumped into the fray with a similar announcement. H.D. Kumaraswamy, the party's state president, announced that his party would waive farmers' loans upto Rs 51,000 crore within 24 hours of coming to power, the Deccan Herald reported on May 1, 2018.
Siddaramaiah said that the government, in addition to providing the debt waiver, has been providing seven hours of free power costing the government Rs 8,000 crore. While the Rs 8,165 crore farm loan waiver is expected to help 2.2 million farmers, it will not cover people dependent on farming in the state.
"Although the money has helped us in reducing the financial burden by repaying part of the loan, there is more to be repaid," Laxman said. A Rs 50,000 loan from the Vyavasaya Seva Sahakara Bank Niyamitha, a cooperative society, has not been waived, he claimed. Despite that, he appreciated the government's support. "How can we forget people who have helped?" Laxman said. He said he would vote for the Congress party for the support.
Neelkanth Loku, a 45-year-old farmer, committed suicide in October 2017 by consuming pesticide. He and his five brothers each worked on a small parcel of their combined six acres of land. He had unpaid loans of nearly Rs 8 lakh.
The local moneylenders generally accept part of the harvest as interest and principal, as the case may be, and return the balance, if any, said Devaraj Chennarathore, Loku's brother-in-law.
"The small farmers do not benefit from the waiver as much as the others," he said, explaining that many small farmers have loans from moneylenders, not cooperatives. Often, their loans from cooperatives are in excess of the Rs 50,000 that have been waived.
In 2015, the government increased the ex-gratia payment to families from Rs 2 lakh to Rs 5 lakh, the Hindu reported on November 17, 2015. Monthly pensions for widows of farmers who committed suicide were increased to Rs 2,000 from Rs 500, and families of women who committed suicide were made eligible for a monthly pension of Rs 2,000, the Hindu reported on March 24, 2016.
Compensation paid, or delayed
Loku's family have not received the ex-gratia payment of Rs 5 lakh yet. "We have been told that it would be transferred once the election is over," Chennarathore said.
An agriculture department official, requesting anonymity, confirmed this.
Similarly, Hanumanthappa's family is also awaiting compensation.
"We received support to complete formalities when my brother-in-law died," Chennarathore said, adding that his vote would go to the present government.
Nagamma, 50, of Panakanahalli village in Mandya does not immediately recollect which bank her son, Mahesh P.P., owed money to. After a brief search, her daughter returned with a passbook of a nationalised bank. The 28-year-old killed himself in June 2015.
Mahesh had taken up the mantle of looking after the family after his father's early death. "He had to borrow money for both his sisters' weddings," said Nagamma. "Of our four acres, he sold two for the wedding." His mother's health problems forced him to borrow an additional Rs 1 lakh over and and above the Rs 5 lakh he had borrowed for farming, from the bank and from moneylenders. "We also pawned some gold," she said.
Nagamma was given a cheque of Rs 1 lakh immediately after her son's suicide, and the remainder was transferred subsequently, enabling her to repay the loan. However, she said, she is not getting the enhanced pension of Rs 2,000 promised when chief minister Siddaramaiah and Congress president Rahul Gandhi visited her. "I'm getting Rs 500 monthly," she said. She is undecided on the party that she would be voting for in the upcoming state elections.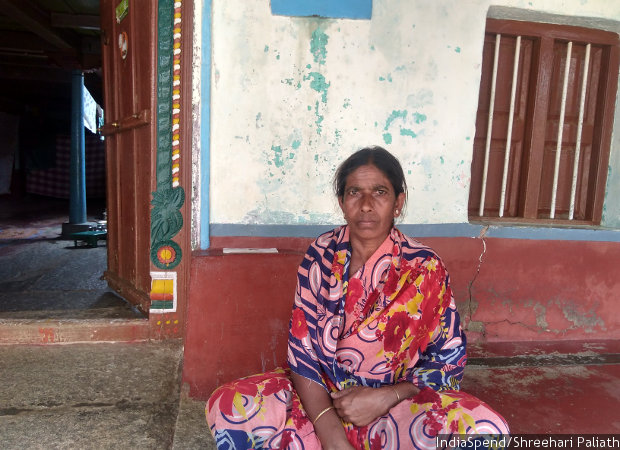 Fifty-year-old Nagamma does not immediately recollect which bank her son Mahesh owed money to. In addition to farm debt, 28-year-old Mahesh had also accumulated debt for his sisters' weddings and Nagamma's healthcare. Mahesh committed suicide in June 2015.
Experts do not believe waivers will help farmers in the long run
Due to non-remunerative returns on production, and structural problems in agricultural sector, experts believe that waivers are not going to be beneficial, and will be an election ploy to garner votes.
"The farm loan waiver is not meant to waive off all loans. The cooperative banks are often controlled by locally powerful individuals or groups," said Narendar Pani, an economist and professor at the National Institute Of Advanced Studies. "Many farmers continue to depend on money-lenders for loans which won't be waived off." The pressure on repayment of loans in cooperative societies is high. The factors for a favorable vote will be the bhagya schemes, like anna (free rice for below poverty line households) and krishi (includes rainwater conservation in farm ponds, subsidies for diesel pumps etc) bhagya, in addition to the waiver for those who have benefited, he added.
"Debt waiver is a short-term move that will help to get some votes electorally and provide temporary relief for farmers. But in the long term the farmers will suffer," said R. Balasubramaniam of GRAAM. "There is a need for an ecosystem approach to ensure that farmers are a part of the wealth creation process and not see them as mere recipients of government doles," he said.
Politicians will need more than the five-year term they get to fix the issues in agriculture, but another term is something that is not guaranteed in politics. The waivers are a way of gaining quick electoral advantage, he added. Karnataka's farmers need much more than that.
(Paliath is an analyst with IndiaSpend.)
We welcome feedback. Please write to respond@indiaspend.org. We reserve the right to edit responses for language and grammar.