As India Worships Elephant God, Conflict Rages With Elephants (But That Can Change)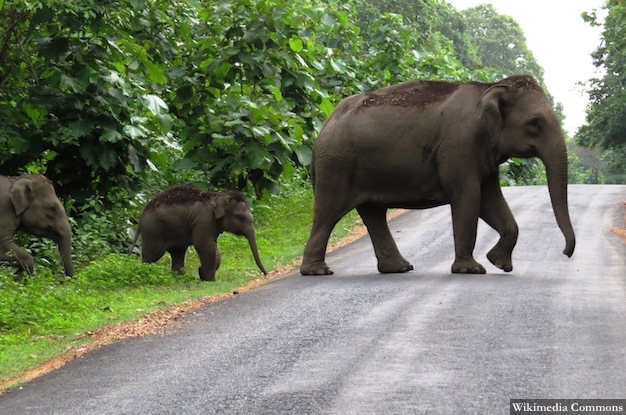 Elephants cross a road near the Dandeli-Anshi Tiger Reserve in Karnataka.
Conflict with wild animals, mostly elephants and tigers, has killed more than 1,100 people across India during the past three years (2014-17), according to data from the Ministry of Environment, Forests and Climate Change.
While encroachment on forest areas for purposes such as agriculture and infrastructure is increasingly driving wildlife towards human settlements, government solutions to barricade areas around human habitation or take "necessary" steps against animals perceived as threats are not working, according to a June 2017 study by the Comptroller and Auditor General (CAG), the government's auditor, from Karnataka's forests.
The CAG suggests, instead, measures such as maintaining proper wildlife corridors, and even purchase of private land to build corridors. It also emphasises the need to update the database of wildlife movement, better maintain solar fences and trenches, incentivise farmers to grow non-cash crops around protected areas and provide them with crop insurance to cover for damage by wildlife.
Conflict and its toll
Records show that 92 people were killed by tigers from April 2014 until May 2017, while 1,465 were killed by elephants from April 2013 until February 2017.
The Wildlife Trust of India, a conservation organisation based in New Delhi, says degradation and fragmentation of wild habitats--whether due to encroachments for agriculture, housing, mining, dams, etc., or linear infrastructure such as roads and railways--is increasingly driving wildlife towards human settlements.
Source: Rajya Sabha *Up to February 9, 2017
"Solutions" that don't work
"The government has taken remedial measures to mitigate man-animal conflict," the Ministry of Environment, Forests and Climate Change said in its July 31, 2017, reply to a question posed in the Rajya Sabha, the upper house of parliament.
These measures include empowering the Chief Wildlife Warden and authorised officers to take "necessary" steps to handle problematic wild animals, such as translocating them to other areas in a scientific manner, but also hunting down and killing animals if convinced they are dangerous to humans or too disabled to recover.
Other measures include constructing physical barriers such as barbed-wire fences and solar-powered electric fences, erecting bio-fences using cacti, or building boundary walls.
To prevent the entry of wild animals into fields and improve wildlife habitats, the government has also tried to improve the availability of food and water within forest areas.
However, in an audit of measures taken by the Karnataka forest department, which included digging of elephant-proof trenches and installation of solar fences, the CAG found no major impact on incidence of conflict.
The CAG report, released on June 21, 2017, covered the period between 2011 and 2016. It studied 14 sample areas in National Parks and Wildlife Sanctuaries in the Western Ghats-Nilgiri Biosphere Reserve to assess the impact of intrusive human activities and management efforts to minimise these. A sample is a smaller area whose results are extrapolated to the entire park or sanctuary.
Prior research by the Wildlife Conservation Society--during 2014--across five areas in Karnataka (Nagarhole, Bandipur, Dandeli, BR Hills, Bhadra) and one each in Madhya Pradesh (Kanha National Park) and Rajasthan (Ranthambore National Park) had also shown that multiple mitigation measures had been tried--erecting fences, guarding fields, creating noise (firecrackers or drums)--but few had worked, as IndiaSpend reported on July 26, 2016.
More tigers and elephants, but habitat is shrinking
Thanks to a successful conservation programme, the number of tigers has been on the rise--it increased 30% countrywide from an estimated 1,706 in 2010 to 2,226 in 2014.
However, the large cat is still threatened by poaching driven by an illegal demand for tiger parts and products; depletion of tiger prey; and habitat loss due to the ever-increasing demand for forest lands.
Habitat loss causes predators to stray out of protected areas. In Karnataka, the Nagarahole, Bandipur and Biligiri Rangaswamy Temple tiger reserves are estimated to have an average of 10.28, 11.09 and 11.29 tigers per 100 sq km (against the Indian average of 8.5-9.5 tigers per 100 sq km of forest), but more numbers merely mean more carnivores are being pushed to the fringes of protected areas, the CAG report noted.
In 2017, India had 27,312 elephants, counted directly (instead of deducing the population from secondary signs of presence such as dung piles and feeding signs).
Karnataka, with 6,049 of these, had the highest tusker population. Long-term survival of far-ranging and large animals like elephants is only possible if there are "viable populations within viable habitats", Sanctuary Asia had reported in 2011, adding that such habitats exist only in large, unfragmented landscapes.
In India, such landscapes exist in 26 elephant reserves spread over 110,000 sq km forests in the northeastern, central, northwestern and southern parts of the country.
Habitats are fragmenting
Fragmentation of forests within the surveyed areas is a major hurdle for the movement of wildlife, and human-wildlife conflicts often take place when wild animals cross human habitations (most likely encroachments) that lie on their migration paths, the CAG audit said.
"India has about 20% of land under forest cover, and this is pretty much the only land now available--for industry, real estate, infrastructure, and agriculture. Just about 5% of India is under the Protected Area Network, and these are increasingly islanded in a sea of people," Prerna Singh Bindra, a wildlife journalist, told IndiaSpend in an interview published on July 8, 2017. The Protected Area Network includes 668 areas protected by law for conservation of wildlife and forests; 102 National Parks, 515 Wildlife Sanctuaries, 47 Conservation Reserves and four Community Reserves are thus protected.
The CAG report suggested several measures to reduce human-wildlife conflict, such as maintaining proper wildlife corridors, which are narrow strips of land with native vegetation that connect two or more fragmented forest areas or larger areas of similar habitats in order to enable easy passage.
The Ministry of Environment, Forests and Climate Change, in trying to minimise the impacts of elephant depredation, regularly works to improve national parks, wildlife sanctuaries and critical habitats including elephant reserves and corridors, it said in a reply to the Lok Sabha, the lower house of Parliament, on August 8, 2017.
However, five elephant corridors in the Western Ghats-Nilgiri Biosphere Reserve region in Karnataka that were identified for strengthening more than a decade ago have seen no action, CAG said.
"Forest corridors connecting small, islanded tracts of forest are also being destroyed. For wide-ranging megafauna like tigers and elephants, this signals trapped populations and a genetic dead-end, leading eventually to human-wildlife conflict, inbreeding and inevitable local extinction," Bindra added.
The CAG report recommended purchase of private land within a time frame to start work on such corridors. It also suggested that a database of wildlife movement be prepared and updated regularly, solar fences and trenches be maintained better, farmers be incentivised to grow non-cash crops around protected areas and provided crop insurance to cover for destruction by wildlife.
(Patil is an analyst with IndiaSpend. Mahajan, a law student, is an intern at IndiaSpend.)
We welcome feedback. Please write to respond@indiaspend.org. We reserve the right to edit responses for language and grammar.
__________________________________________________________________
"Liked this story? Indiaspend.org is a non-profit, and we depend on readers like you to drive our public-interest journalism efforts. Donate Rs 500; Rs 1,000, Rs 2,000."